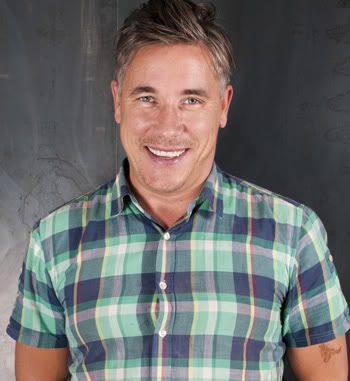 We're excited to announce today that 360i has hired Adam Kerj as Chief Creative Officer, effective immediately. Adam joins as us a member of the agency's executive team and will oversee 360i's creative department. A pioneer in identifying and implementing big ideas that solve business challenges, Adam's expertise and passion will expand our current capabilities to help brands connect with people in the digital age.
Prior to 360i, Adam served as Executive Creative Director and Founding Partner at Saatchi & Saatchi in Stockholm, Sweden. He's a highly-decorated creative who has garnered more than 50 international industry awards in his career, including several from the Cannes Lions, CLIOs, New York Festival Awards, FAB and Eurobest.
Across your entire portfolio, what work are you most proud of, and why?
AK: I'm most proud of my work for Ariel, a detergent brand within P&G Nordic. The campaign, called "The Ariel Fashion Shoot," was a classic product demo remixed for the 2012 audience. The shoot was the world's biggest product demo in detergent history – and it was completely transparent. This meant that people could – for the first time ever – see that Ariel's new stain-fighting formula actually worked as well as the brand said it did, because we washed the clothes in front of a live audience of viewers.
But what makes the campaign truly innovative is that we invited consumers to take part in the demo themselves by allowing them to take aim at premium designer clothes and stain them. To pull this off, we custom-built an industrial robot and armed it with lingonberry jam (a Scandinavian staple), chocolate sauce and ketchup. Then, we connected it to Facebook.
The results exceeded our expectations, as post-campaign awareness for Ariel reached an all-time high. To me, this campaign was a fantastic example of how we used a relevant idea to fuel conversations online. With very little paid media, we were able to own conversations online regarding detergent – proving that if you're relevant to the consumer and facilitate a worthwhile value exchange, brands can create exciting conversations around any topic – even something as commonplace as detergent.
Of course, I also credit P&G for being so committed to change the way their brand was communicating to its consumers and for understanding the difference between being simply 'digital' and being 'social and participatory.' It's no surprise to me that the campaign was recently voted one of the Best Digital Ideas of 2011 by Adweek, and continues to garner accolades in several global awards programs.
What are the ingredients for great creative marketing in the digital age? How has that changed in the past five years?
AK: The three most important ingredients are actionable insights, a big idea and enough time to execute it properly. Having a big budget really won't matter if you don't have enough time to create a unique experience.
Content is not always king. Today's consumers are bombarded with irrelevant, complicated and boring messaging all the time. And as we all know, just because technology has made it possible to make every idea social and participatory doesn't mean that all ideas can or will offer engaging experiences on their own.
There's a huge opportunity for brands that understand both creative technology and creative media to integrate seamlessly within a big idea. This is where I think agencies like 360i can push the industry forward, because not only do they have the tools and knowledge, but they also have the mandate from their clients. And right now, very few agencies can make the leap from classic storytelling towards more genuine and personalized storybuilding.
How do you view integration between online and offline? Can you provide some examples of success?
AK: One of the biggest misconceptions in our industry is that 'integration' means making the online and offline pieces of your program look the same. Of course the core brand voice and the DNA of the brand equity should be consistent across channels, but to engage people and cut through the clutter every idea must be tailored to the context. And that goes for content too. To me, total integration means being equally relevant both off- and online.
Why did you decide to join 360i?
AK: I joined 360i for several reasons: the fearless entrepreneurial spirit, the great vibe and the overall sense of ambition. The most important reason, however is that I saw a rare and fantastic opportunity to lead the creative team at a unique agency that works with some of the most world-renowned brands and has continually proven to be on the cutting edge of connecting with consumers in the digital age.
From talking to the team here at 360i, I'm convinced that with my experience when it comes to building strong idea cultures and the 360i environment that thrives on disruptive ideas and innovation, we will continue to attract the very best people in the industry – and that our agency will be very different from traditional agencies. I don't see how anyone could say no to an opportunity like that.