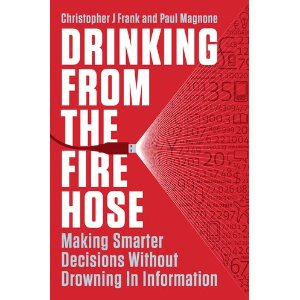 Last week, 360i welcomed Christopher Frank and Paul Magnone, authors of Drinking from the Fire Hose: How to Make Smarter Decisions Without Drowning in Information, for a fireside chat on how to better process the endless stream of data that has become a staple of the Digital Age. The event was part of 360i's ongoing Inspired Speaker Series, which brings together some of the brightest minds across various industries to discuss trends in the dynamic digital landscape.
In their talk, Frank and Magnone emphasized the importance of asking the right questions when making decisions. Often more important than the answers themselves are the questions you ask that effectively shape your strategy or approach to a business challenge. Here are seven questions the authors suggested asking when approaching a challenge:
What is the essential question? By asking this question, you can identify the key piece of knowledge you are seeking and determine which information will need (and won't need) to attain that knowledge.
Where is your customer's North Star? Put the consumer first. What are the motivations, passions, needs and wants of your consumers? Use those insights to derive your business strategy.
Should you believe the squiggly line? Be wary of short-term data that can throw you off course. When analyzing numbers over time, be sure to fully understand the context of any ebbs and flows in your performance. How did you competitors fare during that same time frame? Were broader, more macro trends influencing the data? Understanding the full story of the data will allow you to draw better-informed conclusions.
What surprised you? What patterns emerged that you did not expect to see? Beyond drawing conclusions as to the change of information over time, or general emerging trends within a research report, Frank and Magnone say that it's just as important to spot and call out unanticipated findings.
What does the lighthouse reveal? Frank and Magnone define "lighthouse" data as the information that will keep you out of danger. You can arrive at this data by determining the pieces of information that are MOST critical to your business, and keeping a close eye on those particular areas.
Who are your swing voters? Customers who might switch loyalties to your company offer tremendous opportunity. Identify your potential "swing voters" and mark them as favorable, unfavorable as neutral and tailor different messaging to each group. Revisit the makeup of each of the three groups over time.
What? So what? Now what? When analyzing data or crafting business communications, ask you three questions. What? What is the data or information being analyzed? So what? Why should you care about the data? Now what? Which actions can be taken based on the information at hand.
The contents of the book resonate particularly well within the scope of our own business, as marketers today are inundated with a seemingly non-stop and real-time stream of data. While this information influx certainly holds valuable insights for brands, its sheer volume can also stifle or clutter the decision-making process. Frank and Magnone's focus on asking the right questions and using consumer insights to steer strategy is a smart approach to navigating the wealth of information available today.
About the authors: Christopher Frank is VP of Business-to-Business & Communications Research at American Express, and Paul Magnone is the Director of Global Business Development & Alliances at Openet. For more about the book, check out the full review over at Amex Open Forum.
**We're giving away five copies of Drinking from the Fire Hose: How to Make Smarter Decisions Without Drowning in Data. To enter the drawing, leave a comment or send us a tweet telling us why you want to read the book. **