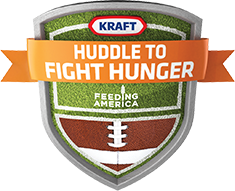 What if an everyday social media activity – a YouTube video view, a Facebook Like, a tweet – could spark the donation of a meal to a person in need? Kraft Foods is making this possible with Huddle to Fight Hunger, a more than fourth month-long initiative that aims to donate 20 million meals to Feeding America.
Nearly 50 million Americans – 21 percent of US households – are "food insecure," meaning they do not know when or where they'll get their next meal (Source: FDA & National Center for Children in Poverty). To help stamp out hunger this holiday season, Kraft has recruited 11 of its most popular brands to embark on its largest-ever multiband marketing effort. Beyond this starting lineup, Kraft is also rallying millions of consumers to support the cause through simple, everyday online activities. After nearly four months, Kraft is close to its goal of donating 20 million meals to Feeding America.
360i joined Kraft in this effort by developing the Huddle to Fight Hunger website, which serves as the program's central hub and presents the call to participate through a fun, user-friendly digital experience. By empowering consumers to become personally involved, and providing a centralized platform through which they could track progress, Kraft created a social echo chamber that has triggered the donation of more than 19 million meals to date.
The program culminates on Jan. 9, when Nevada and Boston College face off in the Kraft Fight Hunger Bowl in San Francisco.
Find out how you can get involved by visiting HuddletoFightHunger.com or the Kraft Foods Facebook Page.