By David Randolph
VP, Retail & E-Commerce
360i
Retailers are preparing for November 26th, 2010, otherwise known as "Black Friday". But it's only a waypoint on the march to this holiday sales season. Black Friday kicks off a hyperactive browsing and shopping weekend that culminates in the E-Commerce-specific "Cyber Monday", a day of unprecedented online sales conversions. Cyber Monday '09 saw revenues climb 5% over '08, and according to Comscore, this single day drove $887M in E-Commerce. Why Monday? Well, it seems the American consumer chooses to browse on the weekend and convert from a workplace IP address. Cyber Monday 2009 saw 53% of sales come from work locations. In a virtuous cycle, consumers reward E-Tailers with orders on this specific Monday and retailers respond with ever-deeper promotions. 2010 should be no different.
With Black Friday only days away, retailers are launching their carefully constructed marketing, promotional and inventory strategies. At no time in retailing history has a marketing professional had more options available to lure prospects. The choices are nearly endless and daunting. The fragmentation of the audience is unprecedented and even the largest of budgets won't guarantee success over competitors. Smart, integrated marketing will rule Black Friday, especially those marketers who embrace digital holistically.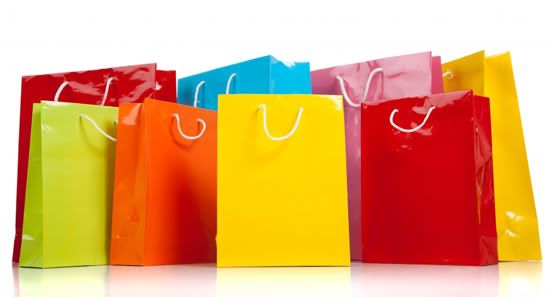 You are likely using your digital marketing primarily to pull conversions through the bottom of the funnel. And perhaps, it's very efficient. Q4 will offer a seasonal bump in revenue, but where will your marginal dollar of income come from? Greater share of wallet from occasional customers? Stealing competitors' customers? In both cases, deep promotions are the easy answer, but is it sustainable? Your ROAS will already be higher in attacking these harder to convert growth areas. Can you simultaneously afford the promotions to convert undecided, apathetic or disloyal prospects? If your strategic point of difference is low price, is it a sustainable position?
Holiday Shopping success stems from several factors, laid far in advance. A retailer's investment in brand-building (especially retailers who engage actively in social marketing) is crucial. Unless a retailer sells differentiated and exclusive products, all must compete in a game of price, promotion and convenience. That's why 2010 marketing seemingly flies in the face of complexity and media fragmentation – it is the year of "Back To Basics" and it shows bright signs of delivering a strong season for the American economy.
YOUR WEBSITE AS A FIRST IMPRESSION
Back to basics means delivering a seamless, purchase-channel agnostic experience (retailers will take the sale whether online, at the store or via catalog/phone). The prevailing wisdom is to deliver a unified experience that puts the prospect in charge. Online research culminating in offline purchasing is extremely well-established.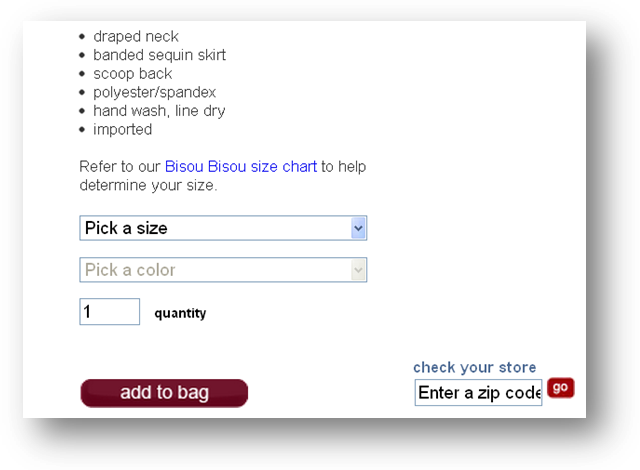 An example of "Check Your Store" Best Practice, as seen on jcpenney.com.
To Think About…
Does your site follow best practices for lead generation and conversion maximization?
Does your site provide value and "get out of the way" in the path to conversion?
Does your site search deliver relevant results?
Does your promotion, (and messaging execution) incent conversion?
Are you ready to take the sale wherever the prospect prefers (online or store)?
Can your website tell a prospect if Product X is available at their closest store?
Are you tracking all your KPIs and do you have a plan to analyze the data for next year?
DIGITAL PAID MEDIA
Search volume in Q4, 2010 is expected to hit record highs. According to a recent report from SearchIgnite, retailers with multichannel marketing strategies increased their U.S. search spend 36.7% from October 1 – November 15 this year, compared with this same time period in Q4 2009.
Consumers are researching, browsing and considering at all hours of the day. Google, in particular has pioneered new ad vehicles and a host of ancillary refurbishments to the search results that require new approaches. And all the consumer research means visits to blogs, discussion boards, review sites and the OEM/retailer sites themselves, most of which have display and text ad opportunities. This concentration of searching and research offers the smart marketer a huge opportunity to laser target based on behavior and propensity instead of mere demographics.


Example of double-serving: ecommerce creative and drive to store creative in Google
To Think About…
Not every paid media outlet can be expected to deliver DM results. Are you feeding the top of the funnel and building your own store brand name?
Have you carved up your budget so that every tactic isn't trying to do everything, muddying analysis of the results? Drive to store efforts? E-Comm efforts? Awareness efforts?
Are you ready to move to a more sophisticated attribution model, away from last click?
Display is a rich canvas, from brand-building all the way to hitting a strict ROAS. Have you set realistic goals for your display program?
Are you running dynamic tests across your digital portfolio and optimizing continuously?
In SEM, match types and structure have never been more important – are you following best practices to keep costs in check?
Have you fully optimized your presence in the Yahoo/Bing Search Alliance?
Is your inventory database/feed optimized for the vast array of shopping directories, especially Google Shopping?
SOCIAL
While social is the hot buzzword of marketing circles, this practice has real teeth and can impact your bottom line. Ideally, social marketing is already a part of your plan for this Q4, but if not, it's not too late to debut a small pilot or two. Social marketing is a broad and ever-changing practice, but at its root, is the examination and influence of behavior largely in third party online environments. This behavior and these discussions will happen regardless of your participation, but it is your management of your Facebook and Twitter (most famously) presence and beyond that will ensure success in social marketing. Especially if you are a passion brand or sell products that engender passion.
On the examination side, you can set up a program to follow online buzz, on a macro or micro scale. You can also track what's being said about your retail store and its products offsite. Both of these forms of "online listening" are extremely useful for marketing optimization and business planning. On the influencer side of social, there's an opportunity to invest heavily and nurture your loyal customer base. While many retailers think two dimensionally — eg. Twitter is only for launching coupon codes to the world — there is a great opportunity to do so much more. The interconnectivity of Facebook and YouTube gives your program legs, but content usefulness and credibility is king. Don't just sell and push offers. You'll find this to be a dead end. Find what sparks passion in your brand and encourage dialogue between shoppers, and between your brand and shoppers.
Example of Maximizing Twitter, Invitation E-Tailer
To Think About…
Do you listen to your customers and prospects off-site? How do you leverage this information?
Do you have relationships with influential bloggers to positively represent your brand?
Facebook is about more than volume of LIKEs – do you keep the audience coming back?
Twitter followers are tracking you for a reason. Is it just for coupon codes and sales announcements? Or are you offering them something more?
Do you do enough with YouTube? Your brand will be more memorable in sight and sound, but content is king.
MOBILE
Every year since 2005 has been the year of mobile, but this year will likely be looked upon as the tipping point. 3G speeds and smart phones have driven Americans to a greater reliance on mobile for research and connectivity. The game for retailers in mobile is to deliver info and get out of the way. Despite advancements, the Android and iPhone have tiny screens and limited interfaces while sitting in a parked car or on a train. Mobile sites will need to work with all devices (no Flash for iPhones!) and be able to deal with the intermittent data bursts and stops on cellular networks. Low profile graphics and responsiveness will carry the day.
How do consumers use mobile for shopping this Q4? Responding to research inquiries will likely be the main benefit for retailers. Prospects will search Google mobile – will they find you on brand and non-brand terms? Prospects will visit your mobile site – can they find the product they want and will it be clear where they can buy it nearby? Prospects will also transact in greater numbers (Macy's is really bullish on mobile E-Comm) – are you ready? Lastly, prospects can stand in your store and scan UPCs with Redlaser or other apps to deliver online competitive pricing. Rarely will your store win that battle, as Borders knows all too well with Amazon's cutthroat prices. Armed with info about a lower price, will they walk to your register or walk out the door?
To Think About…
Is your mobile site ready for primetime? Can it do E-Commerce?
Is your inventory system tied in with your store database so prospects can determine if Product X is 5 miles down the road?
Are you taking your mobile paid search as seriously as your desktop SEM?
Google Map results are crucial to someone on the road. Have you fed accurate store locations and hours to Google? Otherwise, they rely on shopping center websites or worse.
For more on mobile, check out 360i's Mobile Marketing Playbook here.
FINAL THOUGHTS FOR YOUR RETAIL BUSINESS
There's a certain irony in getting back to basics by way of an increasingly complex marketing toolkit. But there's never been a greater need to focus on the intersection between prospect motivation and your brand promise. Tools may become more complex but they are still trying to motivate prospects to take their business to your website, store or call center — and away from your competitors.
If you only take one macro idea away from this blog post, think about your purchase funnel. For FY11, think about investing a larger portion of your FY11 digital budget to the top of your funnel – you'll find better results will come out of the bottom at higher efficiencies.
As they say, a rising tide lifts all boats, so let's hope consumers award our segment with a record-breaking Holiday season. Good luck and good hunting!