As Foursquare's 2nd anniversary approaches at this week's SXSWi conference, we think it's safe to say the startup has certainly made a name for itself. In that same amount of time, the iconic app has successfully accumulated a user base of 7.5 million (and growing). Even with the launch of Facebook Places, Foursquare is still marching up and assuming the role of #1 location based service in the US market.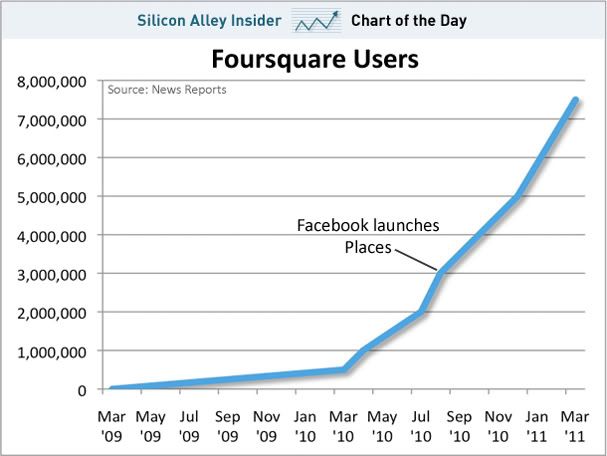 Image via Silicon Alley Insider
But what once was a platform is now evolving into a community. While Foursquare previously asked the question 'Where are you,' it now seeks to answer 'What are you doing' and 'Who are you with?'
The launch of Foursquare 3.0 came yesterday to eager super-users worldwide – and it certainly made a splash on its first day. Writes Foursquare in a blog post: "One of the big ideas kicking around Foursquare HQ these last few months has been the idea of 'every check-in counts.' Regardless of whether you're checking into the same ol' coffee shop or some far-away beach, we want every check-in to add value to every Foursquare user."
With this new 'every check-in counts' mantra, the updated platform allows for a much more user and business friendly service fostering a richer exchange of value and conversation. Here's a breakdown of some new features, and how businesses can make the most of each component.
1. New business features
Business owners on Foursquare are no strangers to the merchant platform already available – but the revamp brings in heaps of new options for marketers to create unique experiences for consumers in the form of six new special options including a newbie, friends, swarm, loyalty and flash-style of reward redemption.
In addition to the enhanced user experience, the venue and specials managers are also treated with a fresh new analytics dash. In addition to check-in volumes and stats, this new dash makes it much easier for business owners to take advantage of the new specials and pull relevant insights based on user activity. The best part about these new features? 100% profitability for business owners; it's all free!
2. Recommendation engine
In what seems to be social's hottest buzzword these days, Foursquare has ingeniously adopted a user and behavior generated recommendation engine through the new Explore Tab. It takes into consideration what venues you have checked into, as well as your friends, to steer you into the right direction of your next desirable – but undiscovered- location.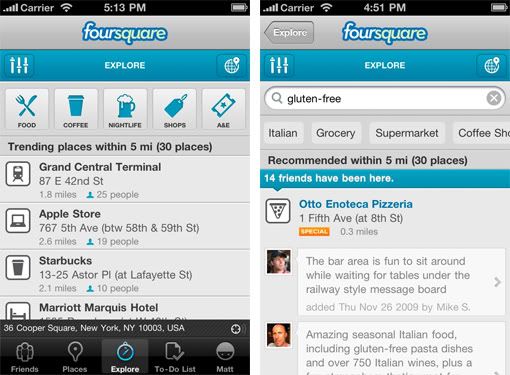 Image via Foursquare
Writes Foursquare: "The suggestions are based on a little bit of everything – the places you've been, the places your friends have visited, your loyalty to your favorite places, the categories and types of places you gravitate towards, what's popular with other users, the day of the week, places with great tips, the time of day, and so on."
With the aid of loyalty rewards for customers, business owners can expect their venues to show up more in users' friends recommendations pointing all future business in the right direction. Set up a Newbie reward to set the odds in your favor!
3. A more personalized experience based on your interaction
Is this not a marketers dream?! In addition to the previous feature, the new "Me" tab provides much more user insight and relevant recommendations than ever before. Based on the categories and frequency of your check-ins, Foursquare now groups their community members as "Experts" in certain classes. Users who check into restaurants more frequently than boutiques would be labeled Food experts and so on. With this feature, brands, businesses, and marketers can now identify which users influential (in addition to existing Mayorships) and in which categories as well. This allows for room to explore hyper-local campaigns with neighborhood names.
4. Updated Leaderboard
This is not a feature new to us, but the upgrade certainly has some heads turning! Not only is the Leaderboard overhaul more visible, but it is more personalized and social (as you will see more recognizable faces) as well. The reason for this? To keep users in the game! By putting them head to head with their foursquare friends, it brings the gaming aspect back into the service, and follows the premise of 'every check-in counts.'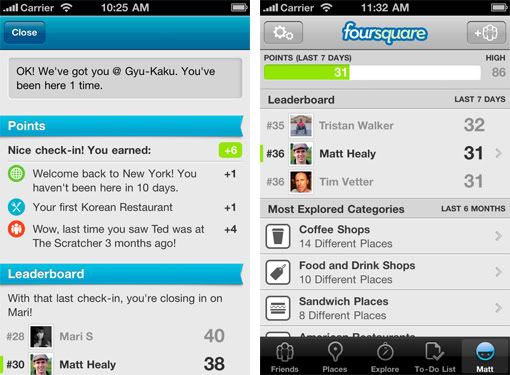 Also, putting the Leaderboards up there show some love to those perseverant users who can never grab that darn crown! Well done Foursquare, a tactic bound to retain that 7.5 million wide community.
***
Beyond the 3.0 launch, Foursquare has announced a partnership with American Express in which cardholders will be rewarded with special deals once they've been verified as at a location via Foursquare. The deal has garnered significant buzz, as it holds huge potential for participating merchants, AmEx cardholders and Foursquare itself.
Have you begun using the new features yet? Let us know what you think of Foursquare 3.0 via Twitter or in the comments below.