Google has revamped Latitude, introducing a new functionality that allows users the option to manually check in to Google Places locations. The Latitude platform was first introduced to help people stay in touch with family and friends by making it easy for them to share their location (via an automatic update). Though similar to how other location-based platforms work, Google Latitude's new check-in feature offers a few unique experiences.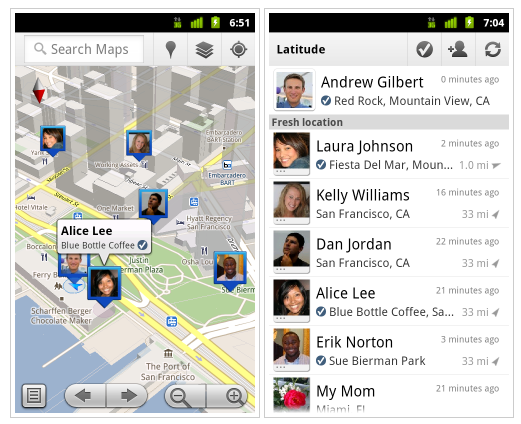 Image via Google
Per its previous functionality, Google Latitude can still be used to automatically update and share the user's location, but the check-in feature allows the user to add context to their location — meaning photos, captions, comments and the like. (Related: Read our previous post on Foursquare's comments and photos upgrade.) And, since Latitude was designed to use GPS to automatically detect a user's location, the platform is able to offer check-in notifications which remind users to check in at nearby places.
Latitude also gives users the ability to automatically check in at specific, preset locations that they might frequent, perhaps alleviating a bit of "check-in fatigue." Additionally, Latitude automatically checks users out of a location when they leave a location, helping your connections to know when you are no longer at a certain place.
People who use the Google Latitude check-in feature have the ability to earn special status an any given location, such as "Regular," "VIP" or "Guru;" much like a "Mayorship" on Foursquare.
Google Integration:
Since Google Latitude is integrated with Google Maps, checking in to a location allows you to view any information listed in the location's Place page (phone numbers, menus, hours of operation, etc.). However, users cannot yet add new locations to Latitude, which relies on the Google Places location database. This is not the case at other location-based platforms that allow users to create their own locations.
Currently, the ability to check in on Google Latitude is only available to Android users (current Maps users will need to upgrade the app), but iPhone users on the Latitude app will soon be able to check in as well. Location check-ins do not have the ability to be shared via platforms such as Facebook or Twitter, keeping the check-in information within the Latitude product.
Marketer Takeaways:
With Foursquare now boasting more than 6 million users, Facebook Mobile touting a 200 million-strong user base (either via apps or the mobile web) and other up-and-comers like Google-backed SCVNGR on the rise; will Google Latitude, which maintains a 10 million-strong active monthly user base, strike a chord? And once Latitude check-ins become available to iPhone users, which could potentially double the product's user base, will it gain any popularity, or will it be buried by the already popular sites?
Perhaps the real powerhouse opportunity will come when Google integrates Latitude with its other products like Google Hotpot and the newly announced Google Offers – allowing users to not only check-in to locations, but to see their friends' recommendations and also find out what deals are nearby. This could also be an interesting opportunity for the Google ad model, where ads could be increasingly targeted based on places you visit. A cross-product integration of Google products (Maps, Hotpot, Offers, Latitude, Buzz, etc.) would likely be beneficial for all of these platforms to succeed.

Image via Mashable
If Latitude doesn't integrate with other Google products, its appeal might come from the platform's ease of use – automatic check-ins to preset locations, added feature of checking out of locations – and the fact that some people have "check-in fatigue." Even with the ease of use, Google Latitude will probably still need to integrate with its other products to ensure success, especially considering the fact that apps that allow users to pre-designate their favorite check-in spots to check them in within a certain distance (such as Future Checkin) already exist, but have gained little traction in market.
Additionally, the fact that check-in sharing is currently limited to within the Latitude platform might not be enticing to businesses and locations which have enjoyed the benefits of users sharing their check-ins through social networks like Facebook and Twitter.
What do you think about this latest announcement from Google? Will it propel Latitude's popularity among check-in addicts (and marketers, too)? Or will it get lost in the shuffle of competing platforms? Send us a tweet @360i or drop a line in the comments below.
–David Berkowitz contributed to this report.