Today, we're launching the first in a series of reports exploring the role social media plays in the lives of Hispanics living in the United States. Reaching and engaging this population has become increasingly important to marketers over the past decade. The growth of this population presents both the promise of reaching a dynamic and engaged audience – armed with ever-increasing purchasing power – and the challenge of understanding the cultural nuances of a demographic with unique digital behaviors.
» Download 360i's Report on Hispanic Digital Influencers
Why a POV series?
According to the 2010 US Census, the Hispanic population rose by 15.2 million between 2000 and 2010, , accounting for more than half of the nation's population increase. Furthermore, in sheer dollar power, Hispanics' economic influence rose from $212 billion in 1990 to $489 billion in 2000, to $978 billion in 2009, and is estimated to rise to roughly $1.3 trillion in 2014 (Selig Center for Economic Growth, Dec. 2010).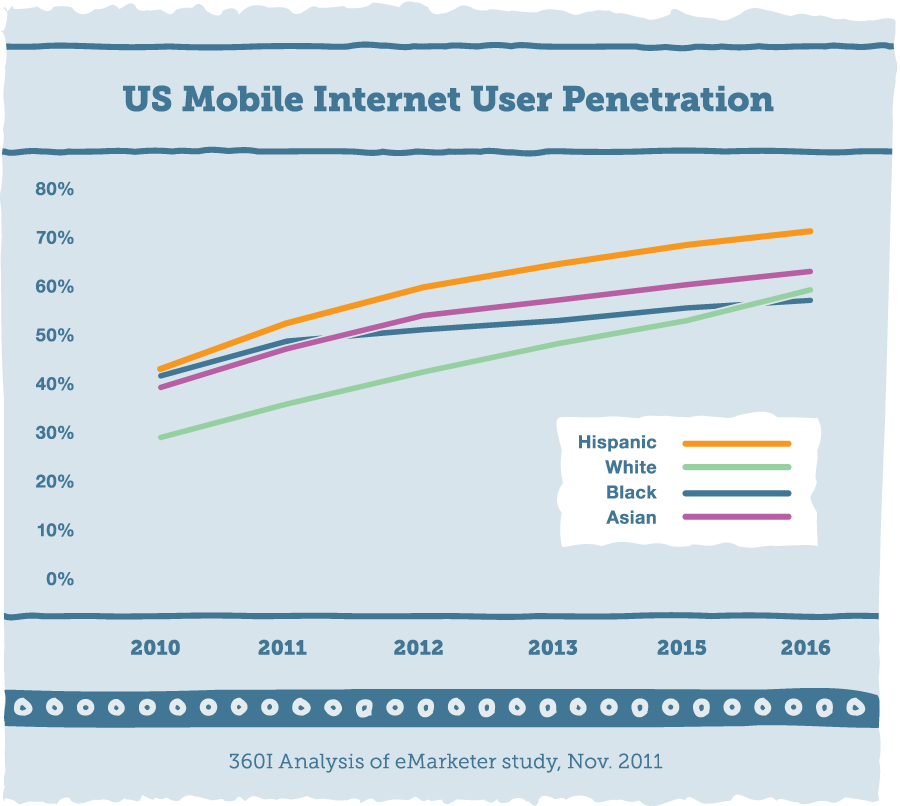 Beyond the amplification of their economic clout, Hispanics are also taking on a more critical role within the digital landscape. Hispanics have long prided themselves on living extremely social lives filled with family and friends; the fluidity of digital media serves as an effortless extension of centuries-old cultural habits.
Currently, there are roughly 32.2 million US Hispanics online, which represents 14 percent of the total online population. This number is expected to increase to 42 million by 2015 (Interactive Advertising Bureau). Hispanics are spending, on average, 16 hours a week browsing the Internet, comparable to the 18 hours spent by the total US online population (Forrester). In the past year alone, the number of Hispanics using social media grew 38 percent versus 16 percent for the general population (comScore). Additionally, higher mobile device penetration enables Hispanics to stay connected on the go, both through traditional text and phone calls, as well as through mobile social media. While utility and information-seeking play a big role in motivating their digital behaviors, social networking and content creation form the centerpiece of Hispanics' online lives.
Our first report in the series is about Hispanic Digital Influencers – their motivations, passions and behaviors. .Through our research, we identify trends that will help brands craft an outreach strategy to better engage and build relationships with US Hispanics online.
» Read our first POV in the series on Hispanic Digital Influencers