Google is at it again, recently making an update that alters the description area of some natural results rankings pages. The change will only affect certain types of pages – and it's a relatively small adjustment – but it should encourage webmasters to pay closer attention to their HTML coding structures, tagging semantic and strategy around utilizing advanced markup.
Pages affected will be those that render listed items or structured content links within the page (i.e. a retailer with an online catalog). The Meta description tag remains an important element for SEO, but the latest update could supplant or ignore this tag in the SERPs, depending on the page's code or structured format.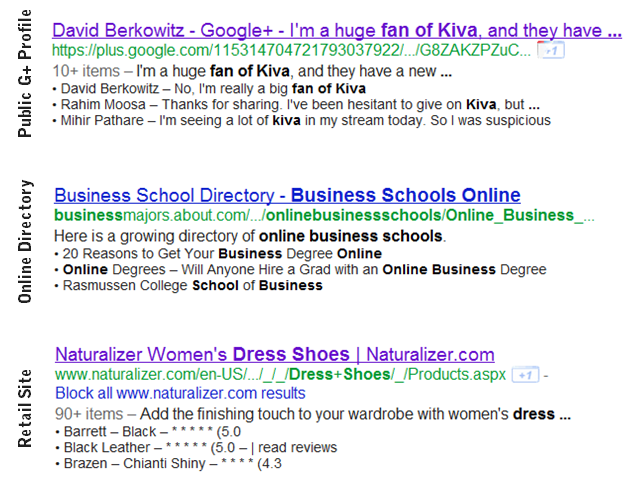 As shown in the above example, any page with a laundry list of links and/or paginated items can be affected by the update. We've noticed more and more affected listings over the past few weeks, and Google has confirmed that the changes are not a test and will continue to roll out globally within results.
Retailers in particular are a common recipient of the new display, given that they often host category and product level pages that render multiple item lists. The new snippet shows an approximate count of total items for a landing page (ranking URL), and lists three page items with aligned details.
In the example below, the first description line offers an estimated number of items a user will encounter on the page after clicking through. The Meta description tag is pulled to offer a brief creative message, and often appears in truncated form.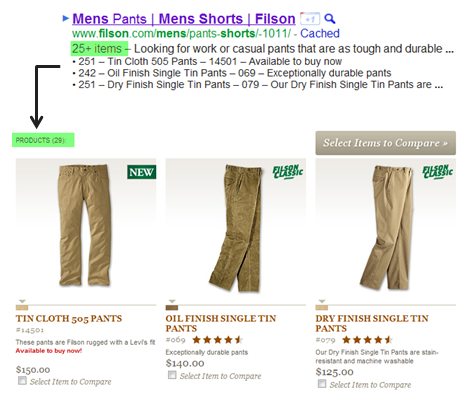 While the first line ("Looking for work…") appears to come from the Meta description, it could have also been pulled from within the body of the page, which includes this same text. Each of the three bullets offers a combination of text as found within the HTML on the page, structured around a specific product item.

Google pulls item content through HTML structures it deems valid, aiming to offer searchers with a quick snippet to sample what will be viewable within the ranking page. In this example, you can see Google might have made some better choices to describe each item per the three sample bullets above.
Google's algorithm collects the text attributes (highlighted above) used to describe items within the result. As mentioned, these are unlikely the same items and corresponding attributes the company (in this case, Filson) would have chosen themselves. Google is aware of this challenge, giving webmasters the opportunity to consider structured data adoption and next generation HTML (HMTL5).
The recent announcement of Schema.org is relatively fresh, yet it indicates that Google has aligned with large-scale coding initiatives to improve their own innovations and provide their technologies and algorithms with more clarity.
Sites that host pages with many lists, comments or organized links should pay close attention to this rollout and how it affects their percentage of rankings and potential click-through rates from natural results. It remains uncertain if adopting Schema.org standards will offer greater control of the new snippets, or determine which attributes are ultimately selected for display. It is also uncertain if Google plans to provide additional controls that allow brands to suppress these types of snippets.
While using micro-formats or advanced markup via Schema.org may ultimately be beneficial, this approach is not a sufficient substitute for other data feed efforts. For example, retailers should still consider product data feeds submissions, XML sitemaps, local feeds and other pertinent feeds to aid their search visibility.
For further reading, see our Report on the Schema.org Data Markup Initiative.