Google is making a concerted effort to socialize its roster of products, as evidenced by a new incentive program for all employees who innovate in this area — no matter what product team they claim (this according to a recent leaked memo from CEO Larry Page).
The Google Places product team seems especially motivated in this mission. Over the last few weeks, several social elements have been integrated into Google Places:
Google hotpot's recommendation engine for Google Places
Latitude's social check-in and loyalty status program for Google Places
Popular products are available at specific Google Places
The developments come on the heels of the announcement of Google +1, which incorporates more social data into its natural algorithm while displaying more information to users who are logged in. But while +1 might have some connections with Google Places and the aligned brand URL of a Places page, those specific Google Places are scored with ratings and review data, not +1 accumulations.
1. Google Hotpot
Google's local search algorithm is utilizing hotpot, a Google tool unveiled in Nov. 2010. This new recommendation engine is officially a core social component of Google Places, accelerating user ratings, reviews and social signals that are aligned with each Google Place. If you are not familiar with Google Places, now is a good time to rewind and check out some of our previous posts on Places.
More on Hotpot (or Not Hotpot)
Don't get used to the name hotpot. Even though it appears Google has big plans to continue adding features onto the platform itself, it has simply graduated to become a core part of Google Places. More importantly, the social networking components of hotpot's platform make it easier for Google users to rate, discover and share the Places they visit or discover in search and social circles.
This recommendation engine provides a growing Google community that has already expanded to millions of users in a short time. In March, Google reported 3 million ratings via the hotpot platform. (For a greater perspective, Yelp was at 17 million reviews as of April.) So, while Google Places' own rating system has a long way to go, it clearly has solid momentum via users' contributions.
Example of hotpot dashboard (with friend connections & ratings/reviews):
For example, a Google hotpot user that is searching for a good barbecue restaurant in Atlanta might see several relevant options with solid ratings. But, he or she can also see that a friend likes a few specific places. Not only does the friend's ratings play a role in the position and rank score of these places, but the association with the listing may also influence the user's decision on visiting one highly rated place versus another.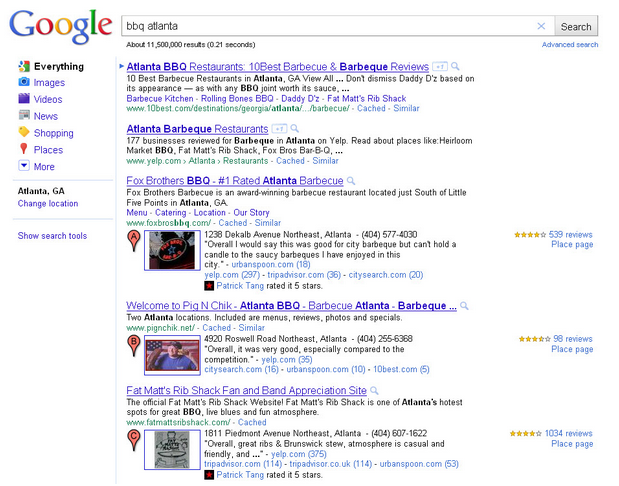 Recommendations Dashboard
Google's hotpot dashboard makes it easier for users to rate and review multiple Google Places in just a few minutes, or during one power session. A user can quickly rate places, as well as add quick reviews or tips, that ultimately influence ranking potential for any of those locations, while extending social reach against their own connections. The local recommendation engine does a solid job of prompting new spots that fit within a user's social hotpot network, establishing even more social connections for Google to leverage in search.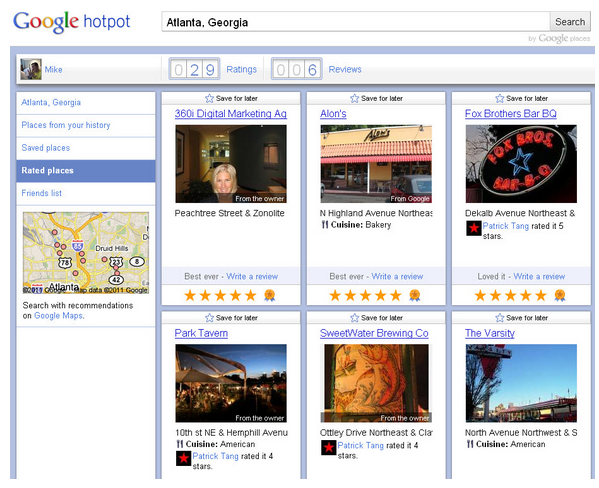 Google's hotpot is tallying millions of social signals from Google Places activity, while aggregating from other sources like Yelp and CitySearch. With hotpot, Google's logged-in users can rate any place (between 1 and 5), as well as add a special ribbon that represents "Best Ever!" The combination of hotpot and aggregated signals is ultimately shaping local search ranking opportunities for all brands. So if hotpot grows, Google could potentially go it alone — without reliance on Yelp or other local data sources.
Google's Breakdown on Ranking Local Search:

Getting Started with Hotpot
Hotpot will allow a Google account user to obtain and receive more information about actual places — any business location that Google evaluates and displays in search. Learn how to hotpot, or just sign up and check it out.
2. Google Places: "Check-ins" & Loyalty Status
As hotpot folds into Google Places, it is important to realize that other Google products and features like "check-in" are also melding into Google Places. Google Latitudes, a mobile application that is available on iPhone and Android, allows users to "check-in" to any Google Place. Similar to Foursquare or Yelp check-in apps, Google Latitudes has a loyalty status program for users with frequent check-ins at any given place. For example, Google users can gain VIP standing when they achieve enough loyalty status.
As Google counts these "check-in" social signals place by place, a brand may consider offering customers a loyalty program incentive, such as discounts, deals or special offers on products or services. For instance, American Eagle seems to offer a Bronze, Silver and Gold level of discounts as consumers, also Google account users, check into their places and achieve new levels of shopper loyalty. The implications of social check-ins present a growing area of opportunity for brands. The local, mobile and social components of "check-in" start morphing the digital and physical worlds! Early adopters may learn quickly and gain a competitive advantage.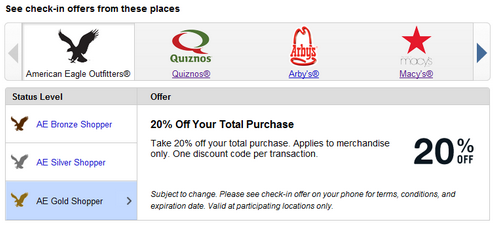 3. Google Places: Popular Products "In Stock"
For retailers who maintain their verified Google Places and store-by-store inventory feeds with Google, popular product integration is also possible. Each of the retailer's Google Places pages, store by store, can now be enabled with a new section that highlights popular products "in stock," or that are available at that specific location. However, the requirements of in-store inventory feeds are covered in a previous blog post, and could present challenges for some retailers.
Example of Google Place Page, including popular products "available in the store:"
Marketer Considerations
Keeping a good brand reputation – location by location – is important. Brands with hundreds or thousands of locations will be heavily influenced by the growing social aspects layered onto their Google Places. Places' ratings are already influencing rankings, and other social signals (+1 or check-ins) may soon have greater implications.
Measure and benchmark. Marketers should begin measuring the growing number of social signals that are relevant, place by place, in Google Places – and compare or benchmark metrics against local competitors. These include ratings, reviews, social check-ins and comments.
Listen to your customers. There are many ways that brands can get involved with buzz monitoring, learning from user feedback to improve individual locations or even more global issues. For example, marketers can read reviews and address any consistent criticisms; be active in the community to build relationships; and develop thoughtful ideas for how to promote additional user feedback through reviews and ratings.
Make the most of new opportunities. For some brands, it might be worthwhile to look into setting up Google Places check-ins and loyalty status programs in order to develop promotions or deals for consumers who continually check in to stores. If incorporating popular products sounds interesting, get your Google Places verified and active with "in-store inventory feeds."
Summary
The number of Google users who are actively signed in while using Google search and Google's suite of products or services like "Places" will ultimately influence adoption and impact of social layers. While pure speculation exists on percentage of users logged in while searching Google, some claim it is at least 10 to 15 percent. Yet, no solid data on this percentage (or any numbers, for that matter) has been made available by Google.
Because hotpot is in the early stages of development, its success is dependent on several factors, including how many Google account users are actually logged in, how many users adopt the social rating system and how many users continually interact with the Google Places pages via a standard Web browser or mobile application. Now that hotpot is integrated into Google Places, its foundation could potentially empower Google's own collection of ratings and reviews from its user base. Regardless of personal participation, the simple fact that other Google users participate (whatever that percentage may be) will ultimately influence local ranking results.
Finally, Bing just announced the launch of Bing Business Portal (BETA) — its equivalent to Google Places. The platform is new and untested for many large brands, especially those that manage hundreds or thousands of locations; nevertheless, claiming and managing Bing Places is a new opportunity that must be investigated.