Today, Google announced the launch of the +1 button for websites, a feature that enables site visitors to "+1" content directly from pages themselves (vs. within Google search results). The news comes on the heels of Twitter's announcement of its own button for websites, and signifies larger trend of social platforms integrating more closely with publishers' digital destinations.

Mashable has already implemented the +1 button on each of its posts.
While the news might cause some marketers to wonder why they should add yet another button to their websites, the Google +1 has added weight as it ties back to natural search rankings. Long story short, brands can't risk being left behind in the Google natural results, and the +1 button will allow them to capture the natural relevance they deserve. Webmasters can get started immediately.
Social search surges forward
Social signals have increasingly become important to SEO and algorithmic search over the last year.  Both Google and Bing are just testing their algorithms to digest more of these social signals (for example, Bing recently announced even deeper integration with Facebook), but it's still too early to gauge just how important features like +1 will become.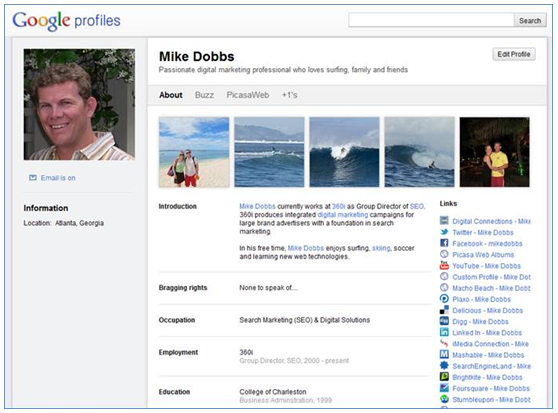 The true impact of Google +1 remains unknown and ultimately depends on adoption rates of webmaster button implementation. This is exactly why releasing the +1 button outside the walls of Google is so strategic to Google's social search endeavors. Webmasters who plant this seed will now open the gates for non-Google account users to join via a prompted authentication. This is not too different than Microsoft authenticating users through Facebook while searching Bing.
What does this say about Google's social ambitions?
It's reasonable to assume the Google is quietly building its own social network in the backdrop of +1 and other social updates. This is not to say Google wants to become the "next Facebook" – but rather it is likely motivated by a desire to unify various products and services within a consolidated Google Profile. This unified profile would connect more data, leading to search improvements and expanding social connections between products and services like Places, Google Picasa, YouTube, Buzz, Gmail, Reader, Apps and more.
These Google tools have tremendous social activity, but in many cases this activity is scattered across the various product platforms. Look for Google to unify more of its products within profiles into 2012, adding to the gray bar navigation above, just like their most recent addition of +1 (could Google Places be next?).  As Google improves profile aggregation, and as +1 picks up steam, we expect increased adoption of profiles.
Marketer Considerations
Marketers should consider implementing the +1 button onto key pages or sections of their websites, as adding the button will help propagate social currency and promote the authority of their URLs within Google's search and social community. That said, marketers should be discerning when it comes to which pages they place the button on, as certain pages will warrant greater social promotion and sharing than others.
The proliferation of social buttons available (Facebook, Twitter, etc.) will require a broader look at how such features should be implemented across a website. For example, if you know where your consumers spend time on various social communities, you can be more selective about social sharing buttons they apply to pages. Or, you might consider a unified button, such as AddThis, to bring it all together.  That said, Google's +1 button has added importance, since it will have a direct implication on Google's search results and ever-changing algorithm, which will likely digest more and more 'social signals' in the future.
Lingering questions
One key question for marketers is around how Google plans on making +1 data available. It will be interesting to see if Google creates an API so marketers can better understand how the Google community is reacting to their URLs (i.e. are people +1-ing my website content?). And, just like matching up your homepage "PageRank" to your competitive set, benchmarking your +1s will likely be a new requirement for marketers looking to keep tabs on their top competitors.
UPDATE: Google tells us that they will be giving marketers and website owners a number of tools to see how +1s are behaving for their brand. For website owners, Google will be giving brands information about which URL's are being +1-ed and graphing that over time so they can see how they are tracking. Also, once Google accrues enough enough data to be statistically significant, it will be able to show which region the +1s are coming from as well as some some basic demographic information on those individuals.
Another unknown is how the +1 button will interplay with PPC or AdWords landing pages. For example, will the +1 align with the AdWords display URL, or the destination URL?  It would make sense that it would align with the landing page URL, especially if a +1 button exists on that page, but this URL is not displayed to Google users in the Ad. However, the shelf life of a PPC landing page is often short lived. How might the plus one alter PPC landing page tactics? Clearly some testing will unfold, but aligning appropriate +1 credit to a canonical URL will become an important challenge for webmasters and marketers.
UPDATE: The URLs that Google aggregates will be the +1s on are the final landing pages of the search results and the ads. This allows brands to put a +1 button on that landing page, yet still control where that +1 aggregation goes to. For example: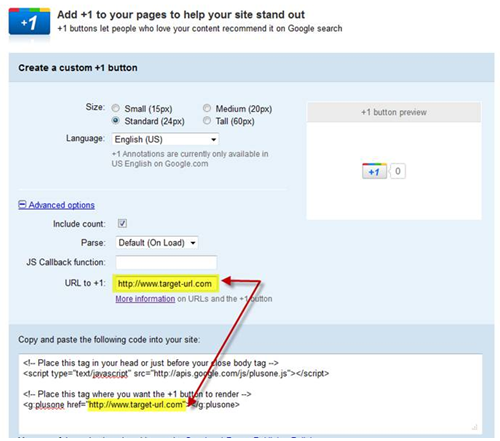 ***
The Google +1 button for websites sets the stage for more social reach and authentication via Google users – after all, Google is the world's largest search engine and accounts for more than 50 percent of incoming traffic on most sites. Google appears to be vested in success of this feature, actively evaluating data from Twitter and Facebook, indicating a desire to build its own related data. This announcement is a clear indicator of Google's continued efforts to be a dominant player in social.
In its most basic form, the question of whether or not publishers will begin placing the Google +1 button within their own sites will come down to whether or not they want to have an added opportunity to enhance their listings. And we expect most will.