This week Yahoo! made some key changes to its search interface that the company says is just the first in a series of advancements that will bring searchers more content – and more "entertainment" in one central place. As Mashable's Stan Schroeder noted on CNN.com, the updates give Yahoo! a more curated feel, suggesting to users specific content ahead of serving a long list of links. In many ways, this style is not unlike that of Google's Short Answers.
For specific types of information – e.g. a user in search of media and entertainment topics – Yahoo! delivers a rich carousel of answers for specific information types that doesn't require the searcher to exit Yahoo.com to get the answer or more information. Yahoo! has subscribed to this concept for awhile now, but the engine seems to have taken it to the next level in display by enriching the user experience within its own results pages. For example, Yahoo! already provided short answer boxes around certain queries (e.g. a pro athlete) above standard results that aggregate facts via Yahoo! Sports for example. The updates announced this week stem from the same concept.
Here is a quick summary of the enhancements:
News & Entertainment Shortcuts: Searchers can now view trailers, listen to songs, browse photos and view real-time conversations around queries. For example, when searching for the artist "Kanye West," Yahoo! now delivers a dynamic box above traditional natural and sponsored results that includes top stories and photos, multimedia content and tweets by and about the artist.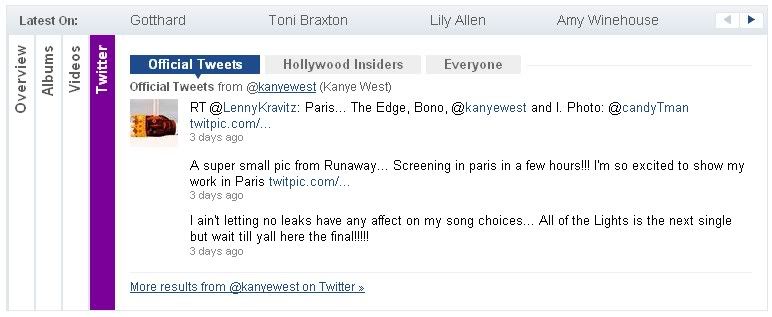 Updates to Trending Now List: Yahoo! now features slideshows that highlight buzzworthy topics on the web. The Yahoo.com features a box of hot searches, and clicking through the specific terms will send the user to a full results page.
Mobile Search Enhancements: Yahoo! has also enhanced the search experiences for iPhones and Android devices by leveraging HTML5 technology. The mobile interface can be viewed at m.yahoo.com.
Though these updates appear largely targeting at improving the consumer search experience, there are implications for marketers seeking to reach people through the Yahoo! engine.
The impact for media and entertainment brands will be the most significant –especially if searchers don't feel they need to navigate off Yahoo.com to the brand's third-party site to get the information or content they need.
Getting active in social and adding links to Twitter and the like could be important when it comes to Yahoo!'s new real-time layer. Brands can capitalize on this new feature by providing an avenue for users to exit Yahoo.com and hit their own digital properties.
Similarly, syndicating videos that impact the video section might also be important.
To improve traction, some media and entertainment brands might want to explore partnership or data feed opps with the engine. This would help sync their data/content and branding with Yahoo!'s new output.