On the blog last week we talked about "cord-cutters" and the decline of television set sales. Today we explore what this means for the future of viewership and for marketers reaching consumers via this channel.
Despite a decline in TV set sales, Americans are watching more television than ever (Nielsen's Three Screen Report, 2010). Viewing has moved beyond watching from television sets. The way people consume television today is vastly different than it was five years ago. Consider five key changes:
1. Digital recording devices have allowed for consumers to "time shift." At the end of 2010, 38% percent of all U.S. TV households had a DVR; however, those viewers are still watching commercials. Nielsen also found that in DVR homes, playback actually improves commercial ratings by 44% among 18-49s after three days.
2. People are watching full-length videos on computers. In Jan. 2011 143.9 million Americans viewed videos online (Source: Nielsen). Furthermore, eMarketer reports that a full third of U.S. adult Internet users watch full-length TV shows online.
3. "Third-screen" viewing via mobile devices is on the rise. Consumers are viewing more of their favorite shows from mobile devices, such as phones and tablets – a habit that has increased 41% year-over-year. The majority users of mobile video are teens, clocking in more than seven hours a month on average.
4. Multi-screen viewing is also on the rise. Per a recent Nielsen study, 70 percent of tablet owners and 68 percent of smartphone owners said they use their devices while watching television.  In another study from late 2010, 86% of mobile Internet users said they were using their devices while watching TV (Source: Nielsen/Yahoo).
What are people doing while interacting with these devices during TV shows? Nielsen/Yahoo found that a third were using mobile apps, 37% were browsing the web, 40% were engaging via social networks and 56% were texting with a friend or family member.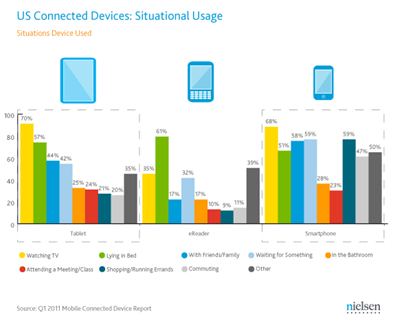 This trend presents a double-edged sword for marketers. On one hand it means that consumers are increasingly distracted while watching television. However, the study also showed that about 25% were browsing content related to what they were watching on TV. This represents a huge opportunity for the content producers to create a digital experience that can accompany and enhance the viewing experience.
5. Technology is enabling a more connected viewing experience from the TV itself. We have seen a proliferation of interactive TV devices such as Google TV, Apple TV, enhanced Blu-Ray players (that connect TV to the web), video game units (Xbox, PS3) and streaming devices like Hulu (powered by Netflix and Roku). We're also seeing more and more new TVs that come preloaded with digital applications like Twitter and Facebook.
What does this mean for content producers?TV viewership has radically transformed from a passive experience to a more engaged, interactive, and on-demand experience. Content producers will not only have to continue to create quality entertainment products, but they will now need to consider ways to a) enhance the viewing experience, b) leverage social media to promote their properties, and c) distribute their content across multiple platforms.
In the last post we discussed several ways that content producers are enhancing their TV programming by integrating viewership with engagement on social networks.  A telling report from digital research firm Futurescape demonstrates the importance and power that social networks have on the success on new programs. Social chatter can influence the success of a show by amplifying conversations for a niche program, or hurt the reputation of a big-budget show after a few weak episodes.
A recent Nielsen study verifies this argument. The study showed that there exists a large overlap (49%) between visitors to network and broadcast media sites and social networking and blog sites. Furthermore, the popularity of TV shows as a social networking topic is evident on Facebook, as 17 of the 100 "most Liked" pages are TV show brand pages.
One example of how content producers are merging viewership with social networking is USA Network's recently launched Chatter app, which lets viewers talk to other fans and engage with content from several social channels while viewing the show.
…And for brands that advertise on TV?
Marketers who continue to rely on television as a mass media vehicle will have to break through the clutter and provide greater value in their commercials by making them more relevant or more engaging.
One way to make commercials more relevant to younger and more digitally savvy audiences is to include references to popular digital behaviors, memes and other digital "inside jokes." Wheat Thins took this concept to another level when they thrust unexpected Twitter users (who happened to tweet about the product) into the starring role of their TV commercials. The ad below shows a Wheat Thins team delivering a truckload of crackers to this unsuspecting fan who mentioned they ran out of their product in a tweet (view video).
Another approach is to make television commercials a more engaging experience for consumers. Viewers are increasingly consuming content with their mobile devices in hand, so why not connect the commercials to the digital devices being used?
One example of this is Old Navy's partnership with music tagging app Shazam to make their commercials more interactive.  Consumers who tag the commercial as it airs are driven to a custom experience where they can download music, learn more about the clothes, get coupons, and more.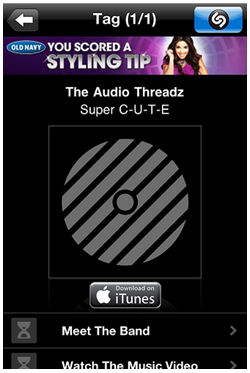 Via Lost Remote
***
Regardless of whether you are on the content producing side or the advertising side of TV, paying greater attention to how digital will be integrated is critical to the success of your programming or advertising efforts.
This is part two of a two-part series on the effect of digital on TV viewership. You can read part one here.