When is it ever enough to indulge in a piece of chocolate cake or to watch an episode of the "Real Housewives?" It needs to be shared with people too! Women use the Internet to communicate (according to comScore "56 percent of adult women say they use the Internet to stay in touch with people") and that includes talking openly about their indulgences on platforms like Facebook and Twitter. In fact 79% of online conversations that women have about indulging in "me time" are unprompted as they share, reflect and think out loud among their social networks.
Why Are Women Talking About Their Indulgences Online? By # of Posts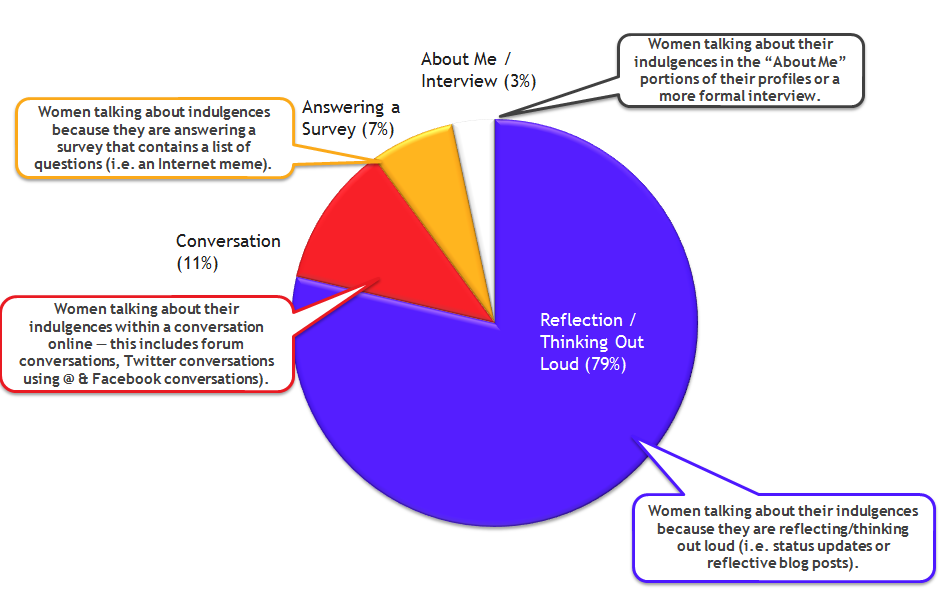 Source: 360i Analysis
What are Women Doing to Indulge? By # of posts

Source: 360i Analysis
Surprisingly, relaxing activities like baths, beauty treatments and shopping aren't at the top of the list. Instead, consuming entertainment media like TV, movies and music are discussed the most by women online. Eating and drinking come next, followed by using social media.
Passive activities like watching TV, movies and listening to music are easy ways for women to treat themselves. And they feel particularly indulgent with certain shows and music, such as The Real Housewives, Gossip Girl, and Michael Bublé:

How do food and beverages fit into the conversations?
Women like confessing their indulgent food moments online, referencing unhealthy foods like ice cream and fries as sources of enjoyment and guilt:

Women online frame drinking as a way to unwind and take time for themselves:
Marketer Implications:
Women are open to sharing their moments of indulgence online. Think about using these topics as tools to crowd source or build community—whether it's asking women what they like to do in their "me time" or asking them questions about specific moments of indulgence. For example, Oreo asked their Facebook community "When do you most feel like eating an Oreo cookie?" which elicited 7,854 likes and 6,555 comments.
Give women permission to indulge – respond to her confessions, give her encouragement, and tell her that she deserves these moments. Brands should also encourage conversation, ask questions, and give women a platform to share their thoughts on the products they use and the activities that they engage in during their downtime. Brands should also think about providing women with a source of indulgence; treating them to their favorite movies, TV shows, music, or foods as rewards.
We routinely reach out to women in their "go time" – for instance, when they are actively searching for a product or researching information to help them manage their households. Consider reaching women during their "slow times" with content that they would find indulgent—content that feels like the entertainment media that they are already using in their down time (videos, music, etc.)
CPG and entertainment brands specifically should consider how their product fits into a woman's day or her times of indulgence and then consider leveraging her social nature to increase conversation around a brand or product.
– Connie Prough, Senior Analyst – Insights & Planning, 360i