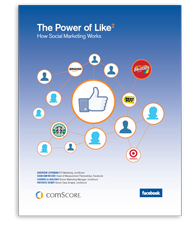 Perhaps the biggest question on marketers' minds is how their Facebook strategy affects the bottom line. The platform is no doubt a powerful force with its colossal and dedicated base of 900 million users, but few studies have been able to create a conclusive link between engagement with a brand on Facebook and sales – at least until now.
A new study published by Facebook and comScore provides strong evidence that Facebook can be an effective marketing channel. The study was designed to determine whether branded social media exposure – including posts published by a brand and ads served by a brand – has an effect on consumer buying behavior.
According to the report, it does. The data shows that fans exposed to social media brand impressions are more likely to make purchases than those who aren't exposed. The study also found that friends of fans exposed to brand impressions also demonstrate a greater propensity to buy.
Facebook and comScore defined social media brand impressions as the following: (1) page posts on a brand wall without media support; Stories about Friends on the wall or newsfeed, also unpaid (i.e. "Nicole Likes Target"); Sponsored Stories; and Ads with Social, or a paid ad that includes social context (i.e "Nicole Likes Target" displayed beneath an ad).
Although past studies have strived to create similar correlations between Facebook fandom/fan engagement and sales, the Facebook-comScore research released this week is the most compelling evidence for marketers yet. Whereas previous studies have shown the impact of paid media only, this research is special in that it shows how both paid AND unpaid content can drive purchase behavior.
Marketer Implications
The report presents a clear stance from Facebook to better explain to marketers how to use the platform as an effective marketing channel. This report serves to validate a brand's efforts (paid and earned) on Facebook, while highlighting specific opportunities where brands can maximize social media exposure to drive ROI. Below are some key takeaways for marketers in light of the new research:
Engagement should be the goal; not fan count. One of the biggest takeaways is that marketers should focus not just on amassing the greatest number of fans, but also creating content that will resonate with and beyond that fan base. When crafting your strategy on Facebook, consider the activities and initiatives that will not only attract fans – but also keep them interested.
Compelling content is critical to driving engagement. Serving content that people are apt to engage with via Likes, shares and comments will expose friends of fans to your brand, which can also drive purchase behavior, according to the study. Knowing which types of content resonate with your fan base through insights gleaned from both paid and earned will help ensure engagement among your fans, and their like-minded friends, as well.
Develop a continuity strategy. Brands should establish an ongoing engagement strategy to ensure fans are regularly seeing their content. If users cease from interacting with your messaging, your content will be shown less frequently in the News Feed – or perhaps not at all. Marketers can use paid media to remind disengaged fans that their content is still relevant to formant fans.
Premium Ad exposure lifts in-store and online purchase behavior. Refuting the belief that Facebook ads are largely ignored by users, the study found significant lifts in in-store and online purchases following the exposure of Premium Ads.
A paid + earned framework drives both reach and amplification. As we noted in a recent POV, "Paid + Earned Media: Building an Integrated Approach," the proliferation of content on platforms like Facebook drives the need for brands to consider paid media as an integral part of their community strategy. This latest report further bolsters the importance of utilizing an integrated strategy to maximize social media exposure among fans and friends of fans.
The effect of social media exposure is amplified during key promotional windows. The study found that the amplification ratio for retailers on Black Friday and Cyber Monday was double what it was on an average weekend. Since people already had shopping on the brain during these windows, the opportunity – and eventual impact – of social media exposure was greater. This underscores the importance of relevancy and timeliness in your brand's messaging. Fans might be more receptive to marketing messages at certain times – so use insights and instinct to determine the most optimal windows.
Consider the impact across non-retail verticals. Although this report only surveyed retailers, it's interesting to think about how social media exposure might impact other verticals. For example, based on this study it might be reasonable to predict that exposure to messaging about a TV show could lead to increased tune-in. In fact, a recent Nielsen-McKinsey study found that there is a statistically significant relationship between social media buzz and ratings.
The "Power of Like" study comes after Facebook has faced well-publicized criticism questioning the efficacy of promotions across its platform. With the report, Facebook seems to have alleviated some of those concerns.
Still, those who would jump to interpret the report in purely positive terms should keep in mind several grains of salt: 1) Facebook sponsored the study, 2) the sample size of the test groups was not divulged, and 3) the focus companies were all retailers. The results of the study focus solely the retail industry, and similar results across other verticals have not been explored in this report.
That said, this report offers some of the first conclusive data for marketers seeking answers as to how a fan or a fan's social interactions should be valued in terms of ROI. And beyond this affirmation, it brings to the surface several important steps that brands can take to maximize the impact of their investment within Facebook.
*****
Appendix: Study Methodology & Detailed Results
The Facebook-comScore report contains three separate studies. Two of them (Starbucks and Target) focused on earned media, and the third (an unspecified retailer) on paid media. All used a traditional methodology sometimes called test vs. matched-control. That is, the control group included people who "matched" the test group in a variety of ways, including similar demographics and comparable online behavioral characteristics.
ComScore examined an unspecified sample out of the 2 million people on its global panel of Internet users. These people gave comScore permission to passively observe their online behavior, including site visit data, search data, advertising exposure and purchases. ComScore was then able to make connections between panelists' exposure to social media impressions and their consumer behavior, both online and off. (In its report, ComScore didn't share its methods for gathering in-store purchasing data.)
Starbucks: A test group of Starbucks' fans, as well as friends of those fans, were exposed to branded social-media impressions on Facebook. For four weeks after that exposure, the group's purchase behaviors at actual Starbucks stores were compared to a control group.
The results (see the chart below, from the report) show that users exposed to those branded impressions had a 38 percent higher rate of "purchase incidence" than those in the control group within four weeks. (ComScore said it had a 90% confidence level in the results.) In the four weeks prior to exposure, the test and control groups had rates of purchase incidence that were virtually indistinguishable. Further, the rate of purchase incidence actually quickened in each of the four weeks after exposure.
Target:
Using a methodology similar to the Starbucks study, comScore examined the online and in-store purchasing at Target of Facebook fans and their friends exposed to earned media, with the results showing a similar increase in purchase behavior for both categories. Fans of Target were "19 percent more likely [than the control group] to purchase at Target in the four weeks following exposure to earned messages," comScore said in the report, indicating that it had a confidence level of 99 percent.
Interestingly, friends of Target's Facebook fans were even more likely to make purchases at Target stores compared to their control group—the results showed a 27 percent difference.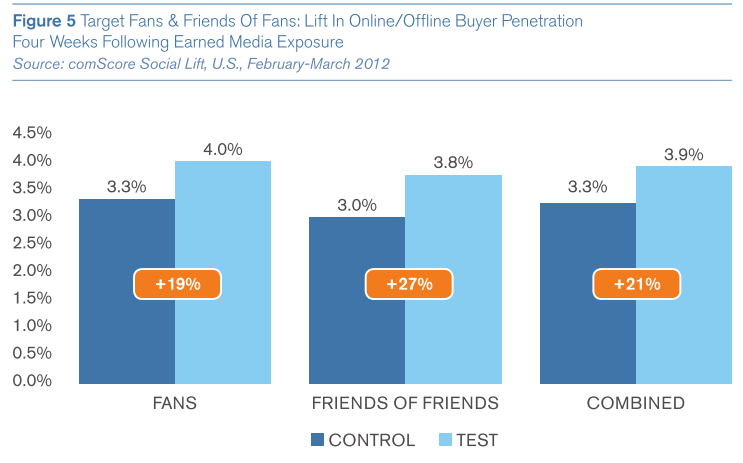 -Matt Wurst, Director of Digital Communities at 360i, contributed to this report.