What's better then a good deal? A good deal — with friends. That's according to Emily White, Director of Local at Facebook, as part of this week's announcement that Facebook will offer local deals as part of an Alpha program in Atlanta, Austin, Dallas, San Diego and San Francisco.
There are four ways users will be able to find out about deals in their area:
1. Deals updates through email and notifications
2. A new Deals tab located on the home page
3. Through news feed stories when friends take advantage of a deal
4. Personal Messages & Wall Posts
5. Sponsored Ad Units (Read 360i's POV on Sponsored Stories)
Facebook will also be publishing deals offered by third parties including aDealio, Gilt City, HomeRun, kgb deals, OpenTable, Plum District, PopSugar City, ReachLocal, Tippr, viagogo and zoos.
The launch of Facebook Deals for Businesses represents Facebook's most notable investment in social commerce since announcing they would require game developers to utilize Facebook Credits for in-game purchases back in January. Users can pay for deals using credit card, PayPal or Facebook credits.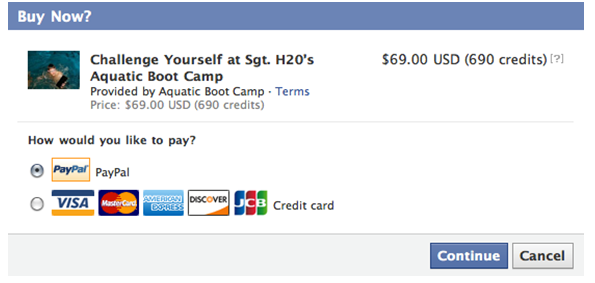 An example of one of the new Facebook Deals includes, "All-Access Experience for 2 to Austin City Limits Live at the Moody Theater for $250."

The alpha program is intended for local businesses including restaurants, spas, movie theaters, as well as one-time events such as concerts.
The Evolution of Deals
Back in 2010, Twitter also tried its hand at social deals, tweeting deals such as discounted TV's from retailers like Target. The last tweet from Twitter's discontinued deals handle @earlybird, was over six months ago. Why did Twitter fail? One common complaint about the deals was that the discounts were not deep enough.
Groupon has ignited a race to the bottom in which consumers expect deals at 35% to 50% off the lowest prices published online, which for many companies can obliterate profit margins. Marketers whose product mix offers high margins have the most flexibility and freedom in offering deals while companies with tighter margins will find it harder to offer a 'good deal' to consumers.
As is usually the case in emerging markets, innovation is key. One way marketers have been getting into the game is by bundling products, which results in higher shopping cart totals and more room for discounts.
Earlier this week General Mills became the first CPG company to appear on Groupon with a bundle; 12 sample grocery items and a coupon book valued at $40 at a 50% discount. With traditional FSI redemption at 1%-2% this approach has General Mills counting on a small percentage of buyers actually redeeming the full value of the coupon book.
With the offer being capped at 4,500, General Mills will be keeping a close eye on calculating the cost of their Deals investment. If more General Mills sampling promotions start to populate deals sites you'll know they've unlocked a recipe for success.
Deals For Your Business
So what about you? When and how do you decide to get involved with Facebook Deals? Local businesses in Atlanta, Austin, Dallas, San Diego and San Francisco should start experimenting with Facebook Deals now. Companies with high margin products and a solid Facebook presence should consider taking advantage of Facebook Deals as well.
And for marketers whose product lines offer less room for deep discounts here are 5 ways to get involved with Deals.
Think outside the box.
Create new value in areas not tied to product.
Bundle products to create more room for discounts.
Focus on premium brands & products that offer higher margins.
Use deals for closeouts and SKUs no longer being supported.
For more information on Facebook Deals visit: http://www.facebook.com/deals/business/
For more information on Groupon visit: http://www.grouponworks.com/
For more information on LivingSocial visit: http://livingsocial.com/getfeatured
-Nick Cavet, Social Marketing Strategist, 360i