On the heels of the new study it published with comScore, Facebook announced that it will soon be launching Facebook Exchange, a real-time bidding (RTB) marketplace. For all advertisers, this new model offers an expanded source of inventory to reach a qualified audience – and for direct response marketers, it offers a more sophisticated way of reaching users.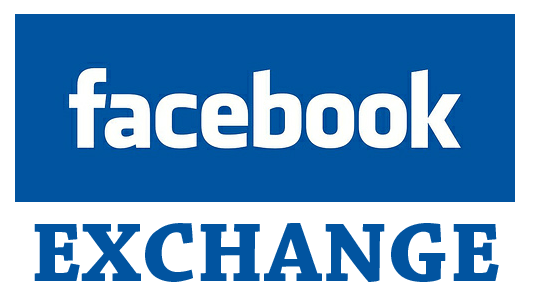 In a statement to Bloomberg,
Facebook said
that the new RTB service will allow advertisers to reach users on the social network based on their browsing history. This means that users who visit third-party websites can later be shown ads related to their web browsing when they return to Facebook.
Currently, advertisers are limited to targeting users based on the interests listed in their Facebook profiles and the pages users "Like" on the social network. With the addition of Facebook Exchange, not only is the bidding real-time, but so is the targeting.
Advertisers no will longer be reliant on users keeping their interests and "Likes" up-to-date – actually, they won't be reliant on that data at all. Through retargeting, advertisers can reach users based on their most recent online/off-Facebook behavior and deliver relevant ads in a timely fashion.
For example, a retailer could drop a cookie on the browser of a user who views the latest Christian Louboutin shoes on its website, but doesn't make a purchase. The retailer could bid through a DSP to show that user an ad stating "Christian Louboutin 20th Anniversary Capsule Collection. Shop Now," while the user is on Facebook. These ads are more compelling than showing a generic brand message to users who simply "like to shop."
Facebook is widely viewed as a platform best for active brand and social advertisers. Facebook and comScore's "The Power of Like 2: How Social Marketing Works" research paper furthered this notion, stating that those exposed to social media brand impressions are more likely to make a purchase than those who weren't exposed.
But for direct marketers, Facebook ads have been a harder sell. With the advent of Facebook Exchange, this perception could dramatically change. By opening its inventory up to DSPs for retargeting purposes, Facebook is adding the lower portion display marketing funnel, making it complete.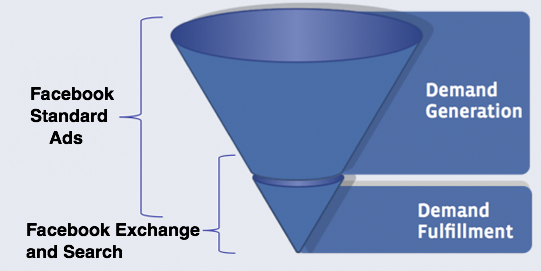 Image via TechCrunch
How it works:
Facebook Exchange is in a closed beta that is limited to a pre-selected group of advertisers. There are eight demand-side platforms (DSPs) testing Facebook Exchange: AdRoll, AppNexus, DataXu, TellApart, MediaMath, TheTradeDesk, Triggit and Turn.
While in beta, the only ads available on the exchange will be the native marketplace ads that appear on the right-hand side of the page. These ads contain a headline accompanied by a static image and 90 characters of text. Advertisers are required to supply the DSPs with a link, ad copy and an image (110×80 pixels).
It remains unclear if Facebook will open up its inventory to standard IAB sized ad units once Facebook Exchange evolves past beta. Furthermore, there is no clear timetable set for the allowance of additional advertisers to test the exchange.
In the simplest form, Facebook is now acting like just another supply source for RTB inventory. When an impression is available, Facebook will identify the user to the DSP using a nickname that protects the user's identity and enables the DSP to match the user against its cookie list, and in real-time, bid on the impression. If the DSP wins the bid, Facebook will serve a relevant marketplace ad for the impression.
At no point will Facebook receive personal identifiable information (PII) or previous browser history of the user, nor will Facebook share PII about its users with the DSPs. As a result, marketplace ads like the following will NOT be possible via Facebook Exchange, so advertisers must make ads that are generic and speak to the general public.

Since Facebook is acting as the ad server, advertisers cannot use ad tags from third-party servers, like DFA or Atlas, for tracking purposes. Thus, reporting is limited during the beta period. Eventually when Facebook permits the use of third-party ad tags reporting will be more robust and it will open up the possibility of view-through tracking for conversions.
Why is this important?
The Facebook Exchange opens up an entirely new and incredibly large source of inventory for display advertisers. An increasing amount of display advertising is bought and managed through RTB environments each year. According to research firm International Data Corporation (IDC), real-time bidding will grow to a $5 billion business by 2015 and forecasts that more than one in four display ad dollars will be spent via real-time bidding.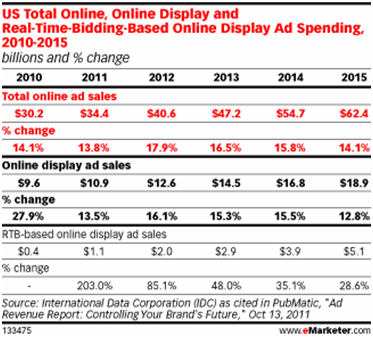 Facebook, the world's largest social network with over 900 million users, delivered 27.9 percent of all display ads served online in 2011, according to comScore. Pair that stat with the increasing popularity of RTB buying and Facebook's Exchange could increase $2 billion year-over-year, surpassing $5.1 billion in 2012.
This move also indicates Facebook's commitment to and reliance on advertisers who do not want to drive social actions with their advertising dollars. Offering up this inventory diversifies Facebook's revenue stream.
Marketer Implications
For all advertisers, the RTB model offers an additional source of inventory to reach a qualified audience. For direct response advertisers currently buying on Facebook, this offers more sophisticated way of targeting users. Additionally, Facebook's Marketplace ads are already sold in an auction-based model. It will be interesting to see if this new influx of advertisers will cause prices to increase within the Marketplace.
The introduction of Facebook Exchange also adds an additional buying platform to the mix. Marketers and agencies will have to think about how they want to buy on Facebook – through the Facebook platform, current third-party buying platforms or the DSPs. It will be important for marketers and advertisers to test each to see which can best help them meet their goals.