This week, Facebook released features specifically designed to solve two common community management challenges: a permissions system for admins and the ability to schedule posts for publishing at a future date and/or time. Let's take a look at the new permissions first.
Up until now, anyone who had admin rights to a Facebook Page held full access to every management feature, including the ability to remove all other admins. In the new permissions system, Facebook has designated five distinct roles: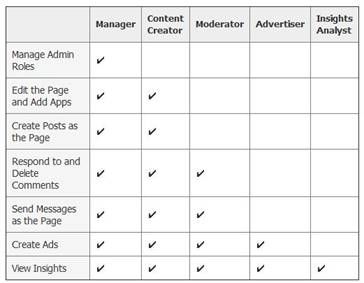 What's interesting about this list is that it closely reflects the major roles involved with managing a brand Page at the agency level – a sign that Facebook may be taking notes from its relationship with digital marketers:
Manager (Client): Has full ownership of the page and decides other users' permission levels
Content Creator (Community Manager): Full access to Page features, but cannot alter other users' permissions
Moderator (Customer Service): Can respond to and delete posts, but cannot post original content
Advertiser (Media team): Cannot post as the page, but can gather data and launch ads
Insights Analyst (Strategy/non-CM agency): Can gather Page data to inform target insights and planning
The new post scheduling feature is a long-awaited tool for uploading content to be published at a later time at 10-minute intervals. (Fun Experiment: Determine if there is any benefit to posting in real-time on the 5s, thereby making the most of the lull between posts from Pages who've scheduled ahead of time.) All scheduled posts are viewable in the Activity Log, where admins can edit the posting time or cancel the post. Text or image assets cannot be altered, however – you'll have to cancel the post and start again.
Third-party content management platforms, such as Hootsuite, have offered these features for years, and are already the preferred posting tool for some brands. But now that users can assign permissions and schedule posts directly on Facebook, some have wondered whether third-party platforms are at risk. According to Emily Banks (@emjbanks), associate managing editor at Mashable, "HootSuite just got a little less relevant."
But While Facebook's new tool set provides several of the same benefits of third-party platforms (and none of the API limitations, such as the inability to tag brands and individuals), it is still a long way off from meeting some of the most critical needs of social media marketers and their community management teams. Namely, Facebook does not yet offer a process for approving content, a system for managing posts from teams in different geographic locations or an environment to perform side-by-side analysis of multiple Pages – all tools which are readily available in most enterprise-level third-party platforms like Syncapse, Vitrue, Buddy Media, Sprout, Shoutlet or 360i partner, Expion.
"Our initial reaction is that it's fantastic for small businesses or brands with a simplified workflow," said Erica McClenny (@ericamcclenny), VP of client services at Expion. "But for global brands with multiple locations or products, it's really just introducing a new step to manage."
McClenny noted that the new permissions system creates broad limitations for each user, but does not provide tracking on all the actions they take on the page – an accountability issue that is becoming more of a requirement for larger organizations.
It's too early to tell whether Facebook intends to duplicate the advanced functionality of third-party platforms, which would make sense if they ever plan to offer a premium paid suite of admin tools for managing brand pages (an unlikely scenario, but not impossible as the social network looks to crank up profits post-IPO). Facebook has indicated a degree of hostility toward third-party platforms in the past, limiting post reach of the Pages that use them. But Facebook has also shown a willingness to collaborate, going so far as to build a safe-list of companies that can publish to Facebook without the risk of diminished reach (Expion is among them).
Whether this is a first step toward more advanced Page management tools or a one-off upgrade, one thing is clear: today's new features are pragmatic and refreshingly responsive to the needs of social marketers.