Image via blog.foursquare.com
Yesterday morning, popular location-based service foursquare launched its much anticipated upgrade to include a few new features that certainly had the Mayor of 360i New York – among many other users – abuzz.
What are the updates?
Aside from the improved speed of the app and overall beauty of the new interface, foursquare has introduced some more socially recognizable features through the addition of comment and photo uploads. The idea of adding multimedia responses to a social update seems a bit archaic in this day and age, so it goes without saying that these new capabilities had been much anticipated. As the startup announced yesterday, users have been "requesting these features for months" so it was naturally only a matter of time before these requests came to fruition. Here's what we can experience with the release of v2.2 for the iPhone (Android to come next week, BlackBerry in January):
1. Comments: While foursquare has given users the option to 'shout' a comment to their followers since the earliest days (much like a generic status update), it has never allowed us to hone in on one particular checkin for a specific user. This addition gives the foursquare community a much more personalized checkin experience. It's more social and engaging, allowing the user to even comment on checkins from Facebook and Twitter!

2. Photo Uploads: As we said before, photo uploads are no stranger to us. For many like myself, sometimes a checkin can only do our offline experiences so much justice. The ability to add photos to a venue – as services like Yelp allows – enriches not only the experience but the credibility to a venue as well. Photos can also be uploaded as tips for future checkins to see, and can be flagged as inappropriate by other users.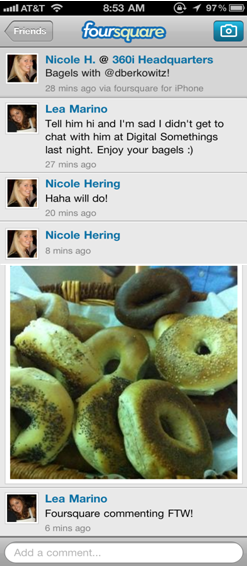 3. Partner integration: It seems that images in mobile are the new black. With popular photo-capturing and editing apps such as Instagram, PicPlz, and Foodspotting, rapidly growing, foursquare brilliantly stood alongside all three. The intention of integrating images in its new upgrade brought about a marriage between foursquare and these new partners. The ability to snap a photo through these apps, edit them, and upload them to a foursquare venue from within the image apps is certainly innovative and eliminates several additional steps to achieve the same goal.
What do these updates mean for marketers?
1. Comments: Just as brands saw the value in Facebook and Twitter, the addition of comments to checkins allows brands to converse with their consumers in real time (with push notifications). With this more open platform for conversation among users and brands, marketers are opening themselves up to a new portal of insight and consumer learning.
2. Photo Uploads: Multimedia uploads help create a richer sharing experience and close the gap between brands and their consumers. The flagging of inappropriate photos allows for more control and a safe space for users to get the most out of every checkin. For smaller businesses, the visual reinforcement may even help a customer in the decision making process!
What do you think of the upgrade? Send us a tweet or let us know in the comments below.