Groupon has taken its next step into the supermarket aisle following its initial foray into consumer packaged goods back in April. At the time, Groupon unveiled its first deal for a CPG brand – a $20 General Mills Sampler Pack & Coupon book – that sold out (4,500 units) by mid-morning.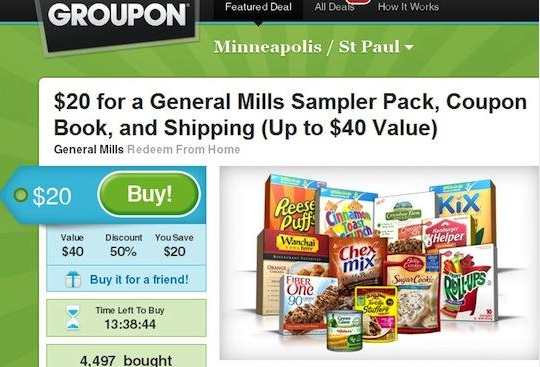 The second act comes in the form of a partnership with Big Y Foods stores that offers a $39.99 "Shellfish Grill Pack" for just $24. The deal will be added to purchasers' loyalty cards, and automatically applied at the checkout. For Groupon, this is an entirely new approach to CPG deal distribution, which had previously been relegated to printed paper and redemption codes displayed on mobile devices.
A spokesman for Big Y Foods said the deal is a "test" to see what the potential is for CPG brands (via DM News) and that Big Y will be conducting a backend analysis to understand the impact of the program. The results will reveal if Grouponers are as bullish on shellfish as they are on spa packages.
For marketers, the pilot is additional proof of the rapid pace of experimentation and importance being placed at the intersection of mobile, local, deals and point-of-sale. Of course, the inclusion of loyalty cards represents an important evolution in these experiments. There is a vast amount of shopper data tied to loyalty cards, ranging from name and email, to total spend – not to mention a historical record of each and every product you've ever purchased. For marketers, this creates new opportunities to offer coupons and deals that are personalized, timely and in your pocket. All of this results in higher offer redemptions and increased revenue.
In the meantime, CPG marketers have a wide range of methods to offer deals paired with in-store loyalty cards. Most notable are Coupons.com, whose offerings include the Digital FSI, Grocery IQ shopping list app, and co-branded apps such as Kraft Foods' iFood Assistant application and MyWebGrocer whose Social Grocery Facebook application reaches 3,500 grocery stores across the US. Both companies enable marketers to offer coupons and deals, linked to an in-store loyalty card.