As a television network, how do you plan to succeed in making TV social?
With recent studies pointing to buzz from social networks to be a possible driving force behind television ratings, networks are now looking to capitalize on this fact by creating social TV experiences designed to keep fans talking longer, consuming more content and providing valuable show insight.
Second-screen apps are no longer the "future" of TV; they're becoming an integrated part of the entertainment experience right now. These apps offer fans a place to not only converse about their favorite TV shows, but connect with talent, get access to behind-the-scenes content, participate in games and more. We expect to see more and more networks creating apps for their shows, which will provide marketers with a new way to serve advertising content, gather consumer data and utilize instant feedback from conversations within the app.

IFC Sync second-screen experience for the cult show "Portlandia" (via Mashable)
New technology seems destined to make 2012 the year of the second-screen app. Here are six tips for networks and marketers to keep in mind when creating a second-screen experience.
1. Design the right space.
Social platforms provide the spaces for fans to talk about or check-in to their favorite shows, but with so many different conversation hubs  (Facebook, Twitter, Shazam and GetGlue, to name a few), fans tend to spend a lot of time jumping between networks rather than staying and engaging in one place. With this challenge in mind, networks may run into problems when attempting to design an app which strikes the right balance between giving fans what they want and giving them all that is available.
Designing an app with every existing hub may become confusing and overwhelming to fans. On the other hand, a lack of platform variety may cause fans to continue jumping around and keep them from remaining within the app. Networks and brands will not only have to decide which platforms yield the highest value, but how to organize them in a clear, consistent fashion.
Quick tip: Create a space that makes sense for your show and community — find a balance between providing value for your network and value for your fans.
2. Understand what you've created.
From a feedback perspective, networks looking to gain insight into the audience through social conversations will face platform limitations. Without full access to the API or backend analytics of a social network, tracking conversations or pulling accurate fan numbers is a challenge.
Part of the appeal of these apps is the access to consumer data, so it's up to networks and brands to work around backend limitations when incorporating outside platforms into the apps. And while it may seem as simple as creating a new conversational platform with complete backend control, marketers may face a new challenge in trying to get fans on board with something new and unfamiliar.
Quick tip: Make sure you understand all aspects of the app — if you want to prove value, make sure the app you've created has the ability to do so.
3. Make the app available wherever fans are.
Nowadays, fans can access show content through more than just their television screen. Whether they are on a mobile device, tablet or laptop, fans want access to their favorite shows no matter where they are or what device they're using. While designing an app that is friendly to all types of mobile devices and tablet types is important, networks should not forget about those still using laptops to gain access to their favorite shows.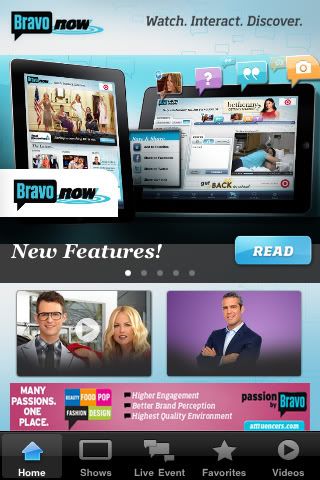 Bravo's mobile experience (Bravo Now, shown above) syncs with desktop-friendly apps such as Tweet Battle
For networks with an older viewership demographic, it's important to also design an app that appeals to all ages from content creation to user interface and availability.  Knowing who your audience is and what they're using to communicate with your show is imperative to creating a community of returning fans.
Quick tip: Be available — if you design an awesome app, your fans will want access to it all the time and from multiple devices; be sure to remain appealing to all ages and demographics.
4. Try not to turn fans off.
With any new platform or social technology comes a new way to market to the audience. In the case of second-screen apps, this could mean anything from new types of promoted tweets to syncing live ads from the viewer's television to the app. The challenge lies in the fact that both this type of advertising and the apps themselves are still in somewhat of a testing phase, so finding a balance between pushing content and pushing ads may affect the establishment of a returning community. Too many ads may irritate fans and cause them to leave, while a low rate of return for advertisers may cast doubt over the success of this new technology.
Quick tip: Don't irritate your fans—if you take the time to build the app, give your fans time to adjust before pushing ads in their face.
5. Keep fans turned ON.
The New Year will also bring new levels of competition within the second-screen world. Networks and brands are competing against one another to develop an environment so inclusive there won't be a reason to leave, but with so many new options and so many previously established communities, the challenge lies in convincing fans to stay. Your relationship with your fans functions much like any other in life – if you're not willing to put in the effort or work to keep things fresh and exciting, there are plenty of others waiting for an opportunity to take what's yours.
In an attempt to face these competitive challenges, USA Network and Yap.TV came together this past fall to create a second-screen platform for cultivating fan conversations and consuming show-related content all in one place: the USA Anywhere app. While the app features an integrated conversation hub, exclusive content and games, networks will face new challenges this year as these apps become more inclusive and unique. Networks not only have to compete with one another to provide a seamless experience, but are competing to create the most distinctive space.

USA Anywhere app, via Lost Remote
Quick tip: Keep it fresh—your competition is fierce and your fans won't make a commitment unless you give them a reason to.
6. Be patient while awaiting results.
While second-screen apps are sure to bring about plenty of excitement for consumers and marketers, brands should remember that new technologies require time to grow and mature. The second-screen experience is still very new to consumers and acquiring a solid community of brand advocates is not something that can happen overnight.
Allow consumers time to become acclimated to the landscape before saturating them with ads or continuously changing the app as a means of retaining a competitive edge. A successful second-screen experience will not be derived from frenzied worry over what the competition is doing and how much faster something better can be created, but from paying attention to what's working within your specific community and how that information can be optimized to come out on top.
Quick tip: Be patient—give your community time to adjust to the second-screen experience before attempting to change it; if you've done everything right, second-screen success will follow.
*****
With 2011 being filed away as the first year of social TV, we anticipate that 2012 will bring about new developments and challenges for the second-screen experience.
If done right, brands stand to gain a lot from the development of a second screen experience; from a new space to generate advertising revenue to gaining more consumer insight, these apps have the power to positively change the entertainment experience. Though there exist technological hurdles, networks that assume a leadership position in the second-screen movement will see greater success as the technology changes and matures.