As an event that brings together technologists and marketers, SXSW predictably lit up the Twittersphere with comments of anticipation, excitement and general approval. Some of the winners amidst topics of interest included FourSquare, Instagram and GroupMe, as well as events focusing on transmedia trends and technologies, such as the 'It's Not TV, It's Social TV" panel.
Conversations during SXSW were amplified heavily through Re-Tweets and revolved around new apps, and panels and events happening at the time – especially those having to do with social and mobile. While many new apps were launched and talked about, Foursquare flexed its muscle by releasing a slew of sought after SXSW badges. Overall, conversation took on an upbeat tone, with words like "awesome", "love", and "party" rising to the top.
Share of Buzz For "Top" Apps During SXSWi
Among the "13 Potential Breakout Apps To Watch at SXSW 2011" pre-selected by Mashable, the buzz was strong around group chat and photo apps. GroupMe's award for Breakout Digital Trend drove congratulatory tweets, while Instagram took advantage of SXSW to launch an improved news feed as well as a new tilt-shift feature.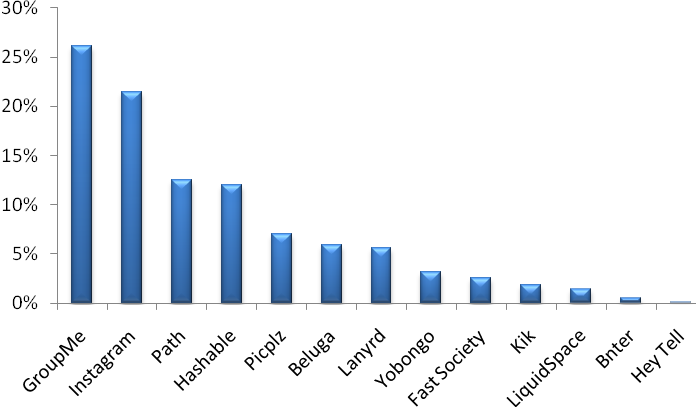 App Mentions Above *Instagram mentions here exclude photo-tagged posts, which accounted for 29% of total Instagram mentions. (Based on a 150 post randomized sample).
Buzz-worthy events: Transmedia topics and panels gain momentum
The sheer breadth of events happening during SXSWi made it difficult for anyone to stand out amongst the crowd, but when people took their lunchtime tweet-break, it was clear that a hot topic this year was transmedia entertainment and planning – how to make different channels and media types play nice together for a seamless consumer experience. The noon time spikes in chatter were dramatic, perhaps indicating that the biggest window of opportunity for announcements to go viral is right before and during lunch.
Volume of conversation spikes dramatically at lunchtime each day:



Source: Radian6
The panel, 'It's Not TV, It's Social TV,' made a splash on Saturday, with some higher profile panelists, like Gavin Purcell (Producer, Late Night with Jimmy Fallon), who talked about how social is becoming the new 'water cooler' for TV conversations, and spoke about how social can be integrated into different TV programs. Another panel called, 'The Last Broadcast: Entertainment is Social – What's Next', presented by Intel, gained some buzz the day before as Intel announced a giveaway, which was passed around on Twitter. This panel focused on the integration of mobile, TV, and the internet.
Finally, social media darling, Gary Vaynerchuck made an impression with his take on his new book, 'Thank You Economy'. His clout made this one of the most talked about panels of the weekend.
Events, panels, and new apps drove the conversation at SXSW this year. Lunchtime Tweet-breaks enhanced the traction of announcements and the most popular social activity was the Re-Tweet. Overall, SXSW apps and events impressed attendees this year, resulting in  much enjoyed positive buzz.