In recent weeks, the two juggernauts in social media – Facebook and Twitter – announced plans to roll out mobile advertising, marking a pivotal moment in the collision of social and mobile advertising. These launches will not only mean significant revenue growth for the social media networks, but also a substantial extension of a brand's reach on these networks. Here are the Who, What, Where, When and Why of the launches.
WHO:  Facebook and Twitter both made announcements late last month.  Facebook made the announcement during its fMC 2012 conference, and Twitter posted the news to its blog the day before on Feb. 28.
WHAT & WHERE: Facebook's new Premium Ad Package includes the addition of mobile for the News Feed ad placements. On Facebook's mobile apps, the ads will appear in a fan's News Feed as a Sponsored Story.  The look and feel will be similar to the desktop experience including social connotation (i.e. number of comments and ability to like/comment). There has been speculation about how long it will appear, but as of right now it would move along the fan's New Feed like any other post appearing in the feed.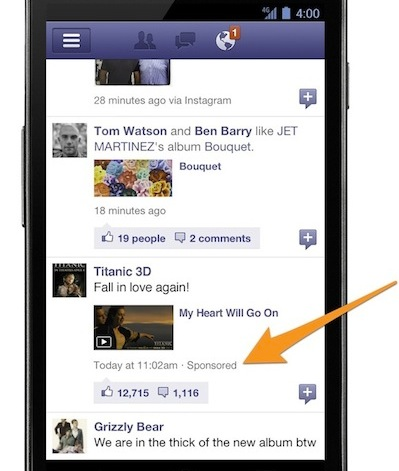 Twitter announced that Sponsored Tweets and accounts would be rolling out to the timelines, searches and suggested follows on mobile apps.  Originally, Promoted Trends & Tweets only appeared in search and Promoted Tweets only appeared in the timeline on Twitter mobile.  This update now gives all Twitter ad units visibility across the Twitter mobile experience.  Similar to Facebook's approach, the Promoted Tweets will appear like any other regular Tweet only once and will move along the feed.
WHEN:
Twitter's mobile updates will be rolling out gradually over the next few weeks.  Facebook is aiming for an April 1 launch.
WHY: This is a game-changer for social and mobile media for about 525 million reasons.  Facebook has an estimated 425 million mobile users while Twitter mobile adds on another 100 million mobile users.  It is all about reach.
In addition to the reach, it is also about being able to always be connected with the fan or follower regardless of device.  Consider how many times you check Facebook on the iPhone versus your laptop?
Marketer Implications
For advertisers and brands this opens the door to new opportunities for messaging and insight into mobile user behavior.  At this time, ad placement and reporting are not segmented by desktop or mobile, but it is expected to be a natural next step, similar to Google's evolution of device targeting over the last 12 months.  Insight into what post or tweet resonates best for mobile users could
help influence future posts and tweets, but also other efforts.  It can help influence mobile creative, mobile community management, etc.  Additionally, certain goals or objectives fit better with mobile.  For example, coupons or in store events are a better fit for users on the go checking Facebook mobile.