Last week, Tumblr decided to throw their hat in the ring and start selling ads on their platform. Perhaps because they've had a chance to observe Facebook as they have publicly iterated on the core value proposition of their advertising products, Tumblr has skipped those steps and come out with a very clear stance on what they're selling and who can buy it.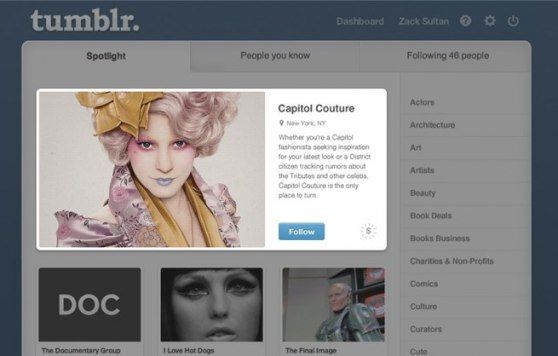 Image via CNET
At fMC
, Facebook launched new ad products that enabled marketers to easily port the content they were already publishing on Facebook into advertising units. Facebook had already been selling advertising for quite some time though. The announcements at fMC were an effort to align marketers with Facebook's vision for their platform and encourage them to focus on the content they were creating for their fans first and foremost.
Tumblr's new ad products will live in the Radar and Spotlight sections of the platform – both are areas where Tumblr users already go to find new content. Radar rotates a brand's content through Tumblr's curation engine, which surfaces interesting content to members. Spotlight Sponsors will receive a prime spot above other spotlighted members.
The key to Tumblr's announcement is not that marketers can finally buy advertising or that the ads are integrated into areas previously reserved for earned media. The thing that stands out is that Tumblr is not offering these placements to everyone. Brands must be approved by Tumblr in order to buy. While the specifics of the approval criteria are not yet clear, Tumblr has indicated that brands who buy will have to have shown that they understand the purpose of the platform and are already engaging with their followers in an authentic way. Tumblr has always been protective of their user base and doing business with brands who won't disturb this experience is Tumblr's compromise between revenue and control.
For marketers who are already investing in Tumblr, consider the goals for your community and how you can (or should) utilize these paid placements to drive towards those goals. For Radar, identify content with high engagement rates to feature. For Spotlight, determine why someone should follow your brand and how you can pay that off through your creative and what's featured on your Tumblr.
Tumblr's announcement reiterates and supports the story of the integration of paid and earned media. Paid media on social platforms should be used to build an audience or amplify content that is resonating with the audience. It should work hand in hand with earned efforts to engage a core audience and extend the reach of the brand through this audience. Brands who embrace this and align their KPIs with the success metrics of that platform (in Tumblr's case – followers, likes and reblogs), will see success across both channels and on the platform as a whole.