It was just a few months ago when a Forrester research report showed evidence that for the first time ever, the average American spends as much time surfing the web and he or she does surfing channels on TV, at approximately 13 hours per week.
Now a recent Nielsen report is stating that for the first time in 20 years, we are seeing a decline in the number of homes with TV sets.
Nielsen cites three potential causes of this trend: [1] The transition from Analog broadcasting to digital, which has forced people with analog TV's to either upgrade or buy converter boxes, [2] the recession (no surprise there) and what we consider the most impactful is [3] the growth of multiple platform viewing.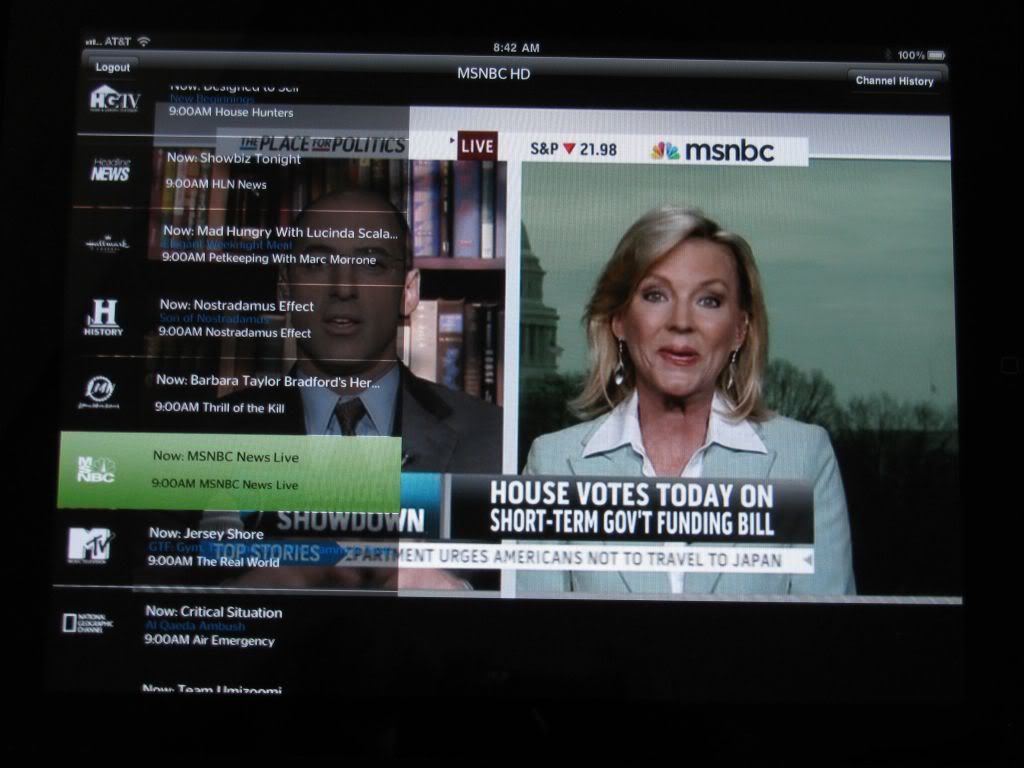 The Time Warner  iPad app allows customers to view live television directly from their iPads.
Although Nielsen has yet to say what factor is causing the majority of the decline, it's interesting to consider that there is a small but growing number of individuals who ditching their TV sets for their laptops, iPads and even phones. The New York Times has ascribed the term "Cord Cutters" to this group, defined as those "who stop paying for cable television – or people who never signed on for cable."
The growth of digital video is substantial but what's really captivating is in the last few years we have seen changes in the way people consume television: DVRs, Netflix, Hulu, AppleTV just to name a few.
The TV is far from becoming obsolete, but what marketers need to pay attention to is the recent change in consumer behavior. Although, this is just the beginning of a trend, cord cutters and other Technorati are increasing in numbers as the digital natives grow up.  Brands should look to make an impact early with these targets, and go after them where they play and with communications that provide value and engagement beyond the traditional 30-second spot.
Entertainment marketers are increasingly incorporating digital components into their broader marketing plans – not only to build awareness around programming, but also to enhance the viewership experience.
One example of this how USA Networks recently promoted the premiere of "The Fall of Sam Axe," a spinoff event from the hit series "Burn Notice." Through research and analysis, the network learned that the film's star, Bruce Campbell, had a strong cult following in the Reddit community. Armed with this powerful insight, we built a strategy that tapped into the highly engaged network, providing an open forum for Redditors to engage in one-on-one conversations with their favorite actor.
The unique promotion was a win-win for fans and USA Networks. Within an hour, the Q&A thread shot to #1 on the Reddit homepage and the engagement generated nearly 50K clicks to the movie's website in just 24-hours. Beyond direct traffic, the promotion led to hundreds of thousands of impressions on Facebook and Twitter and generated substantial buzz in the blogosphere.
Another way entertainment marketers are making the viewing experience more engaging is by using Twitter to enhance the viewing experience, making "appointment television" more relevant. Across the spectrum, from news to drama to reality TV, we are seeing increased usage of #hashtags, @usernames and fan tweets on screen during our favorite shows. Some networks (BRAVO, for example) are even encouraging viewers to tweet alongside live programming.
Twitter recently released this video to showcase how the platform has become a big part of the TV viewing experience:

These sorts of tactics not only help deter DVR use (by encouraging live viewing) but they also help generate chatter about your properties or brands, which in turn spread more awareness. These strategies help make a traditionally "lean-back" experience into a more "lean forward" experience.
It remains to be seen if social integrations can encourage live viewing enough to reverse the trend of declining TV set ownership, but the rise of multi-platform consumption (i.e. watching TV while engaging with an iPad) is a critical trend for entertainment marketers to watch. A comprehensive understanding how and where your audience consumes and engages with your content will be increasingly important in successfully promoting your programming and building a community around it in online spaces.
This is part one of a two-part series on the effect of digital on TV viewership. In our next post, we'll explore what the future of viewing means for marketers who both advertise on TV and who create TV content themselves.
-Andy Amendola is a Senior Digital Strategist at 360i.