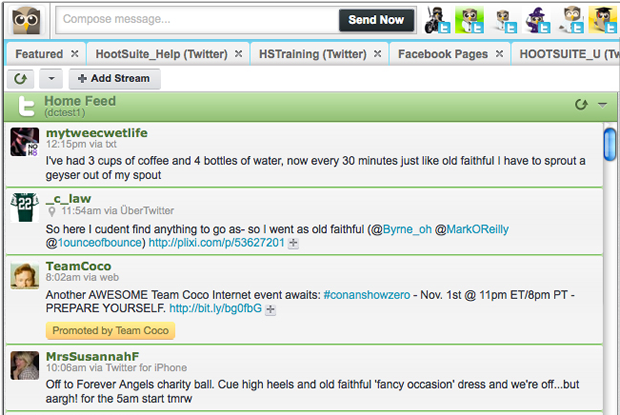 Image via CNET
Twitter followed through on one of its promises earlier this year, delivering ads within users' tweet streams. That means users will see ads without searching for them, marking an important step in expanding the reach of Promoted Tweets. At least for now, most users won't notice a thing, and most marketers will remain on the sidelines.
Promoted Tweets will only appear for users of HootSuite, one of the more popular third-party Twitter clients that's one of the best for managing multiple accounts in one place. With over 900,000 users, that's a decent testing ground for Twitter. What's not clear is how active those users are. For instance, if you scan 360i's Twitter feed, you'll find most tweets are published by TweetDeck with occasional posts from HootSuite mixed in. If accounts like 360i's are included in the total, it means the number people who will be exposed to in-stream tweets is significantly smaller.
Twitter also is limiting which advertisers participate in its advertising programs right now. There's no self-service offering akin to Facebook's or Google's where any marketer can participate. Twitter isn't even selling Promoted Tweets by themselves; they're only available to marketers who have run Promoted Trend or Promoted Account campaigns, and both of those have minimum spend thresholds that are larger than many marketers will allocate for new and emerging ad opportunities. Lastly, Twitter can afford to be selective with which marketers it brings on, in part to ensure a high quality experience as it introduces ads to its users.
Marketer interest is there though, and in-stream exposure will win over more brands that want to reach all of Twitter's users in time, whether or not they ever conduct a search. With marketers who take part at this fairly early stage, Twitter will also verify their accounts and provide access to the service's Real Time Analytics Dashboard.
There's still more that marketers will want beyond distribution though. Right now, Twitter is targeting in-stream ads to users "Interest Graph" – essentially a psychographic profile based on the accounts a user follows. Marketers are going to want increasing control of targeting those interests, and precise geographic targeting will also be critical, especially as ads inevitably expand to mobile Twitter clients. The great news for Twitter is that marketers are eager to participate if Twitter opens up and refines its offerings. The good news for marketers is Twitter keeps aligning its ad products closer with what marketers want.