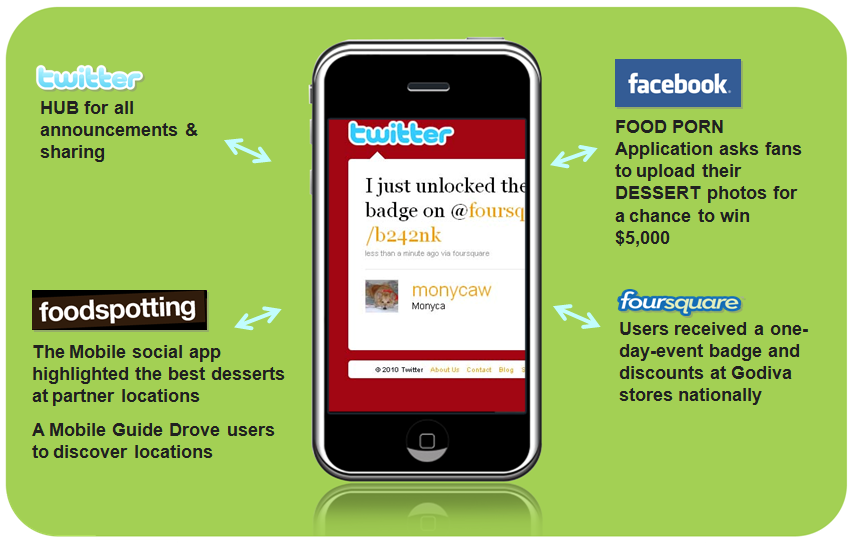 What would you do if you saw on Twitter that a friend had just picked up a free, delectable cupcake at a fully-stocked dessert truck that was zipping around your city…its next stop, right in front of your office!?  You'd grab your coat and run downstairs for some sweet treats, and that's exactly what happened on Sept. 15, 2010, Top Chef Just Desserts Day, an online/offline stunt that has just won BRAVO and 360i a Best Social Engagement Campaign DPAC Award. 360i won in this same category last year for work on behalf of Sprite.
Understanding that their audience is digitally savvy, BRAVO was inspired to craft a promotional strategy built upon social-mobile sharing and interaction. The event encouraged viewers to engage with the BRAVO brand and provided participants with free desserts at venues across the country and via dessert trucks in New York, Los Angeles and Chicago. In order to raise awareness of Top Chef Just Desserts Day, BRAVO and partner 360i relied predominately on social media to seamlessly bridge online and offline components and maximize visibility for the premiere and user engagement with the event.
The campaign included the following core components:
Twitter as the hub for announcements & sharing, where we obtained 8 Twitter Trending Topics in 6 local markets and 1.2K mentions of #JustDessertsDay
Facebook "Food Porn" application which asked viewers to upload photos for a chance to win $5K
Foursquare which featured a special one-day event badge at 250+ local dessert shops
Foodspotting, an emerging website & mobile application that encourages users to share photos of what they're eating with fellow foodies; with Top Chef Just Desserts, BRAVO became one of the first-ever advertisers to sponsor a specific category within the app.
DWOM® – Outreach garnered earned media impressions on top blogs and entertainment sites such as Gawker, the Huffington Post and AOL's Slash Food. All blogger communications also pointed to Facebook and Twitter as key sources of information for Just Desserts Day events and partners. Event photos and photos featuring Bravolebrities were distributed to bloggers in real-time throughout the day to continuously provide a fresh story and fodder for more posts
SEM –Tailored Facebook CPC ads promoted the Food Porn App, Top Chef Just Desserts Day Event RSVP and the Top Chef Just Desserts fan page; Robust search campaigns via Google and Yahoo raised awareness for the premiere where top traffic driving terms included the tempting & topical, "peach crisp," "apple crisp" and "frosting" … SWEET!
As a result, the campaign drove awareness through tens of millions of impressions and allowed BRAVO's social-savvy viewer base to connect with the show ahead of the premiere. The substantial buzz leading up to the first episode helped Top Chef: Just Desserts secure 1.6MM viewers.
BRAVO has been a trailblazer in its ability to leverage social and mobile marketing strategies to translate buzz into reality, and to evolve its audience base from passive viewers to active brand advocates. The Top Chef Just Desserts Day social media campaign rewarded pre-existing BRAVO fans and enlisted an army of new fans by rewarding them with social currency and real-world gifts in the form of free desserts. Not only did the effort strengthen the brand's relationship with its unique viewer base, but it also leveraged its viewers' social-mobile adeptness to create buzz ahead of the premiere of the latest installment of Top Chef.
– Colette Quatrine, Account Manager, 360i