As social platforms continue to establish themselves in the competition for ad dollars, Twitter is the latest in announcing changes to increase its options for advertisers.
Twitter recently added interest targeting to its paid advertising offering, giving marketers the ability to target users who share interests with their brand's current followers. Marketers can target more than 350 interest categories, ranging from Education to Home and Garden to Investing, allowing them to increase audience reach on the platform.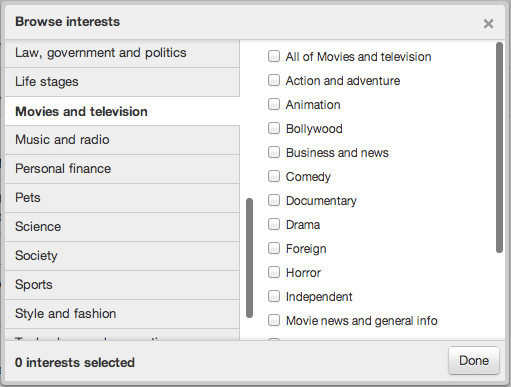 For marketers looking to target more precise sets of users, Twitter is also offering the ability to create custom segments by specifying certain @usernames that are relevant to the product, event or initiative they are looking to promote. With the @usernames targeting, advertisers can align their advertising with specific digital influencers. For example, targeting @justinbeiber could be a way to target teenage girls at a large scale, or @tigerwoods to reach users interested in golf.
Along with these changes, Twitter has also announced a new minimum bid of only one cent for all auctions; before, the minimum amount was $0.50. Similar to the major search engines and Facebook, the amount marketers ultimately pay is based on the combination of bid, competition and engagement rates. With this update, Twitter ensures that great content that aligns with the target and sees higher than average engagement will be rewarded.
This latest move shows that Twitter is looking to follow in the footsteps of some of the giants that have come before it. Regardless of whether the marketer chooses the Promoted Accounts or the Promoted Tweet tactic, the addition of interest targeting will allow brands to better scale their campaigns.
Facebook also allows marketers to scale against their platform's reach through their "Broad Category" reach, while also providing more precise targeting through interests – but, one could argue that Twitter's precision targeting goes a step further since it can align with influencers.
With this latest update to its ad offering, Twitter seems to have learned from the successful formula popularized by Google. By constructing a platform built to rewards ads that are most relevant to users, Twitter creates a valuable experience for both user and advertiser.