Twitter recently launched Targeted Tweets, an enhancement to the Promoted Tweets product on its existing advertising platform. Targeted Tweets allow advertisers to deliver Promoted Tweets to users based on their geographic location or device – mobile (iOS, Android Blackberry) or PC.
Twitter rolled out Promoted Tweets for mobile earlier this year, but at the time advertisers couldn't target mobile users alone, nor were they able to target to users within specific geographic areas.
More than 60 percent of active Twitter users access the platform via a mobile device and there is an inherent connection between mobile and local. This enhancement is in line with the way consumers are using Twitter and provides brands with more options to increase relevancy. Brands can now reach mobile and PC users separately, as well as develop specific campaigns focused on reaching a mobile consumer or spurring a local action.
More than anything, Targeted Tweets enable marketers to increase the relevancy of their advertising to ensure their messages are reaching the right people. As of now, brands cannot target tweets to specific audiences. Using Promoted Tweets with geo or device-specific targeting can ensure that brands reach an audience that's more likely to engage.
There are many opportunities for marketers to leverage Targeted Tweets in their paid social campaigns. The new offering could work well for retailers with market-specific promotions or brands that want to connect with users during or around a live event like a music festival or fashion show.
For USA Network's new show, Political Animals, 360i bought Promoted Tweets for July 4 and Independence Day trends. Knowing that the show's target audience would most likely be out celebrating the holiday – and thus away from their PCs – we targeted the tweets to mobile devices only. While this campaign did not employ geo targeting, there are ways for brands to take advantage of more targeted messaging for geo-specific promotions or products.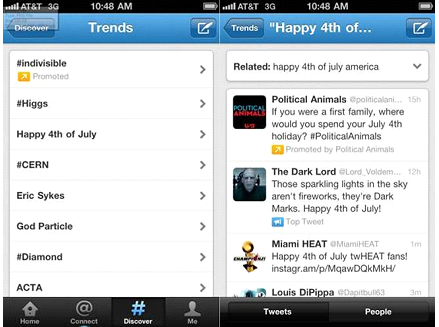 Targeted Tweets is certainly a step in right direction when it comes to Twitter's ad platform, but currently its targeting capabilities are not at the same level as those of Facebook, which is able to serve ads based on interests, employers and other criteria. That said, brands will be happy to hear that the update provides a new opportunity to deliver more relevant messaging based on where a person is, or what they are doing (sitting at a desktop vs. out and about).