How Kraft Cheese brought Five Guys and Feeding America together on National Cheeseburger Day
For National Cheeseburger Day (September 17), Kraft Cheese, official sliced cheese provider for Five Guys Burgers and Fries, celebrated the occasion by joining forces with the burger giant for a charitable mobile check-in play.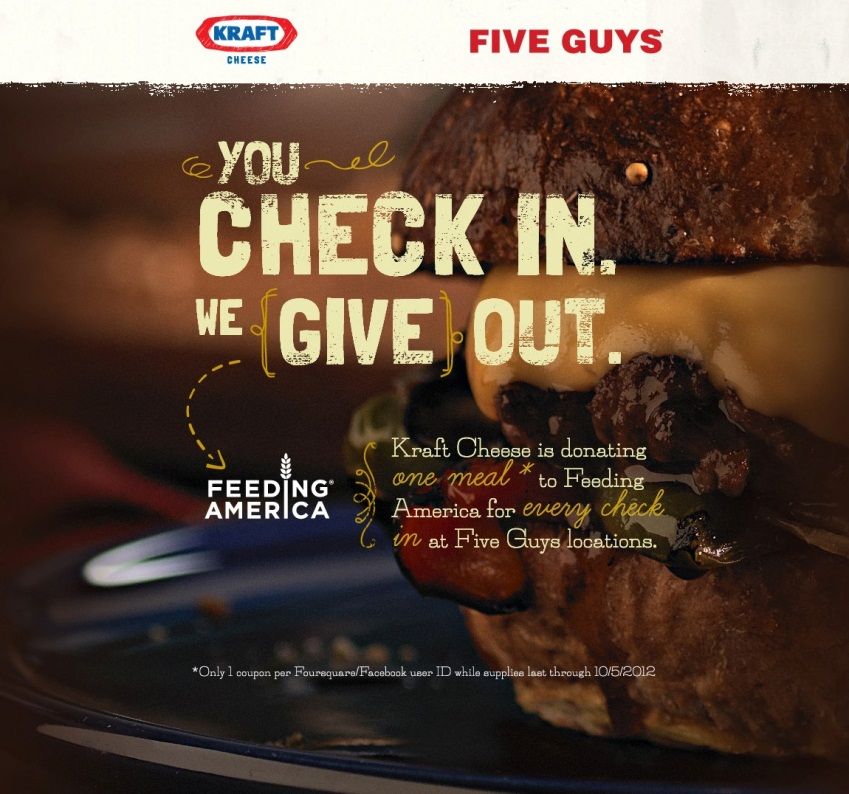 For every time a customer checks in to Five Guys for the next two weeks, Kraft Cheese has pledged to donate a meal to Feeding America, the nation's leading hunger-relief charity. Up to 100,000 meals will be donated for all check-ins during this time. Additionally, users will also receive an coupon for Kraft Singles via email.
"Since we first opened our doors in 1986, we've paired our burgers with KRAFT American Cheese slices for their creamy melt and mild taste," says Molly Catalano, director of communications, Five Guys. "We're pleased to team up with Kraft Cheese on another delicious venture – the cheeseburger check-in – in support of a great cause."
In-store support has helped fuel this campaign to fully bridge the offline and mobile experience for all users. Check-ins are supported by Facebook and Foursquare and had press and community support from the latter. As the social and mobile landscape continues to redefine itself almost daily, 360i and Kraft Cheese are thrilled to launch its pilot checkin program alongside Feeding America.
To learn more about the Five Guys/KRAFT American Cheese Cheeseburger Check-In promotion, visit KraftCheese.com/checkin.