Group texting is having a moment. Apps like GroupMe, Disco and Beluga (recently acquired by Facebook) are exploding in popularity, and brands are quickly following suit. In fact, MTV and Oxygen have already joined the conversation by creating sponsored communities within GroupMe and facilitating fan connections.
Within GroupMe's new "Featured" tab, users are able to create and join conversations about TV shows, artists and events of sponsors. Through this space, brands like MTV and Oxygen will be able to message users, answer questions and deliver exclusive content (such as chats with cast members).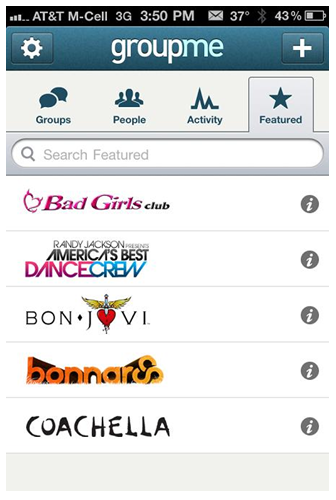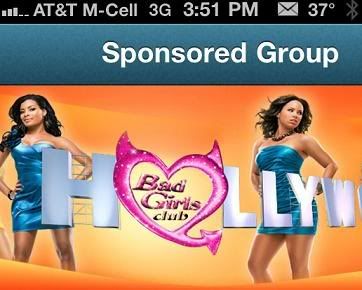 Screenshots via Mashable
One way to assess these trends is to take a closer look at how group texting platforms might play out among the Hispanic audience. Why? Overall, Hispanic consumers are earlier adopters of technology and digital behaviors than their general market counterparts, especially when it comes to mobile phone usage.
Nowadays, approximately 41% of Hispanics are accessible via smart phone, compared to 29% of the general population. When we look specifically at how Hispanics are engaging on their mobile devices, top activities revolve around applications and services that facilitate communication and information-sharing. More than 80% of Hispanics use texting capabilities (versus 68% for average population), with 60% using texting to share photos and videos. Aside from SMS, more than 52% have accessed an instant messaging service via browser or application in the last month to facilitate communication with a larger community*.
This audience is not lagging behind when it comes to mobile social networking activities either. In fact, about 40% have accessed a social networking site or blog in the last month as compared to 25% for average population, and 23% of Hispanics access social networking sites from their phones on a daily basis*.
As the percentage of Hispanics using smart phones grows, and they continue to engage more with social and SMS apps, we would not be surprised to see Hispanic usage of group texting platforms outpace that of the general market. As the perfect marriage of constant connectivity and a sense of community, group texting could be a great opportunity for brands to enter the conversation and become part of the digital "plaza del pueblo" – providing an engaged Hispanic audience with exclusive content and access to share with their closest network.
While the reach of these platforms is currently limited (GroupMe's userbase is estimated to be anywhere between 50,000 and 250,000 users), we see vast potential for growth as group texting apps continue to generate more interest. Brands willing to invest in an emerging channel to reach their mobile consumers could be rewarded with high engagement and social currency.
*360i analysis of comScore Mobilens, April 2011
-Rob Wilson, Digital Publicist, and Irina Kondrashova, Analyst – Insights & Planning, with Orli LeWinter