The consumer world is changing. Your thinking should, too. Consider the following:
There are 7 billion people on Earth. Of this group, 5.1 billion own a cell phone; 4.2 billion own a toothbrush (Mobile Marketing Association).
By 2014, mobile Internet usage will overtake desktop Internet usage (Source: Microsoft).
91 percent of all smartphone users have their phone within arm's reach – 24 hours a day, seven days a week (Source: Morgan Stanley).
These statistics indicate that mobile devices are rapidly evolving from a tool to a pseudo-appendage, uncovering a new truth for marketers: There is no longer a distinction between online and offline. Our consumers are connected all the time.
Mobile has become a cultural staple, which forces us to think differently about how we get to the Big Idea. It is not about the device or channel, but rather it is about keeping the consumer in the center of everything we do.
Where do we begin?
Marketing programs are built from insights – trends about an audience that give way to a sound strategy for reaching consumers. Here's how to use insights to arrive at a Big Idea that is mobile by design.
We start out with the same two inputs that are always necessary in crafting a strategy:  the consumer target and the brand objective. The next step is to put these two inputs through what 360i calls the Lifestyle Formula, or X+Y+M=Z.
Lifestyle Formula: X + Y + M = Z
Consumer Goals + Consumer State of Mind + Mobile World = Big Idea
The X and Y addends in the formula should be nothing new. We should always be considering the consumers' goals (what they want and need) and the consumers' state of mind (how they think and feel) in our quest for the Big Idea. However, now we must add M into the equation. Mobile has become the "first screen," and should be factored into our formula from the very beginning.
What does the 'M' variable represent?
'M' represents the Mobile World. It is crucial for us to consider consumer mobile behavior when solving for the Big Idea. Marketers have many tools at our disposal to get to M. For example, at 360i we have a Mobilized Consumer Journey, which looks at a day in the life of a consumer from need state to purchase. Although, the word "mobile" is in the title, we define it in terms of the consumers themselves being mobile. Remember it is no longer about the device or channel, but rather about the consumers themselves.
Another tool we use is called the Mobile Persona, which is where we can discover key mobile stats, behaviors and attitudes about the consumer.  A third tool, called Mobile Buzz, isolates consumer conversations that are uploaded via a mobile device.  The last tool we include in M is Mobile Search, which isolates mobile searches from desktop searches to understand lower funnel demand while the consumer is in transit.
How does this work in real life?
To see how the Lifestyle Formula works in action, let's look at a recent program launched by Kraft Foods, a 360i client. We started with our two inputs – consumer target and brand objective. We identified our target as 'Mom' (vaguely put, for use in this example). Our brand objective was to inspire consumers to use Kraft Foods recipes in the kitchen more often. The Mobile Consumer Journey we studied was Mom's recipe journey.  Below is an example of how we used the Lifestyle formula after the conclusion of our research to get to our Big Idea.
Lifestyle Formula: X + Y + M = Z
Consumer Goals + Consumer State of Mind + Mobile World = Big Idea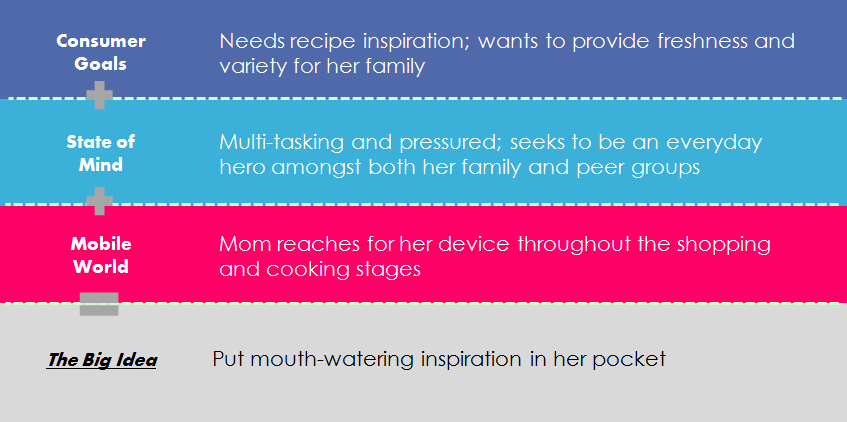 Below is a snippet of how this came alive through a mobile website redesign that focused on visual recipe inspiration.  And this was all made possible through her handheld device.
Changing consumer behavior that puts mobile devices in the hands of most consumers should inspire brands to work mobile into the planning phases of a program – instead of treating it as an add-on. The Lifestyle Formula described above is one way to approach this level of holistic thinking.