Predicting what's on the horizon for an industry as dynamic as digital can be a daunting task. Platforms emerge, technologies evolve and strategies shift – but which trends are at the heart of these changes? In this report, we've tapped the collective intellect of the 360i team and identified ten central themes for marketers to watch in 2011.
These concepts get at the core of digital's growing role in the marketing landscape. This year, expect brands to create more tailored experiences that better align with consumers' increasingly tech-driven lifestyles. Through using technology to bridge the gap between online and offline programs, brands will create richer experiences that inspire consumers to converse and engage with them as they would a person (vs. a corporation). Marketers will also put technology to work themselves, developing new strategies to track and measure the performance of their cross-media initiatives and thereby maximize efficiencies.
1. Online meets offline — Mobile will bridge the gap between online and offline experiences, challenging marketers to connect the dots through creative solutions that match their consumers' mobile consumption habits.
Consumers are now in two places at once. Marketers, are you ready to follow them? Thanks to the mainstreaming of mobile media consumption, it's possible to reach consumers online and offline at once. People are now commonly using their mobile devices while consuming traditional media, shopping in stores, or attending live events. Mobile is the bridge and presents ways to reach consumers both digitally and physically.
The question for marketers is no longer if they should connect the dots, but how. The options will only keep proliferating. There are check-in apps, branded apps, 1D and 2D barcodes, SMS, MMS, multimedia sharing, augmented reality, image recognition, RFID, NFC and plenty of others. Tailoring your approach to the audience, brand and context will be paramount, but it will also be important to go in with an open mind to test, learn, and optimize for the future.
2. Digital at the nucleus of brand strategy — A new approach to brand strategy is emerging that embraces digital at its core, inspiring ideas that center on connecting brand attributes to naturally social and sharable things that exist outside of the product experience.
Research shows that use of digital media and social channels fundamentally changes the way people think. In 2011, this same theory will take root for brands. Digital media of one form or another has been a part of the integrated marketing process for over a decade – but 2011 will be the year of shift for brand strategy.
Brand strategy is an entirely different craft when it comes to ideas that are inherently digital. It's more than just planning for a creative idea that can be extended into the digital realm. If great creative briefs are written thoughtfully (which they almost always are), then the words therein can spur new ideas in the minds of the people creating creative work. The words we choose matter, and it matters even more that they need to be inherently digital, not just accidentally so.
This isn't just about great digital extensions of successful traditional campaigns. It's about new approaches that embrace digital at their core. Brand ideas and propositions will not just be inwardly, product-focused but rather centered on linking brand attributes to more naturally social and shareable things that exist outside of a product experience. Ideas and words matter, and in a digital world, the old ways of directing creative ideas will shift as much as behavior has.
3. Digital makes brands behave like people — As brands increasingly enter online spaces to engage with consumers, consumers will more than ever assess brands as they would people.
2010 was the year that made the conclusion of the Digital Decade crystal clear: marketing is about the ongoing conversation not the launch. This basic truth has upended the way that brands go to market, shifting a world of big ads to a more multilayered approach that can happen in increasingly organic ways. More than ever before, brands today are the sum of many small decisions, the same as people are.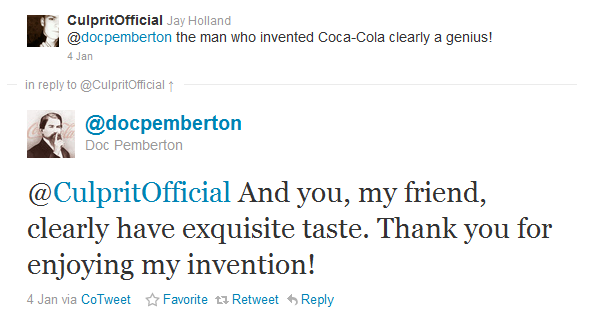 Coca-Cola's @docpemberton Twitter handle is just one of the ways the global brand connects with its consumers on a personal level.
Brands will increasingly use the integrated marketing and brand planning processes to determine not just 'big ideas' but lots of small ones that create depth. We'll measure the brands we work on more like we measure the people we know: Are they multi-faceted? Are they fun to hang out with? Is this someone (or something) with whom I can have a conversation?
So how does your brand stand up? Are you building a brand you want to spend time with?
4. The rise of social shopping & eCommerce — Consumers will expect shopping experiences to align with a new paradigm of constant connectivity, demanding more immediacy and intimacy from retailers.
As mobile and social technologies become more sophisticated, consumers are becoming increasingly used to getting what they want, when they want it. In 2011, this new paradigm of constant connectivity will have a considerable impact on the shopping experience. 2010 was a game changer for the retail industry, with the rise of Groupon and the proliferation of flash sale sites breathing new life into the philosophy our mothers always reminded us of: "never pay retail." In 2011, in addition to competitive prices, consumers will begin to expect and demand even more immediacy and intimacy from their retail experiences.
Immediacy: Online and mobile couponing will become more sophisticated. Consumers today see no difference between content they get in their circular, online and on their mobile phones – until they get to the checkout line and can't redeem a coupon they received from the latter two. In 2011, consumer demand for flexible coupons is going to reach a tipping point and retailers and brands will have to catch up by implementing infrastructure to support all forms of coupon. In a similar vein, consumers are seeing less and less of a difference between shopping in store, online, and on their mobile phones. To adapt, brands will have to break down the barriers between the three even further.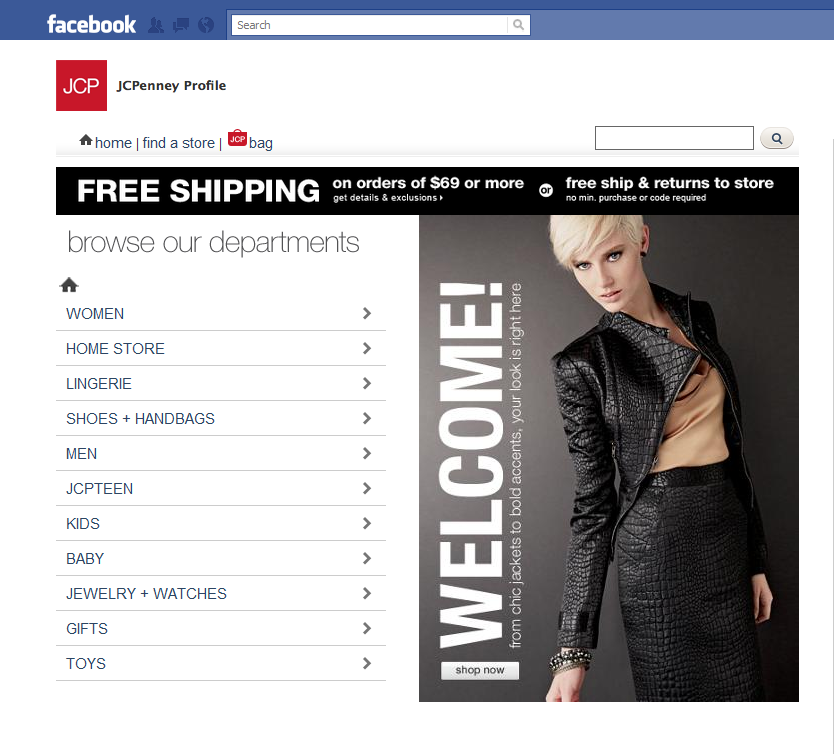 JCPenney allows shoppers to access its catalog without leaving the brand's Facebook Page.
JCPenney is getting into the game, having just launched an e-commerce platform on Facebook so that consumers can shop without leaving the social network where they spend so much of their time. On the other hand, consider the consumer who wants to touch, feel or even try on products before she buys them, but doesn't want to lug shopping bags around with her. Now consider a retailer that allows her to shop in store, scan the barcode of a product with her phone, and have it shipped to her later.
Intimacy: Shopping has always been a social activity. Now, with greater digital connectivity between consumers and their friends, strangers, and the brands they love, even shopping by oneself can turn into a group activity. Sites like Go Try It On are beginning to emerge where users are able to get real-time advice from friends and strangers, even from the dressing room, on whether an outfit works. Some brands are already facilitating that conversation, like Diesel which installed cameras in their dressing rooms through which shoppers can upload pictures to Facebook. Retailers that can create a role for themselves in consumer-to-consumer interactions will be one step closer to creating intimacy with their consumers, leading to increased brand advocacy and ultimately, higher lifetime value per consumer. Zappos, for example, has a VIP program where shoppers can earn badges for activity on the site, creating a sort of Zappos society where certain members have more clout than others – shoe influencers, if you will. And with Google getting into the social shopping arena through its new Boutiques.com site, there is more of an opportunity than ever to make that link between intimate, social connection and actual direct sales.
5. The mobile handset as a life controller — Mobile devices will garner even greater functionality, emerging as the control center for consumers' daily activities and creating opportunities for brands to provide value and increase retention.
How many of your possessions will the mobile phone replace? First goes your watch. Then it's your alarm clock. Standalone GPS devices practically became obsolete the day Android phones offered turn-by-turn navigation for free. Low-end digital cameras are hardly needed as phones rack up the megapixels, with apps like Instagram improving on the photo editing and sharing.
Mobile devices are going further. Why should you need a separate TV remote control when you're already using your phone or tablet while watching TV? Why do you need car keys? What about loyalty cards, or even credit cards?
All of these are moving to the phone. Wireless carriers, handset makers, software startups, and marketers have roles in making this come to fruition. Marketers that get in early, understand consumers' mobile behavior and create value can potentially reap long-term benefits from retention, while positioning themselves as leaders in their categories.
6. Digital emerges a savior of traditional media — Digital platforms and behaviors are amplifying and reinventing traditional media, breathing new life into old publishers and allowing brands to emerge as co-founders of a new media space.
The big industry story of the '00s was that the internet was to kill the traditional media star. From the Cluetrain Manifesto on, we heard that the crowd would completely upend the studio and that media was to privilege the individual over the conglomerate. A thread of truth, but only to a point…
With the new decade ahead of us, we see new platforms and behaviors creating a far more interesting story of amplification and reinvention of the old guard. Recent proof abounds: John Stewart and Glen Beck's marches were built online, but launched with TV. Some of the sexiest iPad applications around come from some of the oldest publishers, who have been given a new lease on life. Netflix and Hulu create choice like never before (sorry Comcast) but only thanks to really good TV and film programming. Put simply, digital has breathed new life into old media.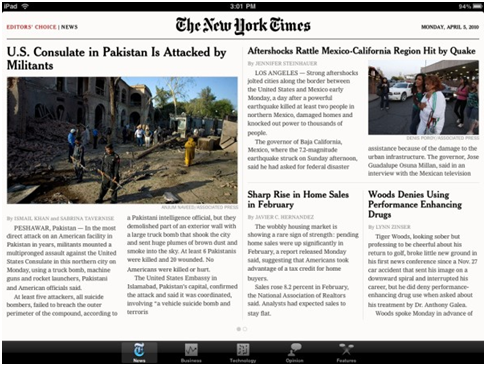 The New York Times iPad app (via CNET)
We see an opportunity for brands to play in this space, and return to a role they last played in the '40s and '50s, as co-inventors and co-founders of a new media space. Digital has transformed the landscape, and given many a voice they previously lacked, but pay attention to the history of new media or be prepared to watch it all over again.
7. Cross-channel measurement grows up — Media attribution will continue to mature, as advanced technologies prove the achievability and accuracy of new cross-channel measurement strategies.
Cross-channel measurement has been a much discussed topic among marketers for years, with attribution modeling strategies continuing to grow in sophistication thanks to platforms that can effectively track and weight performance.
Online channel attribution will continue to mature in 2011, but some marketers will still be reluctant to move fully away from the "last click" model. Those on the fence will need to be convinced that attribution reporting is both achievable and accurate – and the argument for cross-channel modeling will be driven by emerging technologies that allow marketers to gather a realistic picture of how each channel contributes to the marketing funnel.
Offline and online attribution is still a holy grail. Technology and platform providers will continue to strive to get offline data into models, but it remains to be seen how this can be done (though Addressable TV boxes may be one of the new pieces in this puzzle).
Beyond this, cross-channel attribution remains just one aspect of the challenge. Marketers will continue to wrestle with intra-channel attribution (the overlap of conversions and even inventory across display media buys, for instance) and data attribution for their targeted media buys. The collective desire to achieve greater efficiencies will drive technological innovation in 2011 – just as improved technologies will support the argument to move to more sophisticated attribution models.
8. Internet of Things — Wi-Fi technologies are enabling nearly any device to connect to the internet, providing new opportunities for brands when it comes to out-of-home and in-store promotions.
What do you consider to be an internet-connected device? For most people this would include laptops and personal computers, mobile phones, and iPads. For those who bought a high-definition TV in the past year or two, or who stream video from their Xbox or Wii, they may have internet devices in their living rooms already. Increasingly though, any kind of object can connect to the internet.
While the promise of internet-linked refrigerators and other curiosities have been around since the 90s, if not earlier, 2011 will see a new wave come to market. Much of this will be possible thanks to Wi-Fi Direct, certified by the Wi-Fi Alliance, which allows Wi-Fi devices to connect with each other directly. This means that even certain objects that don't connect directly to the Internet can still communicate with Wi-Fi-powered devices.
For marketers, the biggest opportunities will be adding new levels of interactivity to out-of-home and in-store promotions. Manufacturers of various kinds of consumer goods from appliances to toys will also be able to add more immersive experiences around their products. The possibilities are limitless. How long before a hand sanitizer dispenser can tell you the incidence rate of the flu in your area, your sneakers sync up directly with your laptop even if you don't have an iPod, or sunglasses darken automatically based on the latest internet readings for ultraviolet light near you? You can power down your laptop and phone, but the internet will really be always on as more everyday objects are connected to it.
9. Innovation of online ad units — Banner ads will head in new directions, thanks to developers increasingly turning to non-Flash formats like HTML5 and marketers integrating the Facebook Like button into online ad creative.
Do you "Like" Flash banner advertising? Because in 2011, not all banner ads will be in Flash. And you'll be able to decide right in the banner if you actually "Like" the ad.
Spurred by the cool factor and mobile friendliness of Apple's non-Flash iAd, agencies in 2011 will increasingly experiment with developing banner ads in HTML5/CSS3/JavaScript instead of Flash. Publishers will test the format and find it difficult to adopt given the plethora of issues that can arise when integrating an HTML-based ad unit that is not as self-contained as Flash. Nevertheless, marketers should consider testing HTML5 ad units in 2011, especially as mobile web browsing via Apple iOS devices continues to increase so rapidly.
Banners with the Facebook "Like" button in-ad will be tried by more marketers in 2011. Social banner plug-ins are poised to become all the rage in 2011 as the race to gain Facebook fans heats up among top brands. Marketers with strong Facebook presences should explore technologies that embed social functionality in-banner.
10. The collision of search & social — Developments in 2010 have laid the groundwork for an exciting year in the natural search space, with the engines vying for unprecedented integration with searchers' social graphs.
You might be forgiven to think of search as now being a commodity, but 2010 ushered in the beginnings of an exciting new future for search built upon increased personalization.
Search engines have attained a level of maturity in delivering relevant results against the 16 billion searches (per comScore) conducted through them every month. This was witnessed by the Yahoo!-Bing Search Alliance and Ask's exit from the organic search market. And though competition remains fierce amongst market leaders, little differentiation remains aside from raw market share between the key players in search.
The scale of social media and the cultural acceptance of content and media sharing across a myriad of increasingly mobile devices has made timely, personally relevant information a truly contemporary need. The engines continue to respond, but the next unanswered challenge is to apply the wealth of context surrounding declared interests and social interactions to align with, and enrich searcher activity.
In 2011, expect continued innovation and importance attached to delivering relevant local results in search, but above all, a welcome overhaul of the Google Places platform that will provide marketers with a more robust, optimizable and accurate means to control their local marketing, and which serves better to bridge the gap between other Google technology and advertising platforms.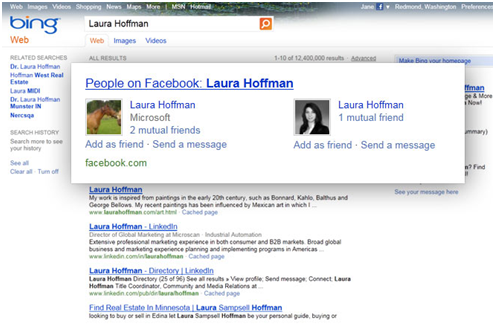 Bing's partnership with Facebook allows for search results informed by a searcher's social graph (image via Bing Search Blog).
The battleground in social search is in both reaching critical mass in audience, and – with privacy obstacles yet to be resolved – an actionable integration of each individual's social graph. We predict social signals will have ever-increasing influence amongst traditional ranking factors, and 2011 will see renewed attempts by search engines to acquire or partner with platforms that are home to social connections and conversations. For marketers this collision course between social and search underlines the growing importance of actively building meaningful social connections with consumers, pushing timely relevant content to social platforms that are indexed by search engines, and manicuring brand reputation in an increasingly unicast world.
***
Amid all of the hype and talk surrounding what's to come in 2011, one truth emerges: Brands will have an unprecedented opportunity to take a fresh approach to their marketing efforts and build lasting relationships with their consumers via digital channels. The smartest programs will take into account the shifting media consumption habits that have granted consumers more control than ever before, and cater to an increased need for more relevancy and value when it comes to brand-marketer interactions.