The most recent Apple iOS 6 update is another source for Google "unknown" natural search terms for those reaching web sites from Google through Safari. In fact, Safari's share of encrypted searches as jumped from less than 1 percent to nearly 8 percent following the update.
Last July, our report  on Measuring the Impact of Google Secure Search (SSL) established that by making secure search the default for all logged in users, Google created a data loss of nearly 20 percent for keyword level analysis within natural search. With secure search, a person's search terms cannot be tracked by the third-party technologies that marketers have come to rely on to determine how natural search terms drive actions within websites. The report also outlines how marketers can compensate for hidden search terms.
Our July report showed the share of encrypted searches from Safari as less than 1 percent on average of total Google natural searches before and after the Google announcement. As a follow up analysis, we looked at natural search traffic for a handful of companies monitored through Google Analytics, focusing on two phases spanning 28 days around the iOS 6 announcement. The before phase spans 14 days prior to Apple's Sep. 19 Safari announcement and the post phase covers 14 days immediately following Sep. 20.
Overall, our analysis confirmed that Safari share of secure searches are on the rise, and have increased 7 percent over the before phase.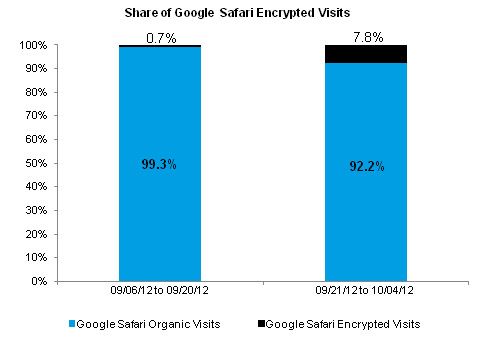 The new iOS 6 update results in those using the built-in search box within Safari having their searches sent through Google SSL Search at default. Therefore, additional monitoring to establish the threshold where unencrypted Google keyword information will become insignificant remains critical. As noted in a recent Chitika Insights study, prior to the iOS 6 software update, 85 percent of iOS users favored Safari as their web browser. IDC research firm also predicted that Apple's iOS will grow from a 15 percent share of all smart connected devices in 2011 to 17 percent by 2016. As of now, iOS 6 is still being updated by many of those with Apple devices running on a version older than iOS 6. Thus, the impact on Safari adding to encrypted searches within natural search is expected to surpass the 20 percent we established in our previous report.
Next Steps for Marketers
Since keyword research is essential to any SEO program, monitoring which keywords are generating visits to a site remains a critical exercise. In light of Apple's change in iOS 6, it remains important for marketers to accurately report on top traffic-driving keywords, particularly Google non-brand terms and top converters. Below is a recap of some strategies for marketers to consider when compensating for hidden keywords caused by secure search:
1. Run paid and natural campaigns simultaneously. Consider paid performance and conduct long-tail keyword ad tests to gain insights that will power your natural optimization efforts.
2. Use Webmaster Tools to access reports about your pages' visibility within Google. Monitor the top 1,000 search queries that drive traffic (Clicks or Impressions) from Google Webmaster Tools and use them for lead generation.
3. Supplement third-party analytics tools with additional data. Use Hitwise, comScore and similar tools to monitor competitor or industry performance.
4. Consider search beyond the PC. Mobile searchers have different behaviors and motivations than PC users since they are normally on the go. The ever-growing adoption of smart phones, tablets and other connected devices means that non-PC traffic now comprises significant share of overall searches.