Google has announced significant updates to its Social Search offering that continue to socialize and diversify the content within its results pages. These changes, which build on Google's previous version of Social Search, increase the visibility of social results and add a personalized layer atop the engine's much-guarded algorithm. As Google puts it, "Relevance isn't just about pages – it's also about relationships."
Back in October, Bing partnered with Facebook to infuse data from the world's largest social network in its results. While Google's new update does not bring in Facebook data, it does have significant ramifications on how marketers approach their search engine marketing efforts [Further reading: 360i's Report on How the Social Landscape Will Change Search].

Social annotations are now more prominent within Google's results.
Of important note is that social relevance now directly affects results rankings within Google, meaning that a social endorsement of a particular result (i.e. a friend tweeting an article) can propel it higher up in the rankings. Before these updates, Google automatically relegated all social results to the bottom of the page.
Update #1 – Social search results are now mixed throughout your results based on relevance. These results previously appeared only at the bottom of the results page, but now they can rank anywhere on the page. In the instance below, a social search result appears in third position with an annotation that indicates which connection has shared the content.
Example (via Google):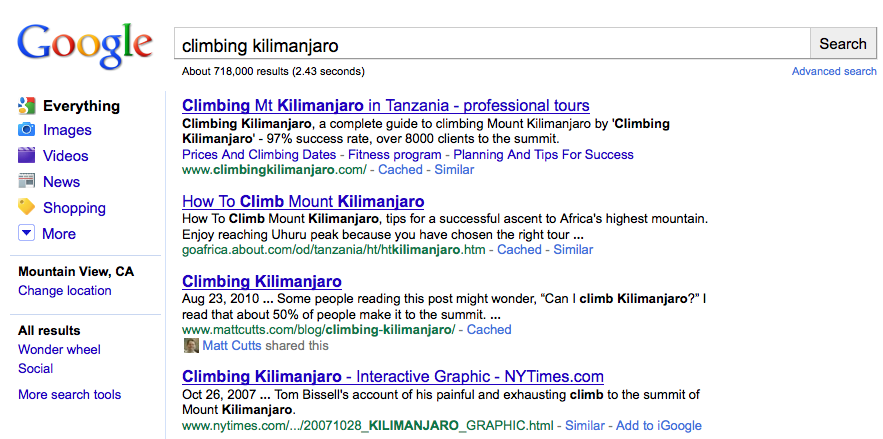 Update #2 – Social Search is now adding notes beneath links to show who has shared the content via Twitter and other sites like social Q&A site Quora and Flickr. Before, Google would only show results people had created via their Google profile. This update opens up the amount of eligible information that can appear in results.
The example below shows the results for searcher (who is signed in to Google) looking for a video of President Obama on "The Daily Show." You'll notice that beneath the first result is an annotation that shows a friend on Twitter who shared a link relevant to that query.
Update #3 – Google now gives users greater control of how they connect their various social presences. As was the case before, searchers can connect accounts publicly (via a Google profile) or they can now connect privately within a Google Account. This will ensure that people who do not want to share these presences publicly can still have a more social search experience.
For marketers, these updates are further evidence that the search landscape is shifting to align with searchers' online habits, which span beyond the engines to various social media channels. Google's statement that "relationships" matter alongside "relevance" marks a dramatic change from the engine's original focus on links and links alone, yet this is clearly the way of the future for leading search engines.
More information can be found in 360i's report: How the Social Landscape Will Change Search.
-Adam Whippy, SEO Director at 360i, contributed to this report.