This summer Jay-Z and Kanye West released one of the most anticipated albums of the year – Watch the Throne (Island Def Jam Records). The promotion behind this collaboration between two of hip hop's biggest stars showcases how brands can use digital to connect to their audiences and excite them to drive successful results.
Island Def Jam's strategy allowed the artists to connect with fans ahead of the release, ultimately driving huge sales. By leveraging paid, earned and owned assets and presenting these to the public in an innovative way, Island Def Jam created a unique experience for fans that led to the sale of 500,000 copies of the album within the first week. Watch the Throne also captured the #1 spot on iTunes in 23 countries. In this post, we break down how they did it – and what brands of all verticals can learn from their approach.   
1. Produce great content and build anticipation by making it exclusive.
As anticipation for the release grew, the WTT team released a 10-minute online documentary highlighting the creation of the album. Island Def Jam also released an online teaser trailer of the album's lead single, "Otis," which featured Jay-Z and Kanye joyriding in an altered Maybach Mercedes, as a precursor to the video premiere on television. 
Great content is not inherent to all brands. Sometimes, marketers need to be a bit resourceful and create content on behalf of their brands. Don't rule it out! Making exclusive content can be challenging if consumers do not naturally go through the channels you're offering to acquire the product. Marketers will be best served if they use insights into to the habits and behaviors of the audience to inform their strategy.
2. Create unique offline experiences that can be amplified in the social space.
On the day of the release, Island Def Jam used Twitter to generate excitement for a pop-up store in Manhattan, simultaneously connecting the digital and physical experiences.

For three days only, fans in New York City were able to see the vehicle featured in the video and purchase the physical album, amplifying excitement for both the video and the album. All the hype generated around the album release and the video debut of "Otis" successfully landed song titles from the album as 7 of the top 10 top Trending Topics on Twitter.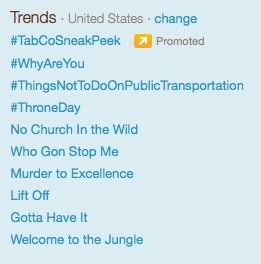 Executing a pop-up store or any real world event to support your digital plan often requires additional budget and planning considerations. If this is a stretch, research other options to bring the online experience offline and make a real world connection with your audience. Be sure to point people in attendance back to your online properties with signage at your event.  
3. Use both owned & earned properties to build awareness and capture consumer data.
Securing assets can be challenging if marketers lack adequate access to them, or  simply don't have a preponderance of assets from which to choose. Don't give up on acquiring the best assets available. Utilize social media tracking tools you are familiar with to track data for reporting once your project is complete.  
4. Form partnerships that will allow the brand to increase reach and scale based on demand.  Island Def Jam took advantage of Vevo, a company co-owned by Universal Music Group, which is a distributor to the record company, ensuring that both the label and the artists would be compensated for each of the 5,000,000 views the video received on YouTube.
The entire album and artwork could be found on the artists' individual web properties, Lifeandtimes.com and KanyeWest.com, owned by Jay-Z and Kanye West, respectively. Each site included share functions that encouraged fans to post comments, engage via social media platforms, and join in on the discussion of the album. Prior to the release, both domains drove consumers to an iTunes landing page where visitors could preorder the album.
In addition, select media outlets featured streaming versions of the album for fans to preview following the first week of release.
The necessary partnerships might not be in your immediate circle. If this is the case, utilize your current network to build relationships where needed. Make sure you have accounted for delivery of your product to a larger audience considering everything goes as planned. 
5. Look beyond traditional media outlets to get people talking.
Creating buzz in the online world and social media space is no easy task. Build and utilize relationships with online editors, bloggers and the general fan base of your client. Initiate contact, follow up, provide content and follow up again.
6. Control the message without controlling the conversation.
Once you've delivered your message and made all of your cool content available to the public, keep an eye on the conversations across all spaces. Using the right voice and tone, you can enter the conversation to educate misinformed fans or clarify a point that may have been lost in translation.
Consider that to garner the results seen here you will have to stand strongly behind your creative ideas and seize opportunities to do things differently. There is always a risk when you go against tradition or change a familiar business routine. It is important to develop the proper relationships with other key players. Executing your plan will depend on getting everyone that is on board to follow through with their part of the mission. If you can overcome these hurdles, your next major project could be a game changer.
— By Jamison Antoine & Stephen Longsworth, Jr.