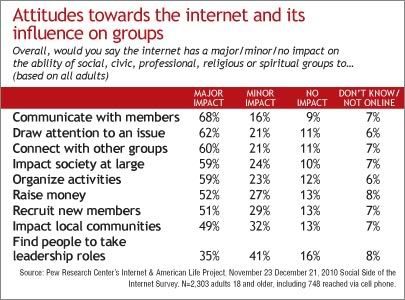 Offline group participants say that online activity is a crucial part of their offline experience (image via Pew Research).
Social anthropologists have been studying the way human beings behave in groups since the 19th century. We as humans have an innate desire to assemble, share ideas and accomplish goals by collaborating with our like-minded peers, and what was true 200 years ago still holds true today.
But since the dawn of the Internet, it's been a commonly held belief that this truism doesn't extend to those who spend a lot of their time online. A recent study from the Pew Research Center disproves that theory. In fact, the study demonstrates that Internet users, and even more so social media users, are actually more prone to participating in offline groups than those who are not active online.
The Pew Research study indicates that Internet users are more likely than non-users to be active in offline groups: 80% of internet users participate in groups, compared with just 56% of non-internet users. Additionally, 82% of social network users and 85% of Twitter users were cited as being active group participants.
What does this mean for marketers? For one, if your brand is trying to activate people to engage offline, a good place to start might actually be online. One way to reach members of these groups is to incorporate an online content strategy that is well aligned with groups' topics and objectives in order to win the hearts and minds of group participants.
According to the Pew Research study, charitable organizations and volunteer organizations are one of the primary group types social networking and Twitter users are most likely to be active in. Thus, supporting a cause that's meaningful to both your organization and your customers can be a remarkable opportunity to engage your audience and have a positive impact on society at large.
In 2009 the LIVESTRONG organization hired its first full-time social media employee. Thanks to its early commitment to social network users, just two years later the organization has ballooned to a 74-person practice with more than 60% of LIVESTRONG.COM and LIVESTRONGSTORE.COM traffic coming from social networking sites including Facebook, Twitter, MySpace and YouTube.
The Pew Research study has shed new light on Internet users' offline participation in groups, proving that Internet users are in fact more active in offline groups. The LIVESTRONG organization is just one of many real world examples providing support to the Pew Research study.
More than ever, online is proving to be an effective channel for brands to rally advocates and build lasting communities. Marketers able to recognize the social media habits of their audience and tailor strategy accordingly will be able to create opportunities to engage current advocates and recruit new members along the way.
— By Nicholas Cavet, Social Strategist, and Orli Lewinter, Associate Director of Social Marketing at 360i