Millennials are constantly connected, be it via mobile, desktop or otherwise. Their desire for information and news is immediate and second to none. However, Millennials are just one segment of the population. What about their older counterparts?
A recent report from the Pew Internet & American Life Project asserts that while Baby Boomers have certainly made gains in digital engagement, they remain notably less "plugged-in" than younger users. This is an intuitive trend – most Millennials are digital natives whereas Boomers did not grow up with the same technology – though it does pose challenges for marketers aiming to reach both groups online.
As marketing strategies become more and more tailored to specific audiences, a key to success will be to understand the behavioral differences (and similarities, where they exist) between each demographic. Given this, let's take a look at what the Pew study found.
Millennials are more digitally connected on a daily basis than their Boomer counterparts. The difference is quite stark: 84.4 percent of 18-29 year olds versus just 58.5 percent of 50-64 year olds go online in a typical day. While we know older users have begun adopting online usage more frequently, the odds that you find a Millennial online at any given point in the day is still a far better bet.
Boomers lag in mobile usage as well. While smartphone adoption continues to increase among all demographics, its rate of growth among Boomers is much slower than that of younger generations. About 40 percent of Boomers have web-enabled mobile devices, whereas 60 percent of Millennials have such technology.
Moreover, whereas Millennials are frequently engaging on multiple platforms, older generations tend to demand a far more tangible, practical benefit to their digital consumption. In an interesting nod to that insight, Boomers track on par with younger generations with regards to email usage. They are just about as likely to use email as young adults.
The connection here is far clearer. With email, Boomers satisfy a need for specific information for which they've willingly signed up to receive. They receive coupons, specials and deals for the products and brands they love. Email is far more "quid pro quo" in this regard than any other relationship Boomers could have with a platform.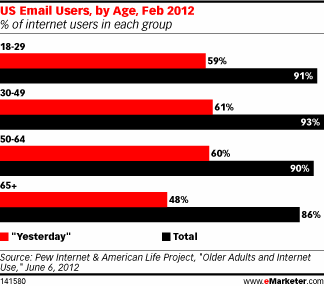 Part of a marketer's job is certainly keeping a pulse on emerging behaviors, but this study serves as a reminder that not all consumers spend their time perusing Mashable and TechCrunch, or downloading the latest mobile apps. While digital is certainly a cultural centerpiece, the ways in which people engage within this channel can vary significantly.
Understanding how different groups experience digital will make way for more tailored user experiences that inevitably create stronger consumer-brand relationships with the potential to raise awareness, grow loyalty and build community. With digital, knowing your audience has never been so important – because the opportunity to provide relevant content and messaging has never been so great.