Since the Mad Men era, the widely held perception has been that consumers are only influenced by advertisements of shiny celebs and models – but social media and the rise of a new sect of influencers is turning this notion on its head.
Recent research shows that consumers would rather receive marketing messages from bloggers or influencers that they are familiar with than a celebrity. Moreover, this preference ultimately affects their purchasing behavior (53% of female readers have bought a product based on a recommendation from a blogger).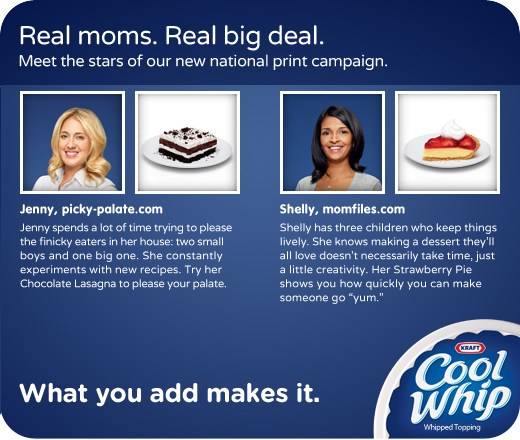 Cool Whip is using real moms as part of its latest campaign that puts bloggers front and center.
In a recent
article for Social Media Explorer
, Stephanie Schwab discusses the evolving role of bloggers to "celebrities" featured in paid advertising. This growing trend, if executed properly, allows advertisers to borrow influence from established online influencers trusted as experts in their field.
A few years ago, most PR agencies caught on to the fact that the approval of bloggers is vital to building brand support. If they can earn blogger support, they can "borrow influence" from them to indirectly tell their brand story to readers. Until very recently, the relationship between borrowed influence and advertising was less established. We haven't trusted that the bloggers we rely on to serve our news could also be relatable as spokespeople and "models" for our brands. It's time to start blurring these lines and taking borrowed influence to new places.
In order to know which campaigns are best suited to elevate bloggers to a more central role, it is important for marketers to work with agencies that are not only intimately familiar with the blogosphere, but also have the creative engines in place to generate fresh, new programs. In her blog post, Schwab points out that "PR departments are not set up to develop advertising or integrated marketing campaigns," presumably because they have not executed campaigns in those spheres.
Schwab points to a recent COOL WHIP (360i client) advertising campaign as an example of blogger integration done right. The campaign made four real moms the face of print and online advertisements for the brand – and did so at several different touch-points along the way. The desserts featured in the advertisements were inspired by the bloggers. They were the first to announce the campaign's launch and their sites were featured within the copy of each ad. Within Twitter and Facebook, the bloggers helped to create a reciprocal dialogue with the brand, driving readers to the COOL WHIP page while community managers drove back to their sites. Lastly, as part of the agreement with our COOL WHIP Moms, they post monthly articles that speak to the larger campaign message: "What You Add Makes It."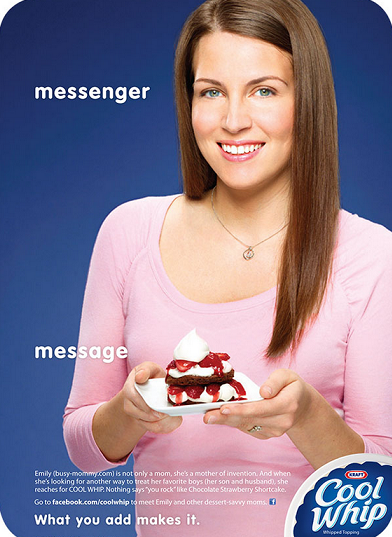 So, how did COOL WHIP know which influencers to identify, and how to use them? An effort that marries PR and advertising requires the cross-pollination of insights from research, creative, PR or Digital Word of Mouth (DWOM®), community management and production departments. This collaboration might occur when all these units operate under one roof – as they do at 360i – or it might also occur through close coordination with partner agencies. In this COOL WHIP campaign, for example, 360i worked closely with the brand's agency of record, the Martin Agency, to execute this blogger program as part of their larger creative campaign.
In September 2010, Estee Lauder became one of the first brands to feature bloggers in advertising campaigns, supporting the brand's breast cancer awareness campaign. Visually, the images were powerful, printed on life-size in-store displays and depicting "everyday" women, shot from the waste up and covered by their own arms. Because the campaign was relatable to each of the women featured in it, they were able to support it through their personal blogs.
As another example, Calypso St. Barth is currently running a multi-platform advertising campaign called "Generations of Style" and featuring bloggers, Pinterest influencers and lifestyle experts with online followings. I like this campaign because the influencers are given actual ad space to share their voice to talk about family and careers in a way that makes the brand approachable.
Best Practices for Borrowed Influence in Integrated Campaigns
Value the value exchange. Strong relationships with online influencers have taught us what works and what doesn't in terms of compensation. Even if payment isn't an option, there should be a value exchange in place that benefits both the brand and the blogger fairly. Know your audience of influencers and what they will find most valuable.
Do your homework. As with all of the campaigns mentioned, make sure the influencers you use feel connected to your brand and your campaign message. For our COOL WHIP campaign, using a blogger who never mentions food on her blog would not have been authentic and we felt it was important to choose women who regularly make the extra effort for their families to "make something special."
Don't neglect the quality of your campaign. If you plan to use photo or video, make sure that your influencer is comfortable in front of the camera. Confidence under pressure and the ability to have fun will go a long way.