We were excited to join Foursquare today for a combined Social Media Week session that looked at the rising platform and ways in which brands are tapping mobile-social in general. If you haven't heard of Foursquare, you've probably been living under a rock for the past year (or not attending any #SMW11 events for the past week) – it's the biggest of the location-based "check-in" platforms and has even found its way into the plotlines on Gossip Girl.
To say Foursquare is "growing" is an understatement. When measured by volume of check-ins, the platform grew 3,400% from 2010 to 2011. Its community has ballooned to about 6.5 million – not too shabby for a not quite two-year old company that as of early last spring hadn't yet notched its one-millionth user.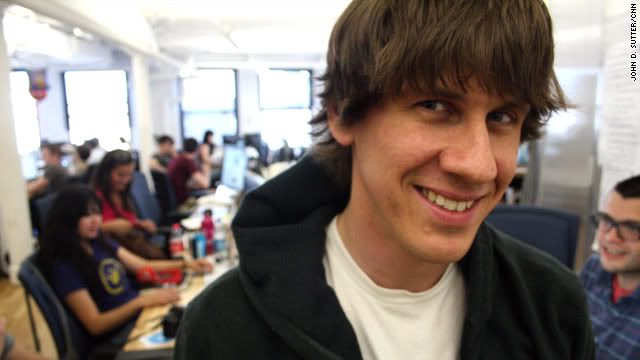 Foursquare CEO Dennis Crowley – Image via VentureBeat
At the helm of this growth is Foursquare's CEO & co-founder Dennis Crowley (perhaps you've seen him on a Gap billboard or on Twitter, where he's represented by an avatar of the holiday claymation character Hermey). Thanks to Foursquare's meteoric rise, Crowley has become a poster child for the mobile-social networking trend. Today, he sat down with Fast Company's Austin Carr to discuss growing pains, new product roll outs (look out SXSW 2011) and answering the question: "How do you build something that changes the way people experience the physical world?" Our recap of the Q&A follows.
What are people doing on foursquare?
People are doing a little bit of everything. Different things draw people to Foursquare – some like to check in and leave "breadcrumbs," says Crowley. Others use it to find tips or create relationships with merchants.
Given then range of use cases, does Foursquare need to work more toward defining itself?
Crowley says the broad range of reasons for using Foursquare is a good thing because it shows how "rich the platform is, and how rich it could be." Internally there are challenges, because it's important to keep employees on the same page, he said. Part of improving this is to create a company mission statement, which he says is in the works right now.
Is this mission statement something that will be pushed toward users?
"We don't want to tell people how use the product. We want them to tell us," Crowley said. By listening to users, Foursquare's leadership has realized that the platform is much bigger than they thought. In fact, they often get ideas for new capabilities and features from users themselves – a sort of crowdsourced product development.
What's in the pipeline?
Crowley says Foursquare is "racing" to roll out a lot of new features for the upcoming SXSW Interactive conference, which takes place in mid-March. This makes sense, given that SXSW is where Foursquare officially launched in 2009 – and as Crowley says it's "a good place for people to experiment" with new functionality.
In terms of new features, Crowley says one of the biggest challenges comes with weighting the various tools they want to build for users. New users would theoretically use and engage with different things than "super users," and they also must take account of merchants utilizing the platform from the other side.
What's the ideal use case?
On a broad level, Crowley says the ideal goal for the platform would be that for "anywhere you stand in the world," Foursquare should be able to intelligently make recommendations by applying your past habits and behaviors to a new space. For example, if you typically socialize in one neighborhood, which venues or attractions might you want to visit in a different region? "We should be able to assess those habits and make recommendations," Crowley said.
One key thing about Foursquare is its ability to influence real world behavior – but where is Crowley & Co. looking to take that?
Crowley says he's not so focused on monetizing real world behavior. Foursquare, he explains, was built on a two-part thesis: 1) What if you could crowdsource the experience of Wikipedia for the entire world? and 2) Can you use game mechanics to encourage people to try new things and enrich their lives?
"There's something good about software that can encourage you to have new experiences," he explains. The things that Foursquare promotes – traveling more, exercising and the like – can "improve and diversify life in general."
What are the benefits for a big brand partnering with Foursquare?
"There's something really unique to our approach," Crowley said, citing Foursquare's focus on location and emphasis on a "tighter" version of the social graph. He explains that brands partnering with them fall into two categories: Retailers (i.e. Gap or Starbucks) for example, often utilize check-ins as endorsements, since the activity can be broadcasted across their social graph to larger platforms like Twitter and Facebook. The second category is comprised of media companies (such as the New York Times or Bravo), which can serve as local curators for their readers or viewers.
Foursquare's latest enhancement – promoted venues – seems to encourage mass event check-ins (i.e. the Super Bowl or Election Day). Is this part of the company's evolution?
Crowley says once again this is something that was inspired from user behavior. As an example, he cited "Snowpacalypse," a fabricated, user-created event that garnered countless check-ins. Similar to this organic activity, Foursquare invited its users to check in to the Super Bowl, thus creating the opportunity from the top down. "Events are something we are pursuing in the future," he said.
How does Foursquare market itself?
Most of the marketing has been organic, Crowley said, with passionate users and merchants evangelizing it on their own. That said, he admits that he sees the product as only "10 percent done," so they're working hard at making it more viral and creating a platform on which it's even easier to share experiences.
Where do you think Foursquare is headed? Send us a tweet or let us know in the comments below.