As the Bing-Facebook Partnership Evolves – How Will the Social Landscape Change Search?
Last week, Bing and Facebook made a joint announcement regarding a significant milestone in their partnership. Moving forward, Bing will be integrating Facebook as a social layer within its search results – initially around people-based searches, but with upcoming extensions to Product, Local and Video searches as well.

This partnership dates back to 2007, when Facebook had only a fraction of its now 500MM members. At the press event, Facebook CEO Mark Zuckerberg said his company was looking for a search partner that was eager to innovate. Bing, which he called a search "underdog," was best fit for the challenge, he said.
The news was significant, as it answered some of the questions that have arisen around social search (how will social data integrate with the search experience?) and presented several more. Though it's unclear what Facebook and other social sites will do moving forward, the announcement served as confirmation that the intrinsic value of social is going to improve and expand what we view as the traditional search experience. In fact, the day after the Bing-Facebook announcement, Google's Eric Schmidt underscored the importance of infusing social data with search, and said his company "wants more people logged into Google" for that very reason.
In light of last week's top story we issued a POV that explores how the social boom is changing (and will continue to change) the search landscape, and it shifts how marketers approach SEO.
» Read & download our full report on Scribd
Bing-Yahoo! Alliance Begins to Take Shape; What's the Impact on Your PPC Campaigns?
Marketers have been talking about the Bing-Yahoo! deal since July 2009, when it was first announced, yet last week the effects of the Search Alliance began to take hold for advertisers. The transition from Yahoo! Panama to Microsoft adCenter is now gradually rolling out, and will be 100% complete by the end of October.
In light of this, we took a closer look at how the transition will affect PPC campaigns for large brand marketers. Answering the question, "How will this affect the ROI of my search campaigns?" is a difficult task, as the Alliance has many hidden complexities. As an example, we found that while the expected increase in competition within adCenter may cause CPCs to rise over historical norms, some advertisers might actually see a net decrease over CPCs paid for the same term within Yahoo! Panama. Read our full report to learn about how you can best prepare for the transition.
» Read & download our full report on Scribd
Will Barcode Scanning Alter the In-Store Shopping Experience?
Noah Elkin, a Senior Analyst at eMarketer and gracious contributor to our Mobile Marketing Playbook, blogged last week about the significance of Amazon adding scanning capability to its popular iPhone app. Elkin notes that though barcodes are not yet widely adopted in the US, awareness is surging, namely among younger, Gen Y shoppers. These early adopters are pushing the barcode trend, as evidenced by the popularity of apps like RedLaser, which now boasts 5 million downloads and partnered with Universal Studios earlier this year to promote the release of Repo Men.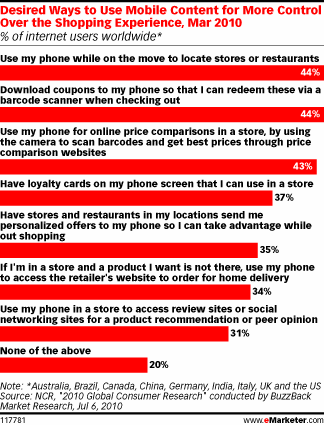 Amazon's scanning add-on could be huge, as it provides a means for mobile-savvy shoppers to compare prices AND buy items on Amazon, should its prices be more enticing. "Barcode scanning is slowly transforming the in-store shopping experience," says Elkin. "But if Amazon has anything to say about it, scanning will make the shopping and buying experience more mobile than ever."
Online Ad Revenue Jumps 14% in Q2 2010
The Wall Street Journal reports that online ad revenue in the United States rose 14% in the second quarter, reaching a record-setting $6.2 billion. The IAB-PricewaterhouseCoopers Report says the increase was largely driven by "rising demand for digital-video ads." The WSJ also notes that online advertising has grown faster than any other form of advertising.
Search continues to form the largest piece of total revenue at $5.7 billion of the total. Verticals that showed the most growth in revenue per the IAB included CPG and pharmaceuticals.
Which stories captured your interest last week? Let us know in the comments below.