This Monday roundup includes news on AOL's much-hyped Project Devil ad system, stats from Facebook on what types of people "Like" content across websites, a report on the rise of mobile web usage and more.
AOL Debuts New 'Project Devil' Ad Unit
AOL unveiled Project Devil last week, which Mediaweek calls a "new advertising system" that seeks to shake up the state of web advertising. The new format is essentially a highly interactive display ad placed within more streamlined content pages. AOL CEO Tim Armstrong stressed the importance of content to online advertising at 360i's Digital Marketing Summit last month.
Jeff Levick, President of Global Advertising & Strategy at AOL, said the company is striving for a "fundamental redesign of the web." He says AOL's ad network, Advertising.com, and ad-serving platform, Adtech, will support the company's efforts to meet this end.
Our review of Project Devil points out that the placements allow for more rich media, and include levels on which advertisers can place photo and video galleries,  Facebook and Twitter feeds and more. AOL also says that the units will run one-per-page, so they will stand out more to readers. Among the brands lined up at launch include Lexus, Procter & Gamble, Sprint and Unilever.
Facebook: "Likers" More Social & Connected than Average Facebook Users
Last week Facebook released new data around who is doing the "Liking" across the nearly 2 million websites that have integrated the Like button into their site experiences. According to Facebook, people who Like content on these sites are more "engaged, active and connected than the average Facebook user." Just how much more social are these Likers?" According to the research, they have more than 2X the number of (Facebook) friends than the average Facebook user and click more than 5X more likes on Facebook (to external websites).
As MediaPost's Mark Walsh pointed out, people who click on links posted within their news feeds, on their friends' Walls, etc. are more likely to click Like buttons elsewhere and "share back to Facebook in a viral loop."

Popular blog Gawker includes the Facebook Like button next to its articles.

Facebook also shared some ways publishers can increase engagement and activity around the Like functionality on their sites and called attention to the traffic gains experienced by sites like ABC News (190%), Gawker (200%) and the Sporting News (500%) after adding the Like button and other social plugins.
New Report Cites "Stunning" Mobile Web Growth
Opera, a major mobile browser company, released a report last week on the state of the mobile web. According to the report, since August 2009 the number of unique Opera  users has increased by more than 108% and page views have grown by 143%. Overall data traffic has also seen a 134% lift – and Opera says these figures are "stunning."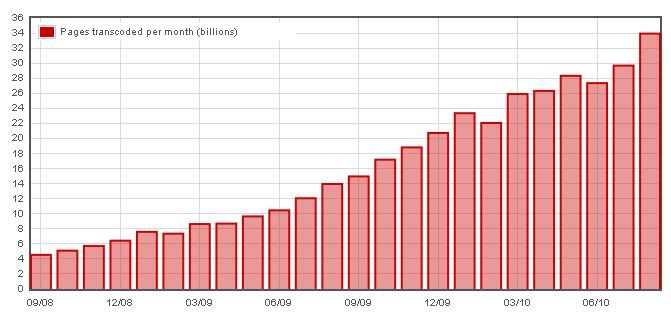 Chart: Opera page view growth Sept. 2008 – Sept. 2010
ReadWriteWeb quoted Opera co-founder Jon von Tetzcher, who said that the increases in mobile web usage are not limited to smartphones only, and represent a "global phenomenon" of people turning to the mobile web to get information on the go.
Opera's full report is available on the company website. For more information on the growth of mobile, be sure to download the Mobile Marketing Playbook if you haven't already.
Pew: More Americans Turning to the Web to Research & Buy Products
Nearly 10% more Americans use the web to research products and services they are considering buying than in 2004 — this according to a new study from the Pew Internet & American Life Project  on Americans' e-commerce habits. In the survey, 58% of respondents said they conducted online research versus just 49% six years ago.
As noted by ReadWriteWeb, the frequency of online research has grown as well. On any day, 21% of adults conduct research (compared to 9% in 2004). Americans are also sharing more, providing their own experience with products and services via social networks and review sites. Nearly a fourth of those surveyed said they had published comments online about a purchase. The report also found that more Americans are purchasing products online. Over half of all respondents in the 2010 study said they buy online, up 16% from a decade ago.
This research cements the need for brands to be vigilant about information surrounding their products and services on the web and utilize online listening to maintain a  pulse on what people are saying in organic conversations online. It also highlights the need for a digital CRM strategy to adequately shadow this trend and provide information to current and prospective customers.
10 Tips for Aspiring Digital Marketers (Pssssst, 360i is Hiring)
This weekend, Mashable published a list of ten ways aspiring digital marketers can get a leg up in the industry. Our own Sarah Hofstetter, SVP of Emerging Media & Brand Strategy, had the following advice to give:
"Remember that standing still is going backwards. Yes, it's an adage that has been used for years to inspire ambition, but it is blatantly obvious in the digital landscape. Not only does that technology evolve at a lightening pace that transcends Moore's law, but consumer behavior is shifting at a radical pace, and media consumption becomes more and more fragmented.
"Being on top of consumer behavior –- understanding what they're doing online, what motivates them and their social and mobile behavior –- and staying ahead of that by learning what's in the market and what's on the come, will help ensure you don't get stuck on the sidelines when interviewing for jobs in digital marketing."
Check out the entire list for even more insights – and then head on over to our Careers page and peruse our current openings. The growing 360i team is looking for new talent in cities across the country, and we'd love to hear from you.