With the Facebook rumor mill constantly churning, it can be difficult to separate veracity from speculation. But recently, there was one leaked rumor that caught the attention of marketers and agencies across the board – the promise of a "Want" button, which of course would hold the key to helping Facebook turn engagement into sales.
The hint of a future "Want" button and references to "social commerce," among other updates, was discovered by a conscientious developer in a release of Facebook's Software Development Kit (SDK) last month. Since then, the industry has been clamoring for answers as to if – and when – such an update would be made available to page owners.
Source: http://tom.waddington.me/images/stream_story_wants.jpg
In a statement to Mashable, a Facebook spokesperson would not confirm if and when the "Want" button would be released publicly: "We're always testing new Platform features; however, we have nothing new to announce." Our contacts at Facebook have also told 360i that individual developers often test projects on a smaller scale, so this particular test was not necessarily an indicator of a fronted initiative from the company.
Still, the inclusion of such a feature would make perfect sense as brands turn to the platform for better ways to tie engagement to sales. Last month, Facebook and comScore released a comprehensive study that corroborated the theory that Facebook Likes can impact the bottom line. Adding a "Want" button would give Facebook to tools – and the analytics – to further make this case to marketers.
If the "Want" button is indeed heading to a newsfeed near you – keeping in mind that this remains unconfirmed by Facebook – here are the top things marketers will need to know:
1. You will most likely need a Facebook application to have your products "Wanted." Have you seen friends on Facebook "listening" to Spotify, "reading" a Washington Post or Yahoo! article or "starting" a run using Nike+? The common denominators between these actions are open graph verbs. Since these types of Newsfeed posts are created using Facebook middleware applications, expect to see "wants" and "purchased" follow a similar format as current Open Graph application.
2. Expect the "Want" button to live far beyond Facebook. For product listings on third-party websites, the want button could very well supersede the Like button, as it will allow marketers to better identify prospective buyers and connect with them via Facebook messaging, email and SMS.
3. Social commerce is not the same thing as e-commerce. The introduction of social commerce as a revenue source will require marketers to rethink their commerce strategy within the context of Facebook and the unique way in which media in consumed on the platform. More on that in 360i's Social Commerce Playbook.
4. Facebook Offers will play a role. Facebook Offers, announced at the F8 conference in April, allows marketers to grant deals to consumers from within the platform. Expect Facebook Offers to integrate with other social commerce offerings, benefitting brands that tightly integrate their apps with Facebook Media and Offers.
5. Wait and see. For most marketers, wait and see will be the best short-term strategy before making a move. While Facebook has not formally announced this product yet, a move to create better social commerce opportunities is plausible and expected.
The want button was recently removed from the SDK and this isn't the first time we've seen Facebook prototyping functionality intended to increase its Average Revenue Per User (ARPU). Facebook Highlight, a prototype feature leaked in May, allows people to pay money to have their posts highlighted in the newsfeed but it, among many other unreleased Facebook features, has yet to be released to the public.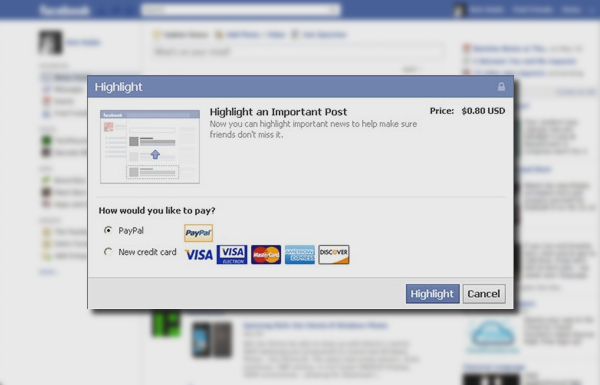 Source: TechPounce.com
Remember, the last time Facebook released a four-letter button to the world (back in April 2010), 2.5 million websites installed the button almost immediately, including 80 of the top 100 websites. This resulted in 250 million engagements from external websites in the button's first year alone. The evidence of a future "Want" button is clear indication that Facebook intends to turn those engagements into dollars for marketers.