In the wake of the New York Giants' Super Bowl XLVI victory, 360i Social Publicist Megan Conley describes her experience as a participant in Giants Social Media Night on Feb. 3.
Immediately after reading that the New York Giants were hosting a Google+ hangout for Giants Social Media Night, I entered my plea to participate. The opportunity to chat one-on-one with a Giants player live from Indianapolis (site of Super Bowl XLVI) was absolutely not something I was going to miss out on.
I'd used the Google+ Hangout feature before, and wasn't ashamed to let the Giants know in the desperate comment (shown below) that I left on their Giant's Google+ page.
As you'd expect, I was pretty excited when I found out I was chosen to participate in the Google+ chat on Feb. 3 with Giants fullback Henry Hynoski.
Here's what that looked like in my Google steam:


Each of the participants (four different chats, five fans were selected per chat) were then told what time to be available online. We were also notified that we should make sure to test our sound and camera settings beforehand, and that we'd each get to ask a few questions directly to Henry.
When 7:15 EST rolled around I saw the "NY Giants would like to hang out with you" notification in my Google+ stream, I was beyond stoked. I can honestly say that it's going to be pretty tough for any future Hangout invite to top that one.
After joining the hangout each of the fans briefly introduced themselves ("Hi, I'm Megan from Jersey", didn't exactly have the ring to it that I'd hoped it would…) and we each went in turns asking our questions to Henry.
The 15 minute chat allowed for us each to ask 2 questions.
I asked:
How does it feel to step into the shoes of Giant great Jim Finn #20 and be the best FB since then? (a question my Sister's boyfriend told me to go with). I also asked if he'd made any bets on the game.
He answered that last one by laughing, and informing me that players betting on their team is slightly illegal.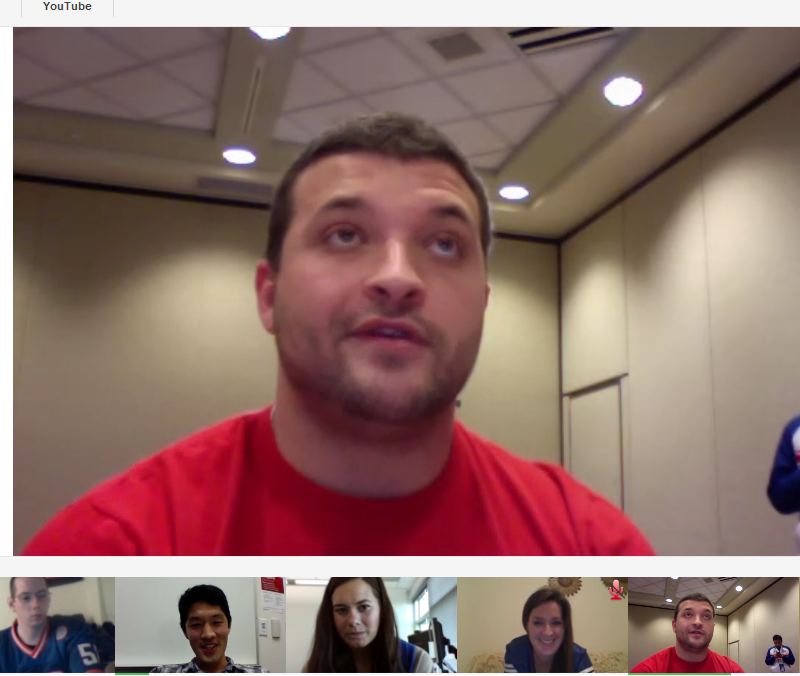 Oh and, yes, someone did ask if he could do the Victor Cruz Salsa Dance.
Marketer Implications
Although we only met through a computer screen, the 15 minute Hangout left me feeling like I'd actually met a Giants player in person. I felt even more pride in the team as a whole because they took the time out of what I'm sure is an incredibly packed schedule to talk directly to their fans. Technology has made it easier than ever for brands to create deeper connections with people across borders and boundaries – and to do so in real time. Google+ Hangouts are a prime example of this trend.
Although Google+ Hangouts are still fairly new, the platform undeniably provides a huge opportunity for brands to humanize themselves by connecting personalities (celebrities and athletes alike) with the public. Other successful Google+ hangout examples I've seen have been President Obama, The Muppets, and The Dalai Lama. 360i has recently worked with clients on Hangouts featuring influencers, and we hope to continue to see brands utilizing these chats as a way to better connect with their fans.
To sum up the experience, I'd say that I've been a fan of the G-Men since birth, but can now officially declare that I'm also Team Google+.