Last week, Oreo launched a special promotion on Twitter – #OreoPinata – as part of the brand's 100th birthday celebration. Each tweet with the #OreoPinata hashtag counted as a 'hit' on the piñata, and when the piñata broke, the person who swung last would win a free pack of Oreo cookies. Oreo gave away 30 packs a day for an entire week.
Thousands of people entered the sweeps – but what's far more compelling is how they did it. When it comes to Oreo, people weren't just trying to win the contest. They instead used the promotion to demonstrate their personal connection to the brand – without even being asked to do so.
A 360i analysis of #OreoPinata tweets found that 87% of people tried to break the piñata by sharing something personal vs. mentioning something about the sweepstakes itself. Of these types of entries (below not mutually exclusive):
43% played along – ex. "@Oreo WWWWHAACCCKKK! Sounds like a good hit! Congrats on your 1st 100 years! Here's to your 2nd! #OreoPinata"
39% shared their love of the cookie – ex. "#OreoPinata oreos are the no.1 cookie ever!!!! Oreos are the only cookies i eat!"
21% shared their way to eat an Oreo – ex. "Nothing is sweeter than a tall glass of milk an a big stack of double-stuffed Oreos! *sigh* # Oreopinata"
9% shared an Oreo Story – ex. "Hope I break the #OreoPinata. Oreos and milk always bring me back to my childhood and those memories are oh so sweet :)"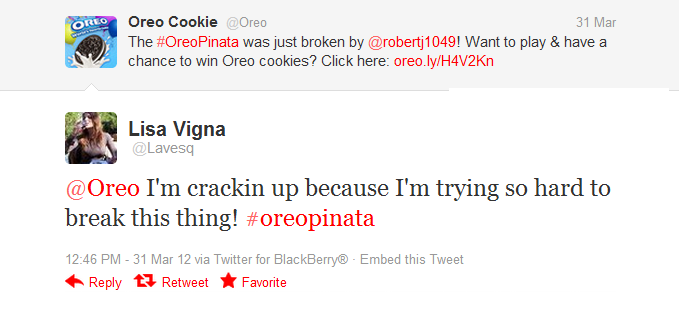 The success of the sweepstakes was driven by the fact that the program as built around Oreo's unique global subculture comprised of advocates who revere the brand and associate it with childlike fun. Whereas many promotions dole out prizes for the sole purpose of getting attention, we made the game itself part of the value exchange. As a result, our fans were not simply prize-seeking; in fact, they were more motivated by playing along with Oreo than they were by winning.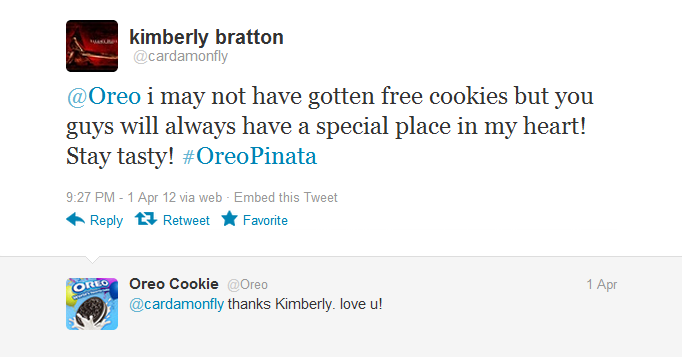 This simple case study holds a key lesson for brands: Building campaigns where the ultimate value payoff is a prize misses a tremendous opportunity to build a stronger connection with your consumers. Successful sweeps like #OreoPinata will vie for engagement over mere re-tweets or uses of a specific hashtag. While reach is important, the way you interact with your audience and recognize their brand love is paramount.