Last week, our client Oscar Mayer sent comedian Josh Sankey off on an unprecedented, socially powered adventure dubbed The Great American Bacon Barter. Carrying no cash, no credit cards – just 3,000 pounds of Butcher Thick Cut bacon – Josh's goal is to prove that his bacon is as good a currency as any by bartering his way from coast to coast.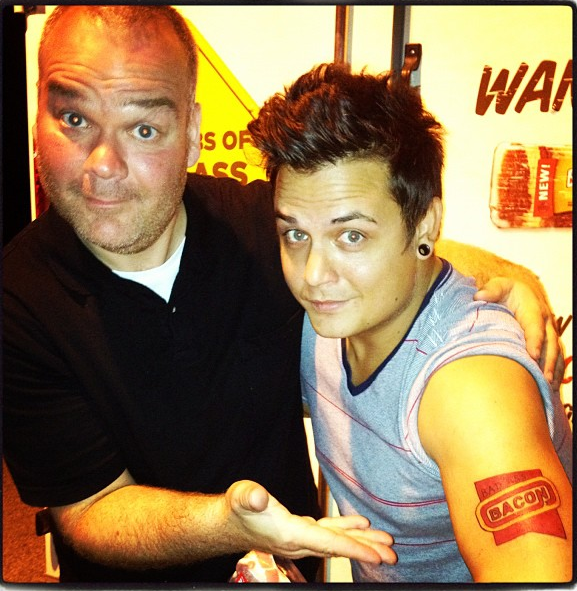 Bacon fan Kevin trades new ink for 173 bricks of Oscar Mayer Butcher Thick Cut bacon.
After spending two days bacon-bartering from things like tickets to an NFL home opener in New York City, Josh hit the road to kick off his journey that will eventually land him in Los Angeles, Calif. Each day, our bacon-wielding friend will face new barter challenges, many of which will require the participation of consumers in social media to successfully complete.
Along the way, Josh is being followed by a production crew tasked with creating daily webisodes that document his adventures. In addition to living on the hub site, these videos are also featured on the brand's YouTube channel. You can keep up with all his wheelings and dealings via baconbarter.com, or by following @baconbarter on Twitter. Josh is also sharing photo updates via Instagram, and producing video shout-outs to announce his daily needs.
So, how did a brand famed for its Wienermobile and endearing jingle come to embark on such a bad-ass bacon adventure? It all started a few months back when we partnered with Oscar Mayer to create an inherently social program that would tap into America's natural love for bacon. The goal was to get people talking about Oscar Mayer bacon in particular.
Fortunately, Oscar Mayer had something amazing to talk about – a new, premium line of bacon called Butcher Thick Cut that's as bad-ass as it sounds. Bacon has been on the lips of almost the entire social web ever since the start of the Internet. There are more searches for "bacon" than there are for "Angelia Jolie," and the word "bacon" is mentioned online about every 12 seconds. Despite this demonstrated passion for bacon, nearly nobody is talking about specific bacon brands.
With bacon fanaticism in mind, we asked: what if Oscar Mayer bacon was as good as cash? We know people love bacon, and to test that out, we needed America to put our bacon where their mouth is and prove it. Thus, The Great American Bacon Barter was born.
Week one of the program drove a high volume of conversations around Josh's unprecedented trek across America. The real-time and participatory nature of the effort has people talking – from everyday bacon friends eager to see what kinds of crazy situation Josh finds himself in next, to some of the biggest media outlets around (The New York Times, ABC News, Creativity, Advertising Age and the Huffington Post to name a few). "Bacon Barter" is being tweeted about once every 60 seconds on Twitter (source: Social Mention). America truly does love bacon.
What sort of bad-ass bacon situations lay ahead is anyone's guess – follow along to keep up with the action at BaconBarter.com.