Caught that "give me a bigger audience NOW" fever? Brian Simpson (@bsimi), Director of Digital Media at Vikram Chatwal Hotels, has a cold shower all ready for you. "If a fight starts, a community will jump in and help you fight back," Simpson said. "An audience will just stand back and watch you go down."
The red-hot race to stack up big audiences in the social space was just one of several subjects joyfully dissected Tuesday night by community managers who met to share key learnings and best practices at "Effectively Managing Online Community," a Social Media Week panel hosted by #CMmeetup (@cmmeetup).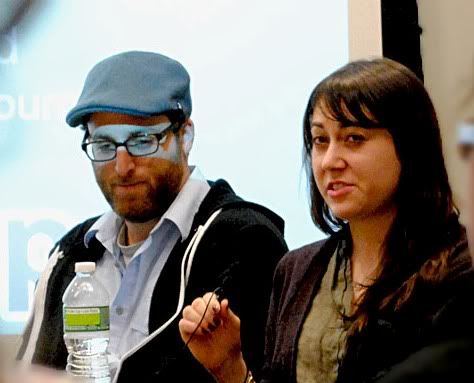 David Brown and Chrysanthe Tenentes speak at the #CMmeetup event.
Joining Simpson on the panel were Chrysanthe Tenentes (@eqx1979), Community Manager at Foursquare; David Brown (@holidaymatinee), Social Media Specialist at Etsy; and Jenn Pedde (@jpedde), Community Manager for the Masters in Social Work program at the University of Southern California.
The panel was moderated by Zach Seward (@zseward), Outreach Editor at The Wall Street Journal, who made a valiant attempt to draw universal findings from these four very different communities. Though there was general agreement on the value of adding a personal touch to community management (create a handmade reply to a tweet and, according to Brown, it will "go viral"), the specific goals of each community were decidedly unique.
Pedde, who uses an arsenal of social channels to engage USC students, described a threefold mission.
"For us, it's all about getting students to apply, making sure they're happy with what they're doing while they're in the program, and keeping in touch once they become alumni." She strongly advised never taking more than 24 hours to respond to a question or comment, since most people are relieved just to know that they've been heard.
At Foursquare, where the community has grown from the 200k user base she started with to over 6 million today, Tenentes explained her approach to separating brand messaging from customer service messaging.
"Education is the biggest part of community," she said. "If people are confused, they start to get frustrated." To alleviate some of that frustration while keeping the main Foursquare Twitter feed @foursquare sunny and on-message, she developed @4sqsupport to deal with user issues.
It's an Army-of-One situation over at Etsy, where Brown aims to build a positive and inspirational environment for creativity while expanding the community to a previously untapped male audience via the recently launched Etsy Dudes tumblr.
And for his part, Simpson considered himself the outsider, a 32-year veteran of the hospitality industry who's using new tools to do what he's already been doing his whole life – connecting with guests to enhance their experiences at his properties. He shared a colorful success story of how he contacted a woman who left a long rant on one of his Facebook pages and resolved the issue offline, only to decline her offer to remove the negative post later.
"I asked her whether she would have expressed her frustration the same way on our customer service line if we hadn't been on Facebook. She told me she wouldn't have bothered, and would have just told all her friends how much we sucked instead."
Crisis averted, perhaps, but the most unique approach to dealing with customer dissatisfaction may be happening at Etsy, where Brown said that every month each employee – all the way up to the C-suite – is required to spend 2 hours with the Support Team to hear the problems and questions coming in from real users. As Brown pointed out, most company's FAQ pages don't really reflect the kinds of information the community is actually seeking, so this exercise keeps Etsy employees grounded in the daily concerns of their customers.
The panel concluded by tackling a community management hurdle that's a lot closer to home: dealing with internal pushback and managing expectations.
"When [people in your organization] know you have an audience, they'll want to come to you with requests," said Tenentes. "Set the expectations on what you want and need from each department first, so you don't have to be the one saying 'no' to something later on."
But what happens when you're in the unenviable position of facing routine resistance from the top brass? Find the support you need from above, or leave.
"If you're trying to sell up, get out," said Pedde.
– Recap by Steven Elwell (@skelwell), Community Manager at 360i
– Photos by Amy Tremmel (@amyinaction), Community Manager at 360i