Facebook has announced a new feature – called "Save" – which aims to help people browsing their News Feeds bookmark posts for later viewing. The tool will be especially helpful in light of Facebook users' increasingly mobile habits, in which content is perused on-the-fly and on-the-go.
"Save" is for those times when you come across something interesting in the News Feed or on a Facebook page, but don't have the time to view it right then and there. Users can bookmark hyperlinks, places, movies, TV and music – and bookmarked content can only be seen by the individual unless he or she chooses to share it with friends.
The "Save" feature can be found within the "More" tab on mobile, or by clicking on the arrow located at the top right corner of a post in the News Feed or on a Facebook Page (using either desktop or mobile). To help people rediscover past-saved items, Facebook will show reminders about saved items from time to time – allowing the saver to swipe through a carousel of previously bookmarked items.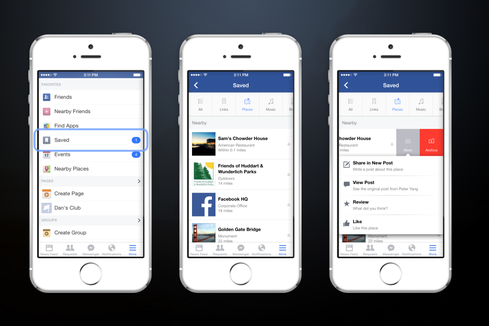 Brand Implications
"Save" could change the way people use Facebook, helping the platform to become a place where users discover and consume content – beyond our friends' pictures. This feature is part of a larger trend in which Facebook is expanding its curation capabilities to rival those of Pinterest. For example, the new feature allows you to organize content within categorized lists, similar to how pin-boards work.
For marketers, this means that Facebook users now have the option to consume a brand's content on their own time and terms – rather than in real-time – which can have a number of different effects on performance. Here are some top-line implications for marketers who manage communities and/or run advertising within the Facebook environment:
"Save" could potentially increase the lifespan of a certain piece of content, as it no longer has to be viewed upon discovery. This means that brands can plan future content with the Save feature in mind, for example: visual recipes, reviews, articles that are not time sensitive, DIY content, and so on.
"Save" applies to both paid and organic content with links. The advertiser/brand will not be charged if a person saves content displayed by an ad.
Advertisers cannot target ads to saved content.
Some scenarios in which marketers could use "Save" to their advantage include:
Travel brands can capture attention from trip planners by posting links about local restaurants or tourist sites and enticing travelers to save the content as part of the vacation planning process.
Food or drink brands can post content with more evergreen recipes and products due to the longer lifespan. They might also find success in posting a more-timely recipe (e.g. for a holiday) farther in advance, again to capture attention from the "planner/organizer" crowd.
Entertainment brands can leverage "Save" a number of different ways:

They can use the feature to provide consumers with links related to TV episodes they may have missed, without the fear of these being spoilers. If fans have not yet had time to watch the episodes, they can simply save the spoiler alerts to view later.
As the "Save" button gives these brands' video content (trailers, previews and promo clips) longer life spans, users may find value in curating "must watch" lists, saving video content they haven't yet had the chance to view.
Entertainment brands can post links about TV show pilots, season premieres and season finales which would help fans keep track of when their favorite shows start and/or stop, and when new shows will debut.
For "superfans" of a show, who follow specific characters or the actors/actresses who play these characters, entertainment brands can provide these fans with any content relating to those characters/actors/actress' to be curated into a content list.
 *****
Facebook has not yet planned to provide any data or analytics around the performance of saved content (such as how many times a piece of content has been saved, type of content saved most often, etc.). At this point, we also do not know if "Save" will be counted as an engagement metric. This means that it will be harder to tell which content a brand's audience values most in terms of saves, as opposed to the normal engagement metrics used.
Overall, this new feature is something advertisers and brands should keep a close eye on. Although analytics won't be available for saved content specifically at this time, the effects it might have on page and content performance could become more apparent through user behavior and engagement over time.