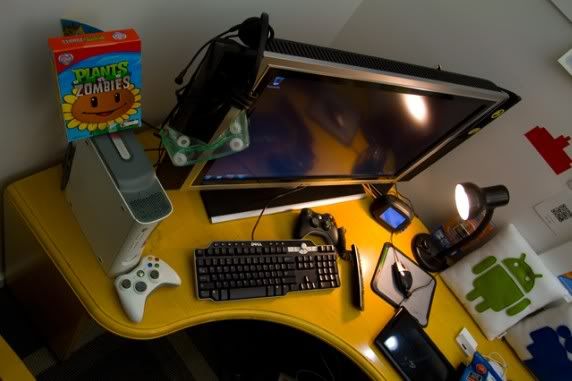 Images via Mashable's Evan Wexler
Social media is and always has been driven by technological innovation. And though every toy, gadget or device that hits the market might not be as important as, say, the printing press – these technologies are pushing the industry forward at a rapid clip, creating an environment where creativity and ingenuity flourish.
Here at 360i we've created our own testing ground of sorts – the 360i Emerging Media Lab – for exploring the most up-and-coming technologies. In addition to serving as home base for David Berkowitz, our Senior Director of Emerging Media & Innovation, this glorified workspace is a tech-head's dream. That's why Mashable featured the Lab today as part of its brand new Cubicle Spy series, which takes a look inside the neatest, quirkiest, and most gadget-laden offices of people who work in social media.
You can check out Mashable's coverage to see their gallery of awesome 360-degree photos taken last week at the Lab (talk about cool tech). Beyond that, here's a look at some of our favorite toys – and why we're so crazy about them.
Emmy the Bunny, Violet, $150 (Nabaztag.com)
What it does: The Nabaztag (we named ours Emmy) is a Wi-Fi powered rabbit that, through adorable sounds and movements, presents a real world representation of what's on the Internet. Emmy's ears function as antennae that process online data to dictate behaviors such as reading emails and texts out loud or providing stock ticker updates.
Why it matters: As Forrester's Paul Jackson said, "It's a nice way of making physical your relationship online with people." The Nabaztag (which is Armenian for "rabbit") is one of many innovations seeking to bridge the gap between digital and real world experiences. Another one that comes to mind is StickyBits, which we recently featured here on the blog.
Why we love it: Emmy has come to be the lab's mascot, an unpredictable, inquisitive robot that occasionally gets in trouble for stealing bandwidth rather than carrots.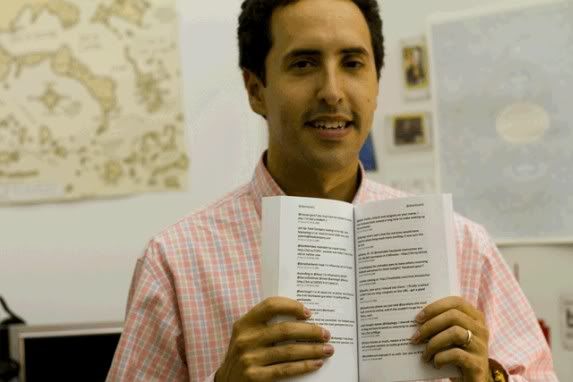 140Bio of David Berkowitz, $18.99 (140Bio.com)
What it does: For a nominal fee, 140bio.com will take your tweets (plus @mentions if you so desire) and publish them as your very own book. As the company puts it, what you post on Twitter can say a lot about your life experiences – so why not preserve them as a 5" by 8" paperback autobiography?  David had thousands of tweets archived in his very own book, which serves as a great conversation piece in the Lab.
Why it matters: Okay, okay … So most people really don't have a need for producing their very own Twitter autobiography. BUT, the fact that this product exists says a lot about how people use Twitter – as a platform to broadcast the little (and big) moments that make up their lives. Sure, it can also be about sharing information, networking, etc., but as we found in our recent report (Twitter & the Consumer-Marketer Dynamic), people mostly use the platform to lifecast daily activities.
Why we love it: The 140bio.com book cataloging David's tweets gets the most comments out of anything in the lab. In fact, when David brought all the portable parts of the lab to a client's office recently, they passed this around more than anything else. It's the perfect gift for tweeters.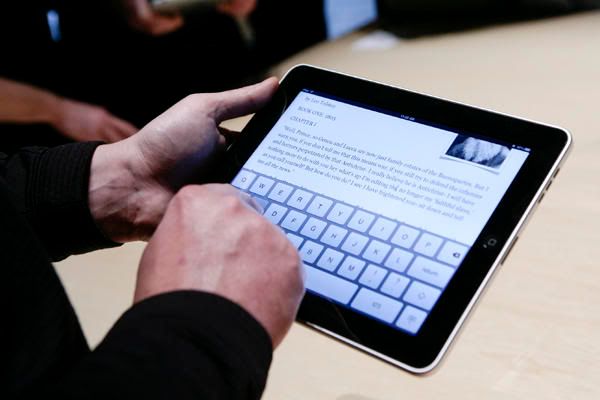 Image via CSMonitor.com
iPad, Apple, starts at $499
What it does: The iPad is Apple's first tablet product and a device that blurs the lines between a smartphone and a personal computer. Released in spring 2010, the iPad is a "magical and revolutionary product" (per its creators) that houses and serves media like books, movies, games, music, publications and web content.  It can connect to the web via a Wi-Fi or a 3G connection. In July, Apple announced that it moved about 3.3 million iPads in its fiscal year third quarter — and no to mention put up all-time record revenue numbers during that time.
Why it matters: The iPad (and iAd mobile ad network) could hold huge opportunities for marketers – if they can get past the "bright shiny object"-ness of the product itself, writes David Berkowitz in an April Ad Age piece. When properly aligned with a brand's objectives, the iPad has the potential to create vibrant, engaging user experiences via Apple's latest innovations in personal mobile computing.
Why we love it: For practical use, the iPad continues to be the best way to explore engaging media experiences. Playing Angry Birds on a bigger screen is fun, too.
Which tech toys should we add to the lab? Let us know in the comments below.