AOL's new ad unit grants marketers with more opportunities to integrate rich media (via WSJ).
Today, AOL is expected to roll out its already leaked "Project Devil" (see the WSJ article that leaked it here), which launches new advertising opportunities within AOL.
The media company is touting the concept as being about more than just a bigger ad unit — and it is.  AOL has developed some interesting ideas to allow marketers to more easily develop rich ads by using an Ad App API to deliver content and functionality such as:
Photo and video galleries
3-D rotation and zooming
Mapping (including store locator)
Facebook and Twitter feeds
Couponing
Email / Send-to-friend
Data capture (e.g., email address)
First, kudos to AOL for championing larger ad formats and easy-to-integrate rich media functionality that should entice brand participation.
Similar to other media companies (such as The New York Times that created larger, exclusive ad sizes for marketers like Apple — previously reported by 360i), AOL is redesigning key content pages to accommodate the Project Devil ad unit.
According to the WSJ-leaked AOL style guide, the ad runs to the right of editorial content (encompassing about 40% of the page width at the top as illustrated in the following screenshot):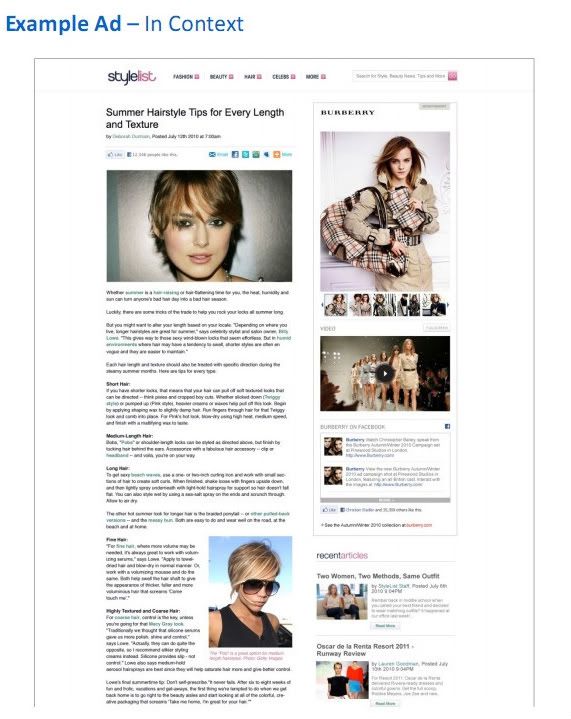 Advertisers must conform to one of the following layouts:
The simplicity of the ad is one of its great strengths and missteps.  While providing plug-and-play functionality and a bigger area for brand messaging, the templated ad format fails to take advantage of its large size to provide a true canvas for creativity.
In addition, as web browsing becomes more like the iPhone and iPad experience, and users can double-click to zoom in on columns of editorial content, a vertical-oriented ad unit such as AOL's Project Devil can be easily tuned out.
While AOL announces Project Devil today, 360i is among a handful of agencies that is participating with the IAB on its Rising Stars initiative (announced earlier today at the MIXX Conference).  The IAB is inviting marketers, publishers and agencies to submit new ideas for ad units that can inspire creativity and entice brand marketers to more actively embrace Internet advertising.
The AOL Project Devil ad unit will be among the first submissions.  We hope that AOL's ad unit will inspire others to further innovate and create ad units that:
combine both open and proprietary technologies
provide even greater ad prominence and content adjacency
offer blank canvases for big ideas.
Learn more about the IAB Rising Stars initiative at http://www.iab.net/risingstars/.